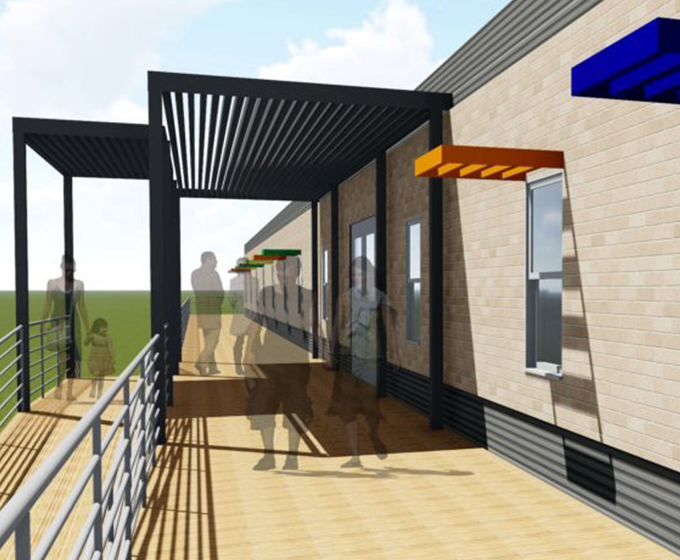 JANUARY 23, 2020 — If you walked onto Main Campus this week for the first time since the fall semester, you may have been curious about the new structure that sprouted up between the North Paseo and McKinney Humanities buildings.
The fledgling facility will be the centralized Student Success Academic Advising Complex.
The complex will consolidate the university's undergraduate advising services and select support programs in one area on campus to make it easier for students to discover and access both academic support programs and student success resources.
---
The fledgling facility will be the temporary centralized advising complex of the future Student Success Center.
---
---
"We are very excited about our ability to now consolidate several student success programs and services under one roof to better serve, assist, and meet the needs of our undergraduate students," said Tammy Wyatt, Vice Provost for Student Success.
Forty-six modular units were intermittently transported from Houston to the space near the bus depot on the Paseo del Norte between Dec. 14 and Jan. 11. Those units have since been connected to become one 29,270-square-foot building. This center will be completed by April and serve as an intermediary step toward developing a dedicated permanent home for UTSA's Student Success Center.
The Student Success Center is a key component of UTSA's strategic plan, which aims to support each undergraduate student's academic journey from start to finish. The center and its inhabitants will strive to improve the student experience and each student's sense of belonging while bolstering first-year retention rates, second- and third-year persistence rates, and four- and six-year graduation rates.
---
⇒ Learn more about UTSA's Student Success Center.
---
Components of the following university offices and programs will be housed at the advising complex:
Academic Advising
Tomás Rivera Center
First-Generation and Transfer Student Center
First-Year Experience
Graduation Help Desk
Foster Student Programs
LEAD and SOAR Summer Bridge Programs
TRiO Student Support Services
One Stop Enrollment Center

Registrar
Math Matters
Student Training Center
Career Services
Orientation
Financial Aid/Scholarships
Fiscal Services
Veteran and Military Programs
The Student Success Center is one of several high-priority initiatives in the university's strategic plan to reach new levels of excellence in the next 10 years. As UTSA strives to be a model for student success, the university will continue the dramatic momentum of the last decade to retain and graduate more students, and will emphasize experiential learning and classroom-to-career educational opportunities.