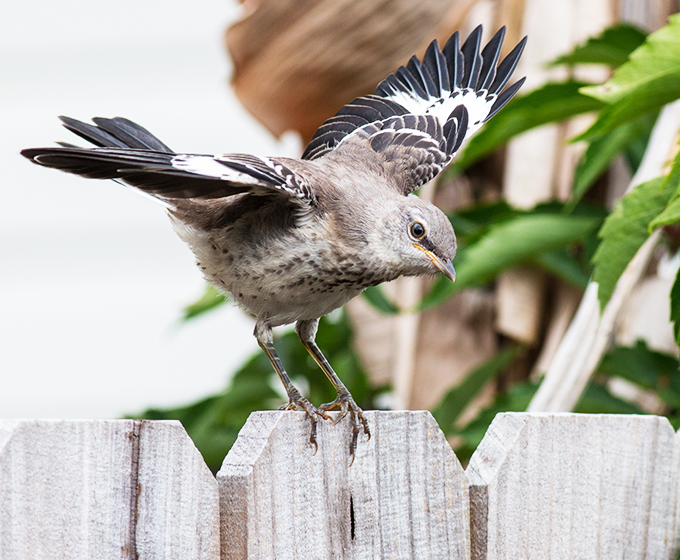 JANUARY 28, 2020 — While bird feeding is a popular activity across the United States — with $4 billion spent annually on birdseed and an additional $10 billion on needed hardware for the activity — very little is known about the impact wild bird feeding has on the ecology of birds in urban areas, especially in subtropical regions. 
UTSA master's student Amanda Lamberson is conducting research to evaluate the effects of wild bird feeding on the ecology of birds in San Antonio through her research project The San Antonio Bird Feeding Project. The project is based in the UTSA Smith Lab of Avian Ecology of Jennifer Smith, assistant professor in the UTSA Department of Environmental Science and Ecology.
Previous studies have evaluated the effects of bird feeding on bird behavior, breeding success, disease transmission, bird abundance and species diversity. However, most of these studies have taken place in nonurban areas and temperate regions, such as in the northern U.S., Europe and New Zealand, which has left a need for research in urban areas and sub-tropical regions.
---
"San Antonio and the fantastic community scientists of San Antonio afford us a unique opportunity to address these knowledge gaps."
—AMANDA LAMBERSON, UTSA Master's Student
---
---
"Here in the U.S., we spend approximately $4 billion a year on bird food and the majority of people feed backyard birds," Lamberson said. "However, the effects of bird feeding on birds in urban areas, especially in cities in subtropical regions like South Central Texas, are largely unknown. This project fills a very relevant knowledge gap."
Lamberson said she's always wondered whether bird feeding is good for birds, but added that the question is a complicated one to answer.
"My project is not intended to provide an answer to this question, but I am interested in contributing research that helps get closer to better understanding birds and bird feeding," she said.
For the project, Lamberson is looking at different types of species feeding at feeders and how different bird foods influence the diversity and abundance of birds at those feeders.
In November, Lamberson started surveying 36 backyards on the northside of San Antonio and plans to continue doing so until the end of February, when breeding season begins.
---
⇒ Learn more about the San Antonio Bird Project and other work in the UTSA Smith Lab of Avian Ecology.
---
The 36 backyards are broken up into three groups with 12 homes providing mixed seed, 12 providing thistle seed and the last 12 homes serving as the control group and not providing any seed.
During the week, the home residents—also known as "community scientists"—maintain the seed in the feeders and conduct surveys by marking down the different species they see in the backyards. Lamberson is conducting her own surveys as well.
"San Antonio and the fantastic community scientists of San Antonio afford us a unique opportunity to address these knowledge gaps and contribute to growing knowledge of how urbanization is affecting birds," Lamberson said.
Some birds they've observed include northern mockingbirds, orange-crowned warblers, golden-fronted woodpeckers, and ruby-crowned kinglets.
"They're not uncommon species, but it is interesting because we know little about what draws them into San Antonio's more urban dense areas," Lamberson said. "It's interesting to see what birds will show up, although surveying in urban areas can be a little tricky because there is more urban noise than you might think and it can make it harder to hear bird calls."
Lamberson is also collecting sales data across San Antonio to see what feed is being sold in the city and when and where it's being purchased. Wild Birds Unlimited and PetsBarn contributed  sales data to the project. In addition, Wild Birds Unlimited also provided the supplies and equipment.
"No information relating to customers was collected. We assume that the most purchased types of wild bird seed are reflective of what residents in San Antonio typically prefer to feed to birds," Lamberson said.
The data collected is being used to inform the backyard bird feeding component of the study to make sure that the foods provided in the study reflect those being provided by San Antonio residents.
Once Lamberson concludes conducting surveys at the end of February, her next step is to statistically analyze the data and determine which species flock to the feeders, and how many are associated with the different seed types.
"I have collected other information in addition to counting birds, such as weather, temperature and structures of the backyards such as trees, cement fences," she said. "So I will also be looking at whether these factors I could not control for potentially influence the data."
The San Antonio Bird Project is something Lamberson said will help in the future as a professional in the field.
"My big takeaways from this experience has been how to establish and manage a research project that will definitely be invaluable to my future endeavors," Lamberson said. "I also truly appreciate the support from the San Antonio and UTSA community and their passion for birds."