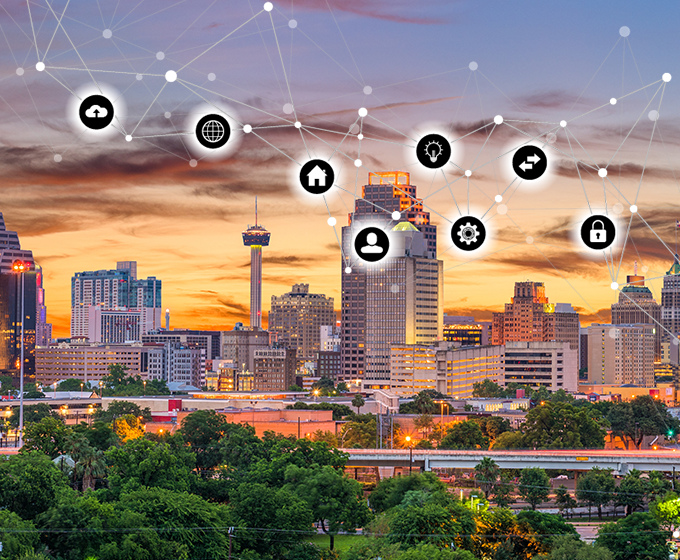 JANUARY 23, 2020 — Data shows that 82% of the U.S. population lives in urban areas, and it is projected that the percentage will increase to 90% by 2050. The size of the populations in urban centers is creating demands that overwhelm the capacity of infrastructures, particularly in times of distress. 
Researchers at UTSA are working to remedy this problem. Through a $100,000 planning grant from the National Science Foundation, a team of researchers with expertise in engineering, computing, infrastructures, cyber-physical systems, political science, public policy and STEM education is leading the creation of the Engineering Research Center for Sustainable Urban Communities. 
The Engineering Research Center for Sustainable Urban Communities will develop transforming technologies for one of the most important societal problems we currently face: engineering critical infrastructures of large population centers to achieve sustainable growth while improving equity and well-being of residents.
---
"UTSA is uniquely positioned to lead research advances in this area."
—ADOLFO MATAMOROS, Peter T. Flawn Distinguished Professor of Civil Engineering
---
---
To achieve this mission, the center will develop the underlying science for a distributed sensor and data science framework to assist authorities and the private sector as they make decisions that yield the most benefit to urban residents. 
The center will enable research and technology to improve urban infrastructure resilience. The proposed research will support superior real-time data processing, storage and dissemination to accelerate processing of large data sets in digital communities. Data analytics, machine learning and artificial intelligence experts will advance fundamental knowledge in their collective domains. Computing researchers will have access to the complete data flow chain and be able to study networking weaknesses against cyberattacks. 
The networking will include narrowband and broadband wireless and wired data communication, networking with traditional and emerging sensor cloud environments, and various interfaces. 
Researchers will develop critical infrastructure management and health informatics applications capable of exploring interdependences between these domains. Infrastructure researchers will leverage these advances to study efficiency and resilience of urban infrastructures during normal operating conditions and during different types of disruptions, such as hurricanes, floods and chemical spills using real-time data. 
"UTSA is uniquely positioned to lead research advances in this area through an existing foundation of strategic initiatives and research centers on sustainability, climate science, water resources, data science, cybersecurity, artificial intelligence and energy," said Adolfo Matamoros, a Peter T. Flawn Distinguished Professor in the Department of Civil Engineering at UTSA. "These strategic initiatives have been developed in close collaboration with partners from industry, the City of San Antonio, federal agencies, research institutes and the U.S. military. The Engineering Research Center for Sustainable Urban Communities will build on this foundation to advance smart city science and technology development and expand to include workforce development." 
Through this planning grant, a diverse group of stakeholders will join forces to develop consensus on advances in science and engineering needed to achieve sustainable growth of urban ecosystems through convergent research. The outcomes of the planning will provide a roadmap to guide future research efforts and foster new collaboration not previously considered. 
Two stakeholder workshops will be held to develop a vision, goals and research plan that reflect the concerns and priorities of the San Antonio community. The first will be held on Friday, Jan. 24 from 7:30 a.m. to 5 p.m. in the John Peace Library, Faculty Center (JPL 4.04.16) on the Main Campus. A second stakeholder workshop will be held in April.