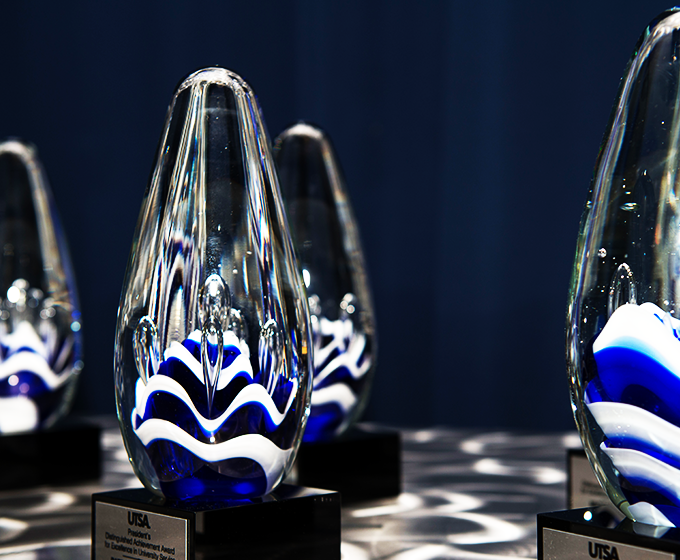 JANUARY 13, 2020 — Whether they've demonstrated profound leadership, outstanding commitment or taken the initiative, now is the time to recognize a UTSA faculty or staff member for going beyond the extra mile.
Nominations are being accepted until Feb. 21, 2020, (with the exception of the Diversity Award) for an employee to have the opportunity to earn a University Excellence Award.
Those who exemplify "emerging leadership, dynamic leadership, teamwork, extraordinary initiative and overall excellence" can earn five of the University Excellence Awards while the Howe Service Award is presented to a faculty or staff for exemplary dedication to undergraduate students.
Staff, faculty and students also have the chance to earn one of the President's Distinguished Diversity Awards.
Recipients of the 2020 University Excellence Awards will be recognized at a ceremony on April 21, 2020.
---
⇒ Learn more about the University Excellence Awards and how to nominate an employee.
---
"Every day we have staff and faculty who go above and beyond for our university and students," UTSA President Taylor Eighmy said. "Our annual University Excellence Awards is a wonderful occasion to formally recognize and honor Roadrunners who exhibit a remarkable commitment to service and excellence at UTSA."
Nominations are now being accepted in seven categories:
Rising Star Award (staff nominations accepted; $1,000 prize)
The recipient of the Rising Star Award is a new employee who has made significant contributions throughout the year to his or her area or the university community.
Leadership Award (staff nominations accepted; $1,000 prize)
The Leadership Award recognizes someone who has promoted departmental and university mission and goals through job performance.
Team Spirit Award (staff nominations accepted; $1,000 prize)
The recipient of this award showcases the ability to foster collaboration, communication and cooperation among colleagues internal or external to their department.
Extra Mile Award (staff nominations accepted; $1,000 prize)
The Extra Mile Award recognizes an employee who goes above and beyond to contribute to the success of UTSA through his or her outstanding contributions at work.
Order of the Roadrunner Award (staff nominations accepted; $1,000 prize)
The Order of the Roadrunner Award, which is the highest honor a UTSA staff member can receive, is given for exemplary service and commitment to UTSA.
Richard S. Howe Excellence in Service to Undergraduate Students Award (staff and faculty nominations accepted; up to $2,000 prize)
This award was established in 2002 and named in honor of longtime engineering professor Richard S. Howe. Faculty and staff members are awarded this honor for their outstanding commitment towards UTSA undergraduates.
President's Distinguished Diversity Award (faculty, staff and student nominations accepted; $500 and $1,000 prizes)
The President's Distinguished Diversity Award is bestowed up faculty, staff and students whose work has helped the UTSA community think about and practice diversity and inclusion in creative and collaborative ways.