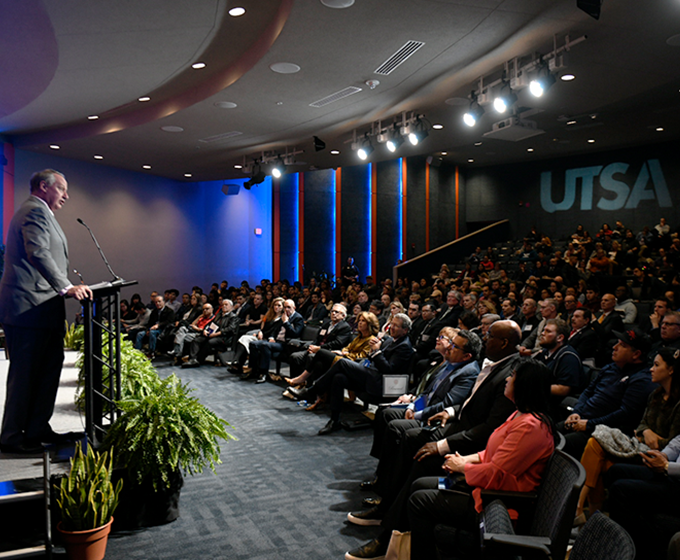 FEBRUARY 13, 2020 — Former government officials from Republican and Democratic administrations gathered at UTSA on Feb. 12 to discuss issues central to U.S. national security, especially those that are of interest to San Antonio. 
Via a preevent survey, two-thirds of the local audience members said foreign policy would be a significant factor in their upcoming voting decision in November's general election. 
Cohosted by UTSA and the Council on Foreign Relations, the forum's panelists included Richard N. Haass, president of the Council on Foreign Relations and former special assistant to George H.W. Bush; Stephen J. Hadley, former national security adviser to George W. Bush; Jeh Charles Johnson, former secretary of homeland security to Barack Obama; and Mary Beth Long, former assistant secretary of defense to George W. Bush. Margaret E. Talev, White House and politics editor for Axios and a political analyst for CNN moderated the panel. 
UTSA is one of only four universities in the country chosen to cohost the forum with the Council on Foreign Relations as part of the organization's Election 2020 Series leading up to this year's caucuses and primaries. UT System Chancellor James B. Milliken and UTSA President Taylor Eighmy provided opening remarks. 
---
Election 2020 forum at UTSA
---
The conversation delved into several critical foreign policy challenges facing the primary and general election candidates, such as how the U.S. should manage relations with Iran, how a trade war with China will affect the economy, how a U.S.-Mexico-Canada agreement might benefit American workers, and how the situation in Venezuela can be improved. 
---
⇒ Watch a replay of the U.S. Foreign Policy Forum, cohosted by UTSA. 
---
"People ask me what the top national security threats are," Johnson said. "I can tell you number 1, 2 and 3: climate change, climate change, climate change." 
Long added, "Our inability to be consistent in our national goals with China makes China a much bigger challenge than I think the Chinese think they should be." 
"The issue is," Hadley said, "if you have American values and believe in those values, how far do you go? People think George W. Bush went too far. Obama dialed it back. Trump has dialed it back further." 
"Whoever the president is come January 2021 is going to have extraordinary challenges," Haass summed up.