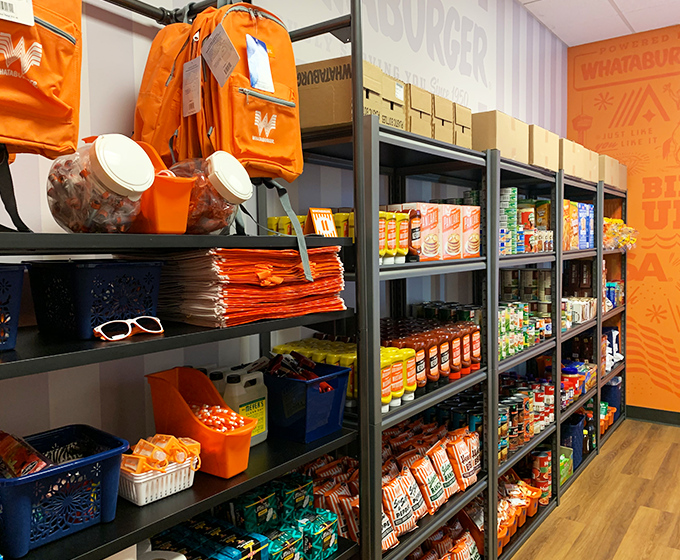 FEBRUARY 20, 2020 — UTSA, Whataburger and the San Antonio Food Bank today announced a partnership to ensure that healthy food, free of charge, is made available to students in need across all of the university's campuses.
The announcement comes as UTSA opens its Downtown Campus food pantry and names the new space the Whataburger Resource Room.
The pantry at the Main Campus, which has served 10,344 students since opening in 2017, will be renamed the Whataburger Resource Room as well. 
Whataburger will provide UTSA with in-kind donations, financial assistance and volunteer support, aligned with the San Antonio Food Bank, to ensure that shelves at the two campus pantries remain adequately stocked year-round with food items in high demand. 
---
"Partnerships like this are helping us to eliminate obstacles that can impede student success."
—TAYLOR EIGHMY, UTSA President
---
---
"Whataburger knows that the dream of a college education can be so quickly derailed when students struggle with basic needs. We hope this pantry will help shore up those dreams so these young adults can reach their full potential," said Pam Cox, Whataburger vice president of human resources and brand communication. "Our support of this resource room is an investment not just in them but in the communities where they will work and in future generations of students." 
"We are appreciative to Whataburger and the San Antonio Food Bank for their support and longstanding relationship with UTSA," said UTSA President Taylor Eighmy. "These efforts will help us address the food insecurity needs of many students, allowing them to focus on their educational goals. Partnerships like this are helping us to eliminate obstacles that can impede student success, and Whataburger's commitment toward that goal is to be commended." 
---
⇒ Learn more about UTSA's campus pantries and ways to donate.
---
In the first month of operation the pantry on the Main Campus provided 1,600 pounds of food to 400 UTSA students. By the end of its first year the pantry had served nearly 3,700 students in need. With the opening of the Whataburger Resource Room at the Downtown Campus, UTSA expects to double the number of students accessing this important resource. 
To celebrate the opening of the Downtown Campus Whataburger Resource Room, the university held a ribbon-cutting ceremony today with university leadership, Whataburger executives and the chief executive officer of the San Antonio Food Bank.