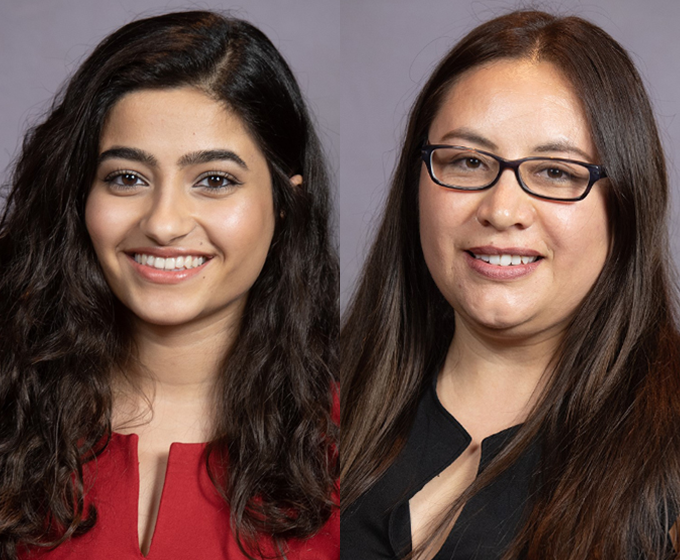 FEBRUARY 5, 2020 — Eight students across UTSA's colleges have been selected by the U.S. Department of State for the Benjamin A. Gilman International Scholarship, a program designed to make studying abroad and its career advantages more accessible and inclusive for American students.
The Gilman scholarship affords students the opportunity to gain critical skills overseas and expand their career options and ability to make an impact in their home communities. The program especially supports first-generation college students, students in the STEM fields, ethnic and racial minority students, students with disabilities and students who are veterans.
Two of the individuals selected for the Gillman scholarship are Honors College students in the Terry Scholars Program.
---
"This award is so important, in that it gets UTSA students studying, doing internships and engaging in service and research abroad early on in their studies."
—ANDREW CHAPMAN, Director of UTSA's Office of Nationally Competitive Awards
---
---
Forough Askarirad, a sophomore, was awarded $3,000 to study psychology in Italy through UTSA's Urbino Program. She demonstrated in her application that studying psychology there will foster new intercultural communication skills that will serve her in her future career as an immigration attorney. Askarirad, a first-generation student who arrived in the United States as a child from Iran, speaks English, Farsi and Arabic. She'll now add Italian to her list.
"I am incredibly excited to be learning the Italian language," Askarirad said. "I have always had a great love for languages, and I want to be able to learn as many as I can. I am looking forward to being fully immersed in Italian culture."
Arlae Gamez Luna was awarded $3,500 to study in the summer at the Free University of Berlin, where she will take courses in migration studies and German language. She chose her program in Germany in order to expand her knowledge about European migration. A junior studying political science, Gamez Luna researches the migration of unaccompanied minors to the United States. Traveling to Germany this summer fits into her future research plans to apply for a Fulbright grant so that she can do a comparative study between the two countries and their immigration policies. Gamez Luna came to the U.S. in 2013 from Mexico, having spent 10 years in a convent working with impoverished and immigrant communities.
Other UTSA students who are recipients of the award will be studying in different programs across the globe. Aashish Mavani, Meredith Shuman and Celeste Jones will travel to Urbino, Italy, as Gilman scholars to study music and psychology. Outside of the Urbino program, three other students to win the award this spring are Sydney Brown, who will be traveling to Botswana to study community health; Lauren Camacho, traveling to Kyoto, Japan, to study Japanese; and Aldo Pinedo. In total, UTSA students were awarded $21,500.
---
⇒ Explore the Gilman award and UTSA's Office of Nationally Competitive Awards.
---
Andrew Chapman, director of UTSA's Office of Nationally Competitive Awards, said he hopes that next semester UTSA will have even more Gilman scholars, noting that the application process is simple and designed for students who may have never applied for a scholarship. There is no GPA requirement and no letters of recommendation required.
"This award is so important, in that it gets UTSA students studying, doing internships and engaging in service and research abroad early on in their studies so that by the time they are juniors and seniors, they are positioned for future success," he said.
Askarirad noted that the application process was a great learning experience. "Applying for the Gilman scholarship taught me a lot about how to tell my story and hone in on the events in my life that have shaped me as a person," she said. "This process has also opened up doors to other potential opportunities and shown me that there is a large network of people at UTSA who are always ready to help and guide you!"
Students who plan to study abroad this summer or next fall on programs of 21 days or more can apply for the Gilman scholarship. The deadline for applications is March 3, 2020.
The Office of Nationally Competitive Awards, which opened this fall in the Honors College, advises all UTSA students on the Gilman scholarship application, among other national award opportunities.