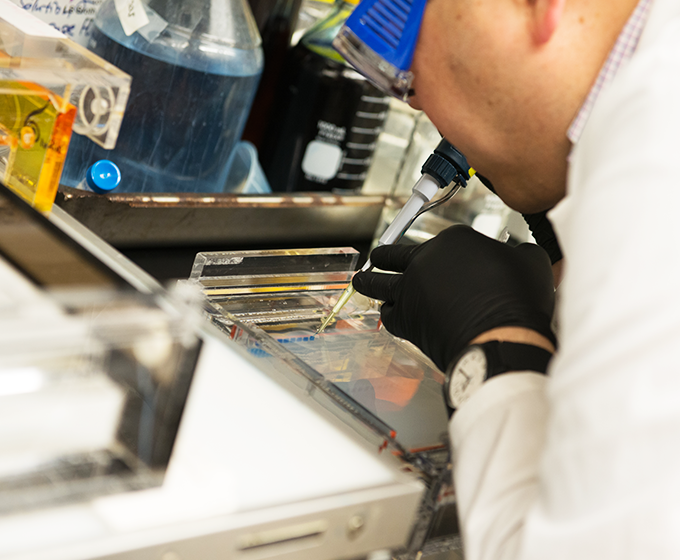 FEBRUARY 17, 2020 — As many as 10 million cases of tuberculosis resulting in 1.5 million deaths were estimated worldwide in 2018 by the World Health Organization. While the disease is treatable, a group of UTSA researchers are interested in paving the way for new treatments because existing drugs can have adverse side effects. 
With the hope of contributing new knowledge that could help in the development of future medications, UTSA's researchers are trying to learn more about the qualities of an enzyme called CYP121, which is needed by Mycobacterium tuberculosis, the causative agent of tuberculosis. 
"Tuberculosis is making a comeback now because of antibiotic resistance. So we need to find better drugs," said Romie Nguyen, a second-year graduate student working in the Metalloprotein Research Laboratory of Aimin Liu, professor and the Lutcher Brown Distinguised Chair in Biochemistry in UTSA's Department of Chemistry. 
---
"It's a pretty terrible disease, so finding a method to specifically target the bacteria without harming human proteins would be greatly beneficial for patients."
—ROMIE NGUYEN, Graduate Student in UTSA's Department of Chemistry
---
---
The treatment of tuberculosis is process that can take approximately eight months to a year, utilizing an antibiotic cocktail that also kills the body's bacterial flora. If the mechanistic understanding of this enzyme can be improved, better drugs can be designed, which will potentially decrease side effects in humans, according to Nguyen. 
Nguyen and the rest of the research team from the Metalloprotein Research Laboratory—graduate student Yifan Wang, graduate student and lab manager Ian Davis, postdoctoral fellow Yu Yang, and project lead Liu—recently published an article ("Substrate-assisted hydroxylation and O-dementhylation in the peroxidase-like cytochrome P450 enzyme CYP121") in the peer-reviewed scientific journal ACS Catalysis. 
"The article is about studying the mechanism of CYP121, which is essential for Mycobacterium tuberculosis to survive," Nguyen said. "We don't know how it works, but we do know that it forms a product that is important for the bacteria to survive. Without that product, it dies." 
Nguyen said they've been able to manipulate the protein in their lab to see how it behaves. 
"We're studying the mechanism of what the protein will do in the case that it isn't supplied with its usual molecule," he explained. "I synthesize molecules with the same core structure but with small adjustments on the fringes. We take the very specific molecule that CYP121 uses to form the product and alter it. We then use magnetic fields to probe the movement of electrons and utilize X-rays to visualize the protein crystal structure. Using this X-ray method, we can visualize what exactly is changing in the protein structure when the molecule is added. If we've adjusted the molecule, we can observe if and how its interactions with the protein differs." 
Nguyen added that the protein conducts a very specific reaction that is seen mostly in plants and bacteria, not in mammals. 
---
⇒ Explore more of the work in UTSA's Metalloprotein Research Laboratory.
---
"One of goals of the project is to distinguish what makes CYP121 different from other cytochromes with the hopes that those differences can be exploited by medicinal chemists for drug discovery," Davis said. "One thing unique about CYP121 is that the kind of reaction it performs is not the normal reaction for the family of enzymes it belongs to. [Nguyen's] project is to probe the limits of the reactivity of CYP121, and she approached this question by characterizing how CYP121 behaves with molecules similar to—but chemically distinct from—its native substrate." 
Nguyen found in her research that the native reaction for CYP121 is a little unusual. The enzyme is still capable of performing chemistry that is more normal for a cytochrome P450. These findings highlight specific aspects of CYP121 that must be responsible for tuning its reactivity as future areas of study, according to the researchers. 
While the team is working tirelessly on the research project with National Institutes of Health R01 grant support, Nguyen said she looks forward to seeing what they're able to contribute to the field. 
"We're trying to understand a potential drug target to support synthesis of potential drugs for it," she said. "If we can find a better drug target that won't create as many side effects in humans, that would be great. It's a pretty terrible disease, so finding a method to specifically target the bacteria without harming human proteins would be greatly beneficial for patients."