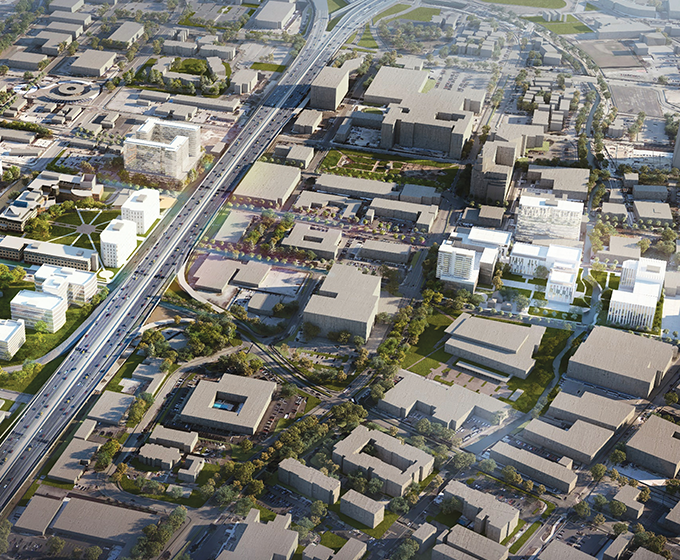 FEBRUARY 27, 2020 — Plans to expand the footprint of UTSA's Downtown Campus have received the green light to move forward. During its meeting in Austin today, the UT System Board of Regents approved the purchase and lease of properties near the downtown San Antonio campus to prepare for the College of Business expansion and to increase campus parking options. 
UTSA will purchase about 2 acres of land located east of the campus between Dolorosa and West Nueva streets from Bexar County for a new College of Business building. The building will be situated adjacent to the future home of UTSA's School of Data Science and the National Security Collaboration Center. 
The university is also expected to lease from the Texas Department of Transportation about 8.5 acres on the Durango Loop and under Interstate 35 to create surface parking lots for students, faculty and staff. 
The growth of the College of Business is part of a 10-year vision for the future of UTSA. 
Bexar County officials approved in January the $5.7 million purchase of the land, which is currently occupied by the former Central Texas Detention Facility. County Judge Nelson Wolff, a great supporter of the plans for the campus expansion from the beginning, has credited President Taylor Eighmy for turning around the future of the Downtown Campus. 
"This approval is another step toward educating our youth and excelling students in the field of cybersecurity, business and data science. This development will bring life to our downtown and be a beacon to students from all walks of life," Wolff said.
---
---
The current building on Main Campus that is home to the College of Business is facing a shortage of more than 200,000 feet, which is projected to increase to 550,000 square feet as enrollment grows over the next decade. 
With the expansion of a business presence at the Downtown Campus, broad needs and opportunities in San Antonio will be met by enhancing career-engaged learning, accommodating rapid enrollment growth and fueling the city's economic development.
Along with bringing select business programs to the Downtown Campus, the initiative also will help create academic and professional connections among students, faculty and San Antonio's business community. 
UTSA hopes to support upcoming entrepreneurs, while creating a career-engaged services network hub for students and prospective employers.