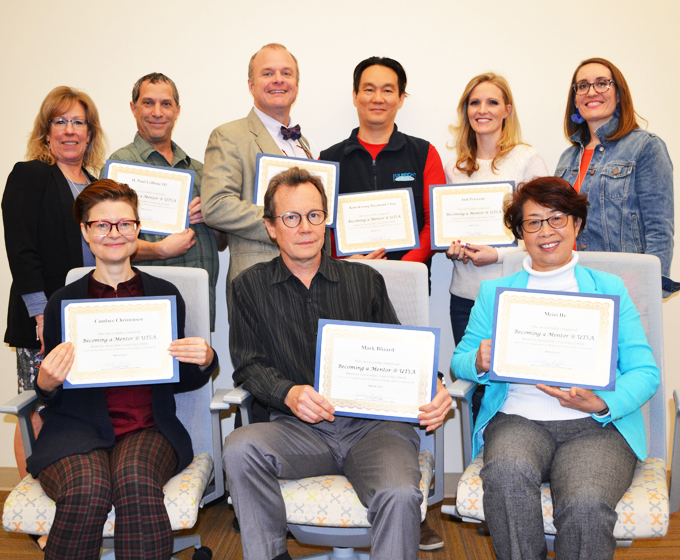 MARCH 25, 2020 — The Division of Faculty Success has celebrated the first session of a new, ongoing program designed to help UTSA's faculty learn mentorship skills: Becoming a Mentor @ UTSA. An inaugural cohort of seven faculty members from various departments and colleges participated in the six-week-long series of courses:
Mark Blizard, professor of architecture
Raymond Choo, associate professor of information systems and cybersecurity and Cloud Technology Endowed Professor
Candace Christensen, associate professor of social work
Meizi He, professor of public health
Michael Karcher, professor of educational psychology
Paul LeBlanc III, professor and chair of the Department of Communication
Jodi Peterson, lecturer III in history
These faculty members recently discussed their experiences in the program, sharing what they learned and how they hope to implement these lessons moving forward.
"I've been mentoring informally for many years," said LeBlanc. "This program gave me space to think about why I do the things I do. It was a very rewarding experience."
Based on curriculum created by the Center for the Improvement of Mentored Experiences in Research, housed at the University of Wisconsin, Becoming a Mentor @ UTSA is designed to explore what mentoring is and isn't, the core competencies of becoming an effective mentor, and how to implement a mentoring program within colleges, departments and research teams.
"I'd never really thought about mentoring," said Blizard. "This idea of faculty success—it's really about making an atmosphere of mentorship."
While the goal of the program is to teach faculty how to become effective mentors for junior faculty, the competencies and concepts apply to the mentoring of students as well.
"I've begun to think about how the ideas that have come out of this class apply to students and student retention," Blizard said.
Becoming a Mentor @ UTSA will be offered in the summer, fall and spring semesters. Faculty who are interested in participating in Becoming a Mentor @ UTSA or learning more about the program may email Johnelle.Sparks@utsa.edu or Judith.Verdon@utsa.edu.