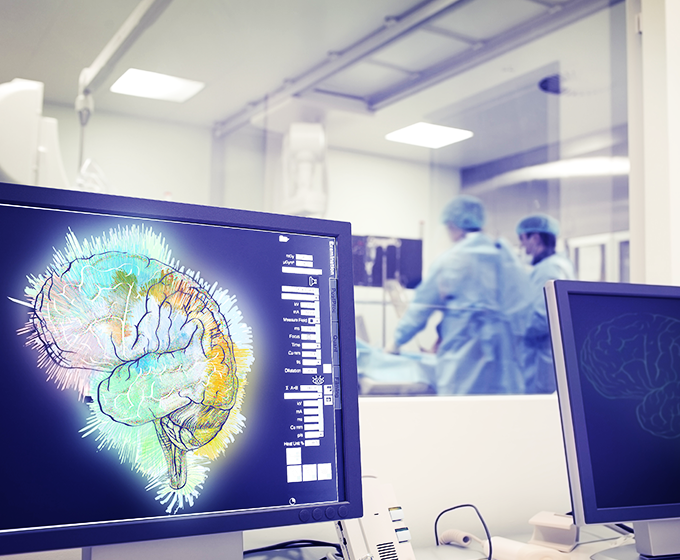 MARCH 24, 2020 — Editor's note: The following message was sent via email today from Vice President for Research, Economic Development and Knowledge Enterprise Bernard Arulanandam to all faculty and staff: 
In response to the Stay Home, Work Safe orders from Mayor Nirenberg and Judge Wolff, all noncritical on-campus laboratory research will be paused beginning at 5 p.m. on Wednesday, March 25 and until further notice except as described below. During this pause, only essential personnel may enter UTSA laboratories. Only essential research activities and core facilities preapproved specifically for your laboratory by both your associate dean for research and the VPREDKE office are permitted to continue. See below for further guidance on what activity may or may not be deemed essential. 
Please immediately put your shutdown plan into effect for an anticipated pause of at least six to eight weeks. Please place the Lab Door Notice on your lab door when you have migrated your lab to "pause mode." This notice will display names and phone numbers of contact people for emergencies, your designated "lab well-check" person (defined below under Important Policies), and (in the event we grant you an essential activity exemption) a list of essential personnel. Provide contact information for each person. 
If you have not already, notify Lab Safety at lsd@utsa.edu of any ongoing sanctioned activity in your lab; the presence of possible lab hazards if emergency entry is needed; any needs for chemical or biohazardous waste pickup; and any perishable items still present in your lab or core. Those of you conducting animal research will receive additional guidance from LARC director Marcel Perret-Gentil. 
Please note that when we go into "pause mode" for on-campus laboratory research, the following units will maintain remote operations to support our UTSA research community.
All Sponsored Project Administration units, including Research Service Centers and Contracts and Industry Agreements, will remain open and fully staffed to provide virtual services. We are prepared to meet proposal and contract deadlines and will be on stand-by to support all PIs/Co-PIs as needed to ensure timely submissions.


Grants and Contracts Financial Services will operate remotely to continue billing and submitting financial reports according to sponsor requirements. The Quality Assurance and Risk Management unit will continue all services remotely to facilitate subaward processing.


The Office of Research Support has transitioned many spring professional development sessions to online platforms (i.e. WebEx). REGISTER HERE

The Office of Research Integrity, including the Institutional Review Board, Institutional Animal Care and Use Committee, Institutional Biosafety Committee, and Conflict of Interest will continue to provide full service via virtual platforms.


The Lab Safety, Laboratory Animal Research Center, and Hazardous Waste Management units will have skeleton crews to support your research needs.
Important Policies
Research labs not required for or engaged in essential research may be visited periodically by the responsible PI or a single designee to perform "wellness checks" to ensure samples or reagents are secure, that refrigerators/freezers are operating properly, etc.


Under no circumstances are researchers to take laboratory research materials—other than laptops, paper records, and data storage devices—off site, including to their homes.


Undergraduates are not permitted to work on-site in UTSA labs until further notice. Undergraduates may not be designated as essential personnel.


Graduate students or postdocs may be designated as essential personnel only if they agree to this designation in writing (e.g., email), and they may change their mind at a later date. PIs should not ask graduate research assistants or postdocs to come to campus, unless they have been designated as essential personnel by a college ADR.


Visitors, external collaborators or non-essential personnel may not occupy a PI's research space or shared or leased lab spaces for the entire duration of this pause.


Non-UTSA personnel may not be present in research core facilities, except for necessary critical maintenance, repairs and deliveries.


UTSA personnel other than core staff must request special approval from Desiree Porter, desiree.porter@utsa.edu, to enter core lab spaces. Only one person is allowed to occupy the space at any given time.
Essential Activities Eligible for Exemption 
The research pause is being implemented to maximize the safety of the UTSA research community. Exemptions are only needed for work in on-campus research facilities. Work at home does not need an exemption. We encourage those few PIs who will be eligible to go ahead and submit their requests now to prevent interruptions in their activities. Many of you have already submitted your information to your college and we appreciate their partnership in this process. If you have already sent your lab needs, you do not need to submit an exemption. If you have any questions, please contact Mickey Stevenson at (210) 668-3313. 
Exemptions should be requested using the form located here. Potentially eligible activities include:
COVID-19 related activity that is time sensitive and could aid in addressing the current crisis.


Activity that if discontinued would generate significant data and sample loss (including biological materials and plants).


Activity that cannot be performed remotely and is deemed critical by the U.S. government or an industry sponsor.


Activities specifically requested by a U.S. government sponsor to continue during this time.


Activities that protect against a safety hazard.


Maintenance of critical equipment in facilities and laboratories.


Maintenance of critical samples and animal populations.


Clinical trial activity that if discontinued would negatively impact the patients' care.
When the VPREDKE and your ADR grant an exemption, we expect lab leaders to proceed with extreme caution and follow the updated Continuity Guidance for Research Facilities. Lab members should work from home whenever possible and team meetings should only take place in virtual settings. When in the lab, maintain a density of personnel to permit a safe space between researchers, even in training situations. Require essential personnel to stay home if they are ill or have contact with a COVID-19 positive individual. Establish a system by which lab members can check on the status of each other. 
This is an extraordinary time for our institution and our local community. I fully understand the impact these changes can have on your respective research program and the impact on your students' progress. The impact of the COVID-19 virus may have long-lasting effects. Our focus now is on the health and safety of all members of the UTSA research community while trying to minimize the immediate effects on our Roadrunner family. The Research Office is committed to serving the research needs of our faculty and postdocs and continuing to support our research portfolio. Please feel free to reach out to us during this critical time.