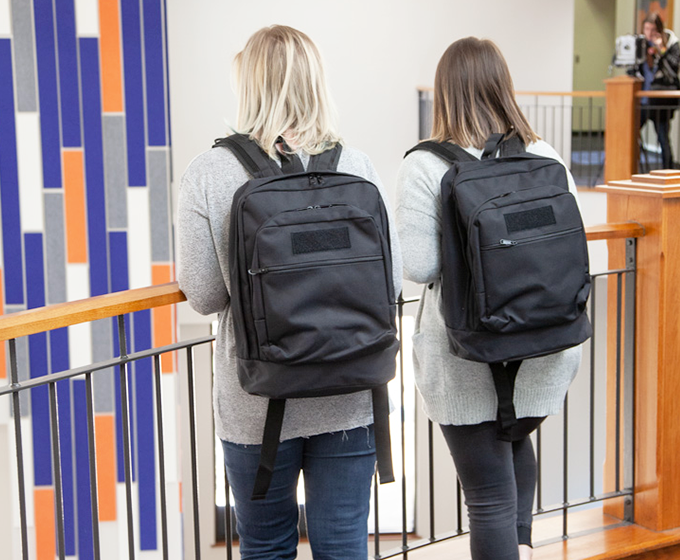 MARCH 10, 2020 — When UTSA's new Fostering Educational Success Center was launched in 2019 with a mission to support all students with a history of foster care through coaching and connecting them to resources on UTSA's campuses, its leaders knew they would sometimes need to rely on partners in the broader San Antonio community.
This semester 30 of the program's students received backpacks from the One Simple Wish Foundation's Day 1 Bags program, which were filled to the brim with items of students' choosing, based on their most essential needs. The gift came from two inspiring college students.
UTSA student Hailey Beaton and her brother Hunter Beaton grew up in a household with three foster siblings who were eventually adopted by the Beatons' parents. Having seen what children go through in foster care, Hunter and Hailey wanted to find a way to give back.
---
"This donation highlights the ways our youth with a history of foster care crave community connections and want to give back."
—PEGGY EIGHMY, First Lady of UTSA
---
---
The two realized that simple essentials like backpacks can be easily overlooked as important items that make experiences in school easier and less stressful for students. So Hunter Beaton established Day 1 Bags as a teenager and hired Hailey as digital content producer.
"I have seen firsthand the impact of simple items such as duffel bags and backpacks have had on teens who were once in the foster care system," said Hailey Beaton.
Currently in its pilot year, the Fostering Educational Success Center is enhancing existing resources and practices, and developing targeted support to increase access, retention, and graduation rates for those with a history of foster care.
The center currently serves 108 UTSA students, providing them with several services, including a hygiene pantry, which offers essentials such as deodorant, shampoo, Kleenex, laundry detergent, toothbrushes and toothpaste at no charge. The center also offers food, home goods and kitchen ware.
"This donation highlights the ways our youth with a history of foster care crave community connections and want to give back to their peers who need extra support," said Peggy Eighmy, UTSA's first lady. "We are so grateful to Hunter and Hailey for being leaders in their community and bridging the gap for material goods by organizing this donation."
---
---
To gain more traction and serve even more students in need, Hunter Beaton partnered with the One Simple Wish Foundation in 2019. Their partnership has resulted in providing over 2,000 bags to different universities, so students can carry their books and other supplies across large campuses.
"As a college student," he said, "I see the struggles that students endure after being 'aged out' of foster care. I believe it is essential that people support others in need. When you take a moment to look around, you realize you can help one of these students with something so simple. A small gesture of providing a backpack may be the one gift they need to feel they belong to their college community."
As of September 2019, Day 1 Bags has delivered over 28,325 to kids in need across the United States.