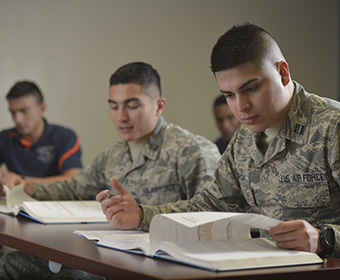 MARCH 30, 2020 — In its continuing effort to provide staunch support for military-affiliated students, UTSA has awarded its first scholarships for student veterans and military-affiliated students this spring.
Through a collaboration by the Office of Veteran and Military Affairs and the UTSA Scholarship Hub, scholarships were awarded to 16 military-affiliated students. These scholarships can be applied to tuition, fees, living expenses or books during a semester at UTSA.
"The establishment of military affiliated scholarships at UTSA is another outstanding effort in our continued evolution of supporting our students," said Lisa Carrington Firmin, associate vice president for veteran and military affairs. "I am so very proud of the way the UTSA community has stepped up to assist VMA in being able to provide these types of scholarships to these very deserving students."
The scholarships will largely be used in conjunction with federal or state funding or to assist those students when other funding is no longer available. Reuben Aleman, assistant director of veteran certification, VMA scholarship administrator and a veteran who currently serves in a local reserve unit, said these scholarships will be a great help for students using G.I. Bill benefits or Hazlewood exemptions to attend UTSA. "Those benefits expire for each individual. We've often seen that in someone's graduating year or even late in their junior year, their benefits expire during the term, so they're left with a bill," he explained. "We wanted to help bridge that gap."
"Time and again I've had student vets approach me that their benefits were running out or just didn't cover enough for them to complete their academic dreams," Firmin added. "These scholarships are a direct result of VMA trying to meet students where they are and help them achieve success."
The scholarships will be awarded once in the fall semester for the entire academic year—both fall and spring semesters—in subsequent years. Applications for the fall 2020 veteran and military-affiliated scholarships will be accepted from April 1 through May 15. Submissions can be made online via the UTSA Scholarship Hub.
---
⇒
Download the
UTSA Mobile app
to connect with the Center for Military Affiliated Students.
---
Notable recipients of the spring 2020 scholarships include:
Clifton Elliott Dagenais
Dagenais is a 25-year-old Navy veteran and freshman biology major with an interest in molecular biology. His goal is to attend Baylor Medical School after finishing his undergraduate education at UTSA. He serves as the volunteer chair for UTSA's chapter of Alpha Epsilon Delta, a national honor society for pre–health-professions students.
Umang Sharma
Sharma is a native of India who earned an undergraduate degree in chemistry and biology at State University of New York–Albany before pursuing graduate studies in biomedical engineering at UTSA. He is currently serving in the U.S. Army Reserve, and is also part of the Coagulation & Blood Research team at the U.S. Army Institute of Surgical Research at Joint Base San Antonio. His goal is to earn a Ph.D. in biomedical engineering and serve as a research scientist in the U.S. Army Medical Department.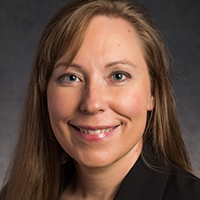 Melissa Thornley
Thornley is a military family member who earned a B.S. in public health at UTSA in 2019 and will earn her M.S.B. degree this spring. She has been part of UTSA's Philosophy & Literature Circle since its inception in 2019, and continues to work with the experiential learning program as a peer mentor. She has also been working as a Stop the Bleed instructor for nearly a year. She has assisted in training members of faith communities, volunteer fire departments, teachers and students on the proper application of tourniquets and safety procedures following an emergency event in which bleeding is involved.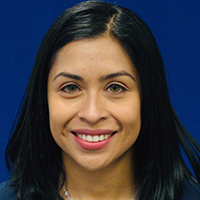 Vanessa Tilton
Tilton is a senior who's double majoring in kinesiology and nutrition and dietetics with a minor in wellness. She aspires to become a registered dietitian in a community setting where she can work with people in a one-on-one setting. A first-generation student and veteran of the U.S. Army, Tilton was stationed at Fort Wainwright, Alaska, where she volunteered for Meals on Wheels, Big Brothers Big Sisters and coached a JROTC summer camp, ultimately earning the Military Outstanding Volunteer Service Medal. She has since volunteered at health fairs as a representative of UTSA's Dietetic and Nutrition Student Association, and for Project Power, a summer camp developed for children at high risk of developing type 2 diabetes.
Joseph Torres
Torres is a senior psychology major and a veteran of the U.S. Air Force, where he worked in various communications units over nine years of service. He hopes to attend graduate school in fall 2020 with the ultimate goal of earning a Ph.D. in clinical psychology. He aims to conduct research in a variety of psychological fields while maintaining a clinical practice to help veterans and adolescents. After transferring to UTSA, Torres joined The Paisano in 2018, working his way from assistant news editor to managing editor of the independent student newspaper. He also made the honor roll for spring 2019, and the President's List in both the summer and fall 2019.