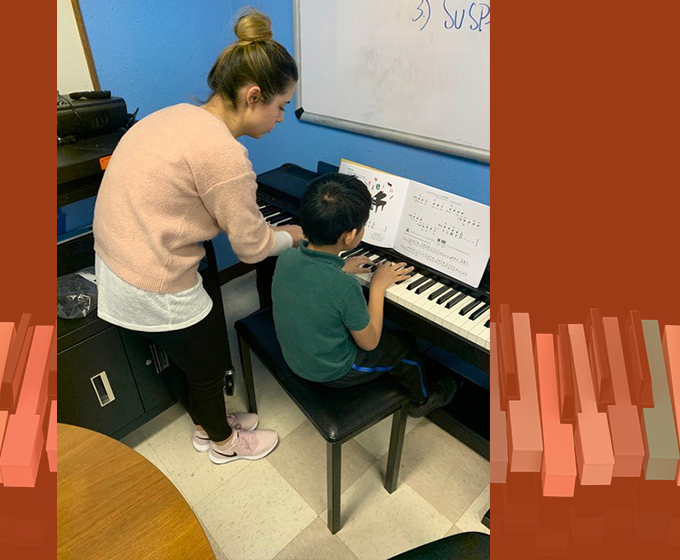 MARCH 5, 2020 — The school bell rings. Elementary school kids dash out the door. Yet others board a school bus and head over to another section within the West Side of San Antonio, just past the train tracks and next to the busy I-10 freeway. Their destination: the blue-colored community center known as the SA Youth, located on Poplar Street. Inside, college students and faculty from UTSA wait by three keyboards. It's officially the start of Out-of-School Time.
UTSA's collegiate chapter of the Music Teachers National Association has partnered with Alamo Music Center and SA Youth to provide music lessons to first- and second-graders as part of the nonprofit's Out-of-School Time program. This initiative provides year-round positive youth development programs outside of school hours.
Unlike the university's well-established String Project, in which local schoolkids visit the the Main and Downtown campuses to receive instruction, UTSA's SA Youth program takes music education into local neighborhoods.
---
UTSA's SA Youth program takes music education into local neighborhoods.
---
---
For the past several months UTSA faculty and music undergraduates have traveled to the West Side location two days a week. There, they meet 17 children and expose them to music notation and introductory activities on piano.
"One day as we were drawing our notes, a first-grader said to me, 'This is my favorite part. I wish you came here every day!'" said Kasandra Keeling, professor of music and coordinator of keyboard studies at UTSA. "I don't think she was referring to the drawing of notes."
SA Youth's Poplar Street location serves three schools in San Antonio ISD: Crockett, Cotton and Margil Elementary Schools.
---
---
"The biggest challenge is space, since there is a great deal of activity going on in the building at the same time. We have tried headphones, rotating kids from group to individual. The space is not a traditional set-up for piano lessons," said Keeling. "The kids also do not have pianos at home to practice during the week. So we have to be creative with the curriculum and our UTSA students have had to really learn to think on their feet."
This afterschool program not only benefits a select group of elementary kids but also offers UTSA music majors the opportunity to obtain hands-on training through experiential learning. UTSA's pedagogy program trains undergraduates in one-on-one piano instruction starting at the beginner level. This type of opportunity allows university music majors who seek to enter the teaching profession and have their own studios the opportunity to apply in-class knowledge with real-world applications.
For Keeling, this community collaboration is personal. As a young native of San Antonio's South Side, she didn't have access to a formal school music program until sixth grade, when she took band class.
"I was lucky that there was a neighborhood piano teacher and my parents invested the money to enroll me in lessons at an early age," Keeling remembered. "It was an opportunity that would not have presented itself otherwise."
Keeling credits her music scholarships for funding her entire college education. She, along with the rest of the UTSA music participants, seek to open this path to higher education to San Antonio's youths.
"Nothing would please me more than to find those kids who have natural talent but just need an opportunity to develop it. Who knows where it could lead them! A career or even just the boost in confidence they need to excel in other areas," added Keeling.
---
⇒ Learn more about UTSA's programs in the Department of Music.
---
According to the New England Board of Higher Education, music education has many positive effects on children, including enhanced language capabilities, reading comprehension, problem-solving and the ability to collaborate in teams. In the SA Youth program the participating UTSA teachers are Ke Pan, Emily Myers, Jihye Cheon, Kalin Brown, Juliana Woodlee, Ji Hyun Kim, and Eymen Geylan. UTSA faculty Sherri Baker and Ivan Hurd also participate alongside Keeling in this community engagement initiative.
The MTNA Foundation Fund provided a kickstarter grant to secure additional teaching supplies for UTSA's partnership with SA Youth's Out-of-School Time program. However, the dream for Keeling and others is to set up a piano donation program so that children can have access to the instruments in their own homes.
"It's not about finding the next Rachmaninoff necessarily," Keeling said. "The positive benefits of music instruction are well-documented and the problem-solving skills these children learn in our lessons will translate to any type of excellence they pursue in the future."