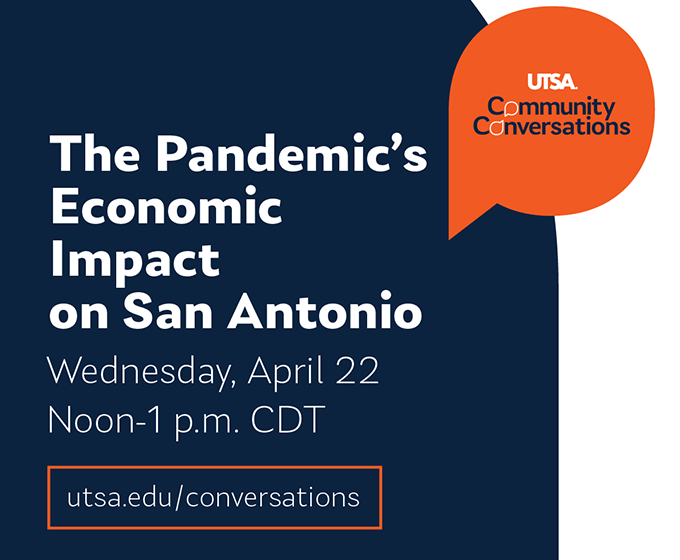 APRIL 20, 2020 — With the goal to begin critical conversation on San Antonio's recovery from the impact of COVID-19, UTSA will host a virtual interactive community conversation with leading faculty experts. The live broadcast will stream on April 22 from noon to 1 p.m. 
The event, titled "The Pandemic's Economic Impact on San Antonio," is free and open to the public and will provide attendees with an opportunity to have a dialogue with panelists through chat. UTSA researchers with diverse areas of expertise will discuss how the pandemic may affect San Antonio in the short and long-term and what the implications reveal for the city's economic future in a postpandemic world.
Panelists are Tom Tunstall, senior director of research for the Institute for Economic Development; Richard Sifuentes, director of the Small Business Development Center; Pamela Smith, associate dean of administration and faculty and a professor of accounting; and Mike Villarreal, director of the Urban Education Institute.
Topics slated for discussion during the hour:
Short and long-term effects on Texas revenue sources,
Implications and challenges for small business owners,
Building San Antonio's workforce for a new era,
Intersections of economic and public policy concerns, and
Potential impact on health care, tax policies and education.
---
⇒ Watch the livestreamed broadcast or learn more about the event.
---
"As an urban serving institution, UTSA desires to share our faculty expertise and research with the community in a format where the audience can participate and interact with these renowned experts," said Mary Larson Diaz, vice president for university relations. "We have some of UTSA's brightest minds tackling this crisis to help our city, state and nation find solutions and accelerate recovery."
The event is the first of several expert-led community conversations planned by the university on topics related to the pandemic.