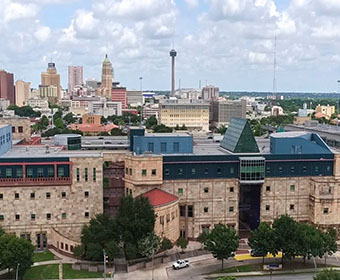 APRIL 14, 2020 — The University of Texas at San Antonio will receive $29.7 million in federal emergency funding to respond to the adverse financial impacts of the coronavirus (COVID-19) pandemic. The grant funding will come from the Higher Education Emergency Relief Fund authorized by the CARES Act, the largest economic relief package in American history. 
Half of the funding, $14,828,444, will be distributed as emergency gift aid directly to UTSA students who have been tangibly impacted by the pandemic. Funding will be awarded to help students with cost of attendance expenses such as food, housing, health care, technology and course materials for online education and child care and to students with income losses related to COVID-19. 
"We are working as quickly as possible to create the processes to distribute these emergency financial resources to eligible students," said Lynn Barnes, senior vice provost for strategic enrollment. "We know that many of them are struggling to make ends meet as a result of the COVID-19 pandemic. Additionally, we understand that family financial circumstances may have changed, and we strongly encourage students to reach out to our One Stop office for further assistance at 210-458-8000 or onestop@utsa.edu." 
Once the emergency funding is released to the university, UTSA will provide detailed information to students about the application process. That information is expected in the next week or so. Applications will be reviewed on a case-by-case basis. 
Students are reminded to complete the FAFSA, if they have not done so already, to make sure they receive the maximal funding available. 
"UTSA has many, many students and families who are in need due to this pandemic," said Kimberly Andrews Espy, provost and senior vice president for academic affairs.  "Our commitment to the success of our students is steadfast – and this emergency aid is a critical tool to help advance their continued progress toward their degree." 
The remaining portion of the federal funding, $14,828,443, is to provide the university assistance with impacts and unexpected costs associated with the pandemic. Guidance related to the utilization of these funds is forthcoming to the university from the federal government, State of Texas and UT System. 
In total, Texas institutions of higher education were awarded more than $1 billion of the $14 billion available from the Higher Education Emergency Relief Fund.