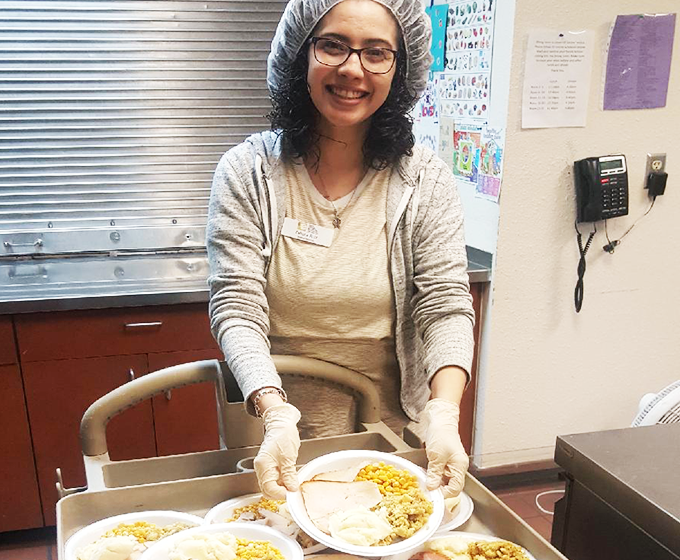 APRIL 29, 2020 — UTSA social work adjunct professor and alumna Kimberly Goodwin '12 wants to make sure no one in San Antonio goes hungry during the COVID-19 pandemic. She's helped to feed over 500 people across the city by providing meals to the needy and lending a helping hand to local community restaurants that have been affected during these unprecedented times. And her work is not finished.
With the help of social worker Darrell Parsons and the San Antonio LGBTQ community, Goodwin started a program called Neighbors Helping Neighbors. The program raises money to purchase once-a-week meal deliveries from a variety of local restaurants to help feed people.
"This is such a difficult time filled with change and uncertainty for all of us. That is magnified for people sheltering in place without a home of their own and people who have limited access to resources," said Goodwin. "It's also a time when many local small businesses are struggling to support themselves and their employees. This is something to help those struggling most in this time with a small gesture of caring. We hope to communicate that we see you, you matter."
A proud Roadrunner, Goodwin is determined to support her community and has raised over $6,000 to help area nonprofits. Since Saturday March 21, she has coordinated meal deliveries every weekend, targeting a new agency to help.
Agencies that have partnered with Neighbors Helping Neighbors for support to date include SAMMinistries Transitional Living Center, a local homeless shelter for families; Battered Women's Shelter; University Hospital, whose employees have provided care to anyone regardless of ability to pay or insurance status; and Endeavors Fairweather Lodge, which has housing programs for families and adults in mental health recovery.
The list continues, including THRIVE Youth housing program for LGBTQ youth; Roy Maas Youth Alternatives shelters for youth (The Bridge Emergency Shelter and La Puerta Emergency Shelter), which serve chronic runaways, severely abused and trafficked youth with intensive needs; and Lifetime Recovery Men's Residential Treatment Center, for adults in substance use recovery.
Local participating restaurants include WD Deli, Luther's Café, Deco Pizzeria, Sangria on the Burg and Candlelight Coffee House and Wine Bar, and Mark's Outing.
In their most recent meal delivery Goodwin delivered meals to Lifetime Recovery. Her goal is to help people navigate difficult life transitions and situations, such as being able to secure a meal in the midst of the pandemic.
"Kimberly has always had exceptional energy, creativity and follow-through, from her days as a UTSA student and president of the social work student council, and now as an experienced clinician and community leader," said Amy Chanmugam, associate professor and chair of UTSA's Department of Social Work.
---
---
Named the 2019 Social Worker of the Year by the Alamo Branch of the National Association of Social Workers, Goodwin has structured her professional body of work on helping people rediscover and work toward meaningful life goals after struggling with mental health symptoms that change someone's abilities to complete their usual day-to-day tasks.
"It's fantastic to have her teaching the next generation of social workers. The impact of her efforts like Neighbors Helping Neighbors and her infectious enthusiasm provide a great model for students. Her actions help them see how to jump in and think creatively about addressing community needs," Chanmugam added.
Neighbors Helping Neighbors plans to continue its weekend deliveries until shelter-at-home ends. This coming weekend it will be purchasing face masks from locally owned business OUCH apparel to provide to LGBTQ youth at Fiesta Youth. In future weeks the program plans to help outreach workers from Haven for Hope, which serves people currently living on the streets of San Antonio; Corazon Ministries, which provides services to people experiencing homelessness; and other local nonprofits.