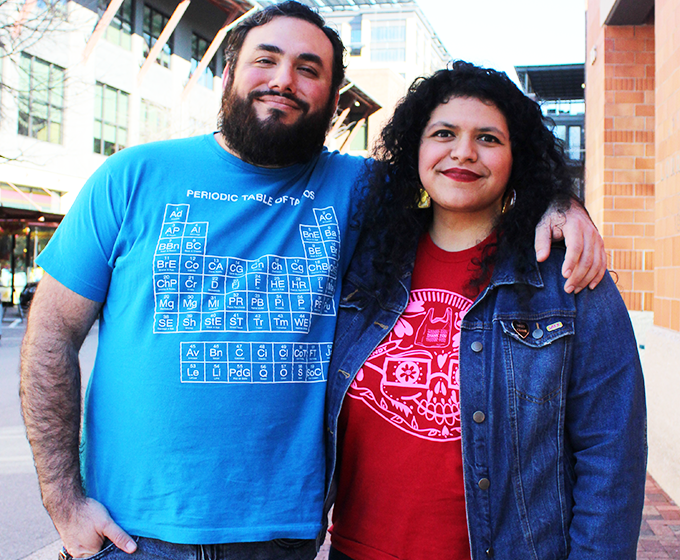 ---
ROADRUNNERS YOU
SHOULD KNOW

---
APRIL 10, 2020 — BarbacoApparel has been taking the local small business scene by storm since 2014 with its vibrant colors, puns and nods to the San Antonio and the Latinx culture, whether it's through T-shirts, enamel pins or Fiesta medals. 
Over a span of six years the team behind BarbacoApparel have seen what it takes to start a business from scratch to having their products in a major grocery chain like H-E-B. 
Two of those team members and cofounders are husband and wife duo and UTSA alumni Matthew Contreras '06 and Nydia Huizar '06. 
With their communication and writing backgrounds, being entrepreneurs is something Contreras and Huizar never imagined themselves doing after college. 
How did the idea to do something like BarbacoApparel come about? 
Contreras: There's four people in the business. It's Nydia, myself, Richard [Diaz] and Catherine [Contreras]. Richard, Nydia and I all met at work, where we edited standardized tests about 12 years ago. We enjoy editing, but the stuff that we were editing wasn't superstimulating. So we were looking for a creative outlet. We had a million ideas, and we just landed on this one. My parents had done screen printing when I was a kid, so I kind of already knew a little bit of what goes into it. 
---
"You didn't see [Latinx people] in the media as much...so it was a way—a small way—for us to reflect who we were."
---
---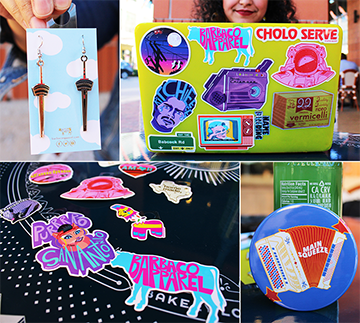 When you all set out to do this, what was the goal of the project? 
Contreras: I think if you ask everybody, you're going to get a different answer. But for me, I think it was really to acquaint myself with the city more. I'm from Katy, but I moved here when I was 11. I've been here since then, but I didn't appreciate the city as much before. My parents were from here. My last name is Contreras. My parents spoke Spanish, but they didn't speak in the house. We didn't grow up learning Spanish, so I never really felt connected to that part of my heritage. 
Huizar: For me, one of my main goals with the business was to get more experience. I really wanted to grow. I feel like it was more of Matt and Richard's idea, and they brought me along into it. I was down because I really wanted to do more graphic design. 
Why only focus on Latinx culture and San Antonio lifestyle? 
Contreras: Everything has changed since 2014, but at the time you didn't see us in the media as much. I grew up with all these white shows, and I didn't see myself represented in anything, so it was a way—a small way—for us to reflect who we were. 
What was it like developing a business from the ground up? 
Huizar: We had to figure out how we were going to do this. We had to ask ourselves how much money we should invest in this business and when do we pull out if it doesn't look like it's growing. We don't have business backgrounds, so it was all just guessing as we went along. I had to try to figure out Adobe Illustrator because I didn't know what I was doing. 
Learning to integrate the T-shirt color into the design to save on costs and then like the more technical stuff. We had to figure out like what kind of T-shirt type we want to offer that's going to be affordable, but something that's not going to be too rough. 
Nydia, you mention that you had no experience in design, so how did you figure it out? 
Huizar: When we started working at our previous employer Matt and I were looking at getting a certificate, but we never got it because our work schedule got busy. But we did take a multimedia class, and in that class they focused on software. Illustrator was one that I've kind of worked on a little bit during my UTSA days, but not enough to feel confident enough to use it. At first it was a lot of like tinkering with software and then I just started using YouTube to try something to do certain things. 
---
Celebration of Culture

---
You didn't have business backgrounds, but instead came from the communication and writing world. What have you all been able to incorporate into BarbacoApparel? 
Huizar: One thing that's imperative for any business, especially ours, is strong communication skills. We send out a lot of external and internal emails to communicate business needs. When working with partners and wholesale clients, we want to put our best foot forward and minimize embarrassing typos and confusion. We've also used the information we learned at UTSA to write press releases, blog posts, social media, video and website copy. 
Now what is the process like when developing a new product? 
Huizar: A big part of the process is our design meetings. We'll try to set out some time with the whole team to spitball ideas. We usually do it at Jim's because we can relax there and get free refills. [Huizar laughs] I think the turning points of our design process was when Matt was like, "Why don't we just do taco T-shirts?" Our first one was "bean and cheese" and that was the first T-shirt that revolutionized our business and how we think about it. 
I know at one point BarbacoApparel was in H-E-B. How did that come about and what was the experience like? 
Contreras: That was crazy! They actually approached us twice in two different cities—San Antonio and Houston. H-E-B is really awesome about featuring local businesses in their stores, so they wanted to work with us because of that. 
Huizar: It was a really cool experience. I'm glad we did it, but I don't know how we did it. Not only did we do the design work, but we were the ones responsible for ordering the shirts to be printed. We worked out of a storage unit tagging and boxing shirts. I mean, I'm sure there's a way more efficient way to do it, but we didn't know. 
Contreras: It was a big learning experience for us design-wise. One of the great things about H-E-B is they're a business, but they're superpatient and really hands-on. They essentially forced us to look at the market in more general terms because a lot of our designs are very colorful and complicated. 
What advice now would you give somebody who's trying to start their own business or project? 
Huizar: I think my biggest piece of advice is don't stop yourself from doing things. If you're going to work with a team, be able to accept things that you think are impossible, and use whatever kind of organizational skills you have to make those dreams a reality. 
Contreras: I think, in the business world, there's prep work that you need to do. You need to file with the city, and it's very easy thing to do. You need to figure out what kind of business you want to be. Other than those two things, you really just need to jump in and just do it because if you procrastinate, it's never going to happen.