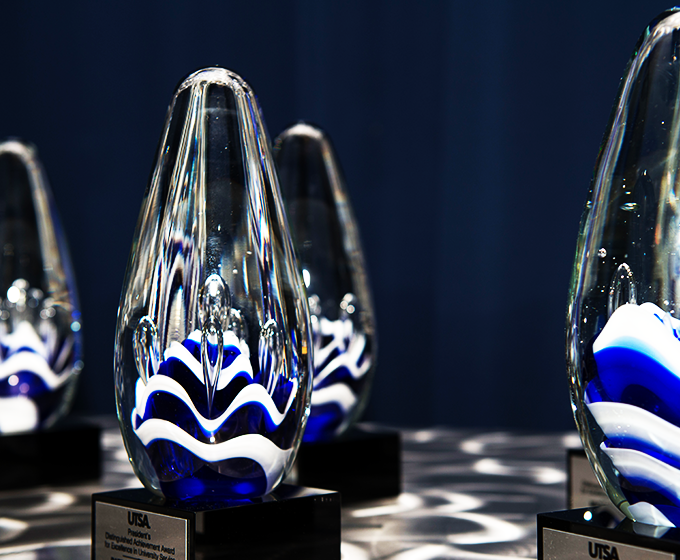 APRIL 22, 2020 — Roadrunner Nation has celebrated the fantastic achievements of UTSA faculty and staff during the 2020 University Excellence Awards ceremony, livestreamed Tuesday. The program featured university leadership—President Taylor Eighmy, Provost and Senior Vice President for Academic Affairs Kimberly Andrews Espy, Vice President for Inclusive Excellence Myron Anderson and Vice President for Business Affairs Veronica Salazar Mendez—announcing the winners. 
All categories of the University Excellence Awards were evaluated through their respective nomination review committees: President's Teaching Awards selection committees coordinated through the provost's office, Distinguished Diversity Awards committee coordinated through the inclusive excellence office and the University Excellence Staff Awards committees coordinated by Staff Senate. The University Excellence Awards Program is overseen and managed through a committee with representatives from areas throughout the university. 
If you missed the livestream—the first of a UTSA virtual awards event, which peaked at one point at 672 viewers—you can watch the recorded stream.
Awards statuettes and Years of Service certificates and pins will be available for employees when campus reopens. 
Here are the 2020 winners in each category:
---
PRESIDENT'S TEACHING AWARDS
---
---
RICHARD S. HOWE DISTINGUISHED UNDERGRADUATE TEACHING: Gina Amatangelo (Public Administration; College for Health, Community and Policy), Sue Ann Pemberton-Haugh (Architecture; College of Architecture, Construction and Planning)

---
TEACHING EXCELLENCE: Thad Bartlett (Anthropology, College of Liberal and Fine Arts), Leslie Neely (Educational Psychology, College of Education and Human Development), Jessica Nowlin (Philosophy and Classics, College of Liberal and Fine Arts)

---
CORE CURRICULUM TEACHING: Luca Pozzi (Anthropology, College of Liberal and Fine Arts), David Matiella (Architecture; College of Architecture, Construction and Planning)

---
EXCELLENCE IN UNIVERSITY SERVICE: Eugene John (Electrical and Computer Engineering, College of Engineering), Hector Aguilar (Chemistry, College of Sciences)

---
ADVANCING GLOBALIZATION: M. Kathryn Brown (Anthropology, College of Liberal and Fine Arts)

---
INNOVATION & IMPACT: Development of a common curriculum for HIS 1053 Civil War to Present (Jodi Peterson, Kirsten Gardner, Jennifer Dilley, David Hansen, Gregg Michel [all History, College of Liberal and Fine Arts])

---
EXCELLENCE IN COMMUNITY ENGAGEMENT: Catherine Nolan-Ferrell (History, College of Liberal and Fine Arts), Mel Webb (Center for Civic Engagement and Honors College)

---
RESEARCH ACHIEVEMENT: Xiaodu Wang (Mechanical Engineering, College of Engineering), Chiung-Yu Hung (Biology, College of Sciences), Catherine Clinton (History, College of Liberal and Fine Arts), Marcus Hamilton (Anthropology, College of Liberal and Fine Arts)

---
DISTINGUISHED DIVERSITY AWARDS
---
---
FACULTY/STAFF INDIVIDUAL: Courtney Balderas-Jacob (Dreamers Resource Center, Inclusion and Engagement Center)
---
FACULTY/STAFF GROUP: Office of Veteran and Military Affairs (Lisa Carrington Firmin, Michael Logan, William Lansdon)
---
STUDENT INDIVIDUAL: Maritza Hernandez (Bilingual-Bicultural Education, College of Education and Human Development)
---
STUDENT GROUP: Musicians of Business
---
UNIVERSITY EXCELLENCE STAFF AWARDS
---
---
RICHARD S. HOWE SERVICE TO UNDERGRADUATE STUDIES: Rosa Gonzalez (College of Education and Human Development)

---
LEADERSHIP: Kristee Phelps (Human Resources)

---
RISING STAR: Lina Trejo (Purchasing Department)

---
EXTRA MILE: Nicholas Hernandez (Admissions)

---
TEAM SPIRIT: Resilience and Retention Team, Advising Center (Brandy Barksdale, Michele Tencza)

---
ORDER OF THE ROADRUNNER: John Shaffer (The Graduate School)

---