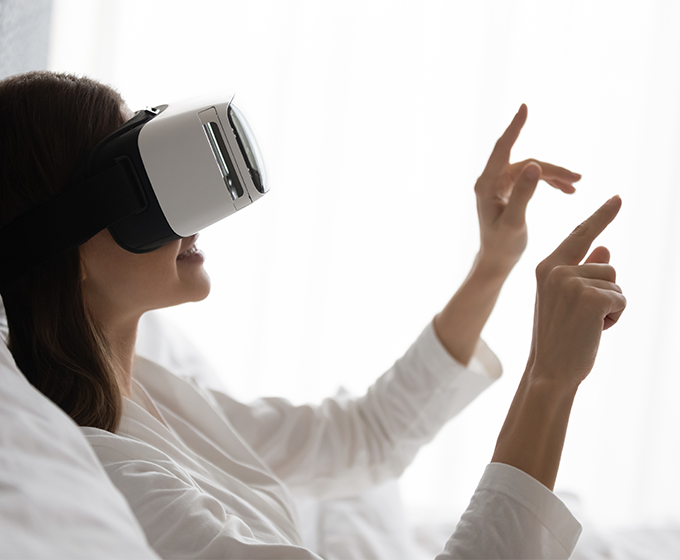 APRIL 23, 2020 — Cities across the country and the world are now working to ensure that citizens comply with COVID-19 public health measures in their daily lives. Yet long-term compliance to rules like use of mandatory face coverings require new engagement methods. Now researchers at UTSA have conducted an experiment that shows how virtual reality videos, when coupled with well-known figures, especially celebrities, can influence positive health behaviors. 
"Celebrity communication can be very effective in influencing fans," said Seok Kang, associate dean for research in UTSA's College of Liberal and Fine Arts and a professor in the Department of Communication "Today we depend on celebrity communication, including from sports stars and social leaders, to deliver encouraging messaging." 
This past weekend the power of celebrity was in full force when the YouTube One World Concert: Together at Home engaged a global audience to donate close $200 million in funds to benefit the World Health Organization and first responders impacted by COVID-19. According to a research study published last year on health framing, YouTube is the largest social media platform for news and information. Although VR use on the streaming service is still in its nascent stages, Kang believes that this method, when used with the right spokesperson, is the best strategy to create positive change. 
---
Results indicate that messages are effective when celebrities deliver them with affection, friendliness, love and care, rather than with knowledge and expertise.
---
---
To conduct the experiment, Kang tested five methods ranging from using a simple news article to the more engaging VR videos to ask participants to decide whether to participate in a social impact campaign called "Love Myself UNICEF." He focused on fans of the Korean pop group BTS, which at the time of the experiment was actively engaging on a campaign that advocated education equality for youth and reliance on high self-esteem. 
In the study Kang found that when BTS was personable and emotional, fans tended to follow BTS's campaign for youth empowerment. The results indicate that messages are effective when celebrities deliver them with affection, friendliness, love and care, rather than with knowledge and expertise. 
According to communication experts, there are different levels of emotional engagement between the celebrity and a fan. It's a hierarchy: from the lowest known as parasocial interaction to the highest when it becomes pathological, also known as obsession. 
"What we notice is when there is a moderate emotional engagement and the celebrity itself is seen as 'down to earth,' more of the respondents showed higher intention to adhere to participation," said Kang. 
Due to stay-at-home orders, artists of the One World concert played from their living rooms, which created a higher level of intimacy or perception. And although Kang's experiments point to forward-looking communication campaigns, the VR video marketplace on YouTube still needs to grow. Current industries that leverage the technology include the film and the experiential industries but public service organizations lag behind. Other barriers include that the majority of content on YouTube is user-generated versus organizational based; however, more VR headsets are entering at cheaper prices which will make growth a near reality. Already news outlets such as The Guardian and The New York Times have started to make strides to create a deeper connection with viewers and a news event by developing VR applications.
---
⇒ Learn more about UTSA's health communication program.
---
According to Kang, the advent of more pandemics, such as SARS or COVID-19, and the growth of online groups will create the need for government and public advocacy groups to push for innovation to help grow community compliance regardless of where they may be, including living in a virtual world. 
This week it's expected that several U.S. states will start to ease stay-at-home restrictions. The Centers for Disease Control and Prevention has developed public service announcements but have only earned about 16 million views in one month, while the most popular VR video uploaded two days ago has received three times the viewership levels. In many cities leaders use local TV to urge people to wear masks, but many groups will be missed, especially those that rely more heavily on a virtual world. 
"We have to rethink public health communication playbooks. Most Americans have a low awareness of the name of the current surgeon general," said Kang. "When there is very little time to act, we need the power of celebrity. We have to see beyond and leverage technology to grow healthy behaviors."