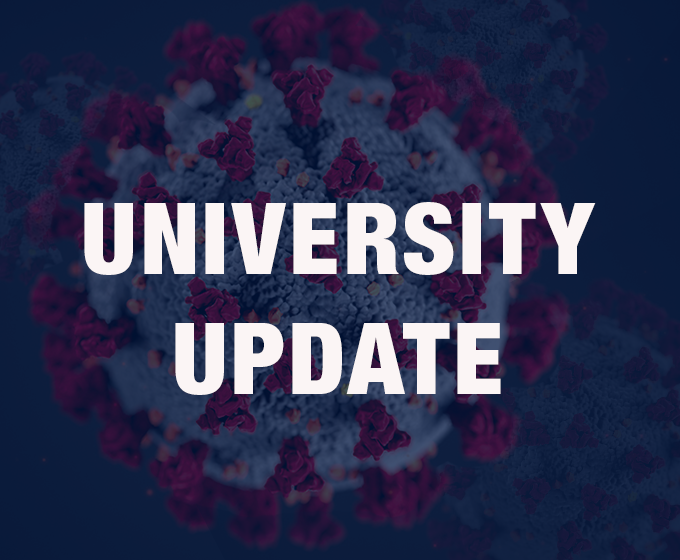 MAY 19, 2020 — UTSA is committed to supporting the university community during remote learning and operations. Here is your latest digest of university news and tips. 
---

SPRING SALUTE

Congratulations, 'Runners, on wrapping up another semester. But we know this wasn't just another semester. With gratitude, President Taylor Eighmy sends a special message to faculty and staff in honor of your support through these unprecedented months of working and teaching remotely.
---
COMMUNITY NEWS

---
PARKING UPDATE: The university will suspend monthly payroll deductions for employee parking permits through July, which will be reflected on July 1 and August 1 paychecks. Anyone who paid in full for their permits will receive refunds for June and July. The university previously suspended payroll deductions and offered refunds for the months of April and May. If you have any questions about your parking permit, email Campus Services. 
---
OPEN FOR BUSINESS: Just a reminder for everyone that three popular services, housed in the Student Union, are still operating.
| | | |
| --- | --- | --- |
| The Roadrunner Pantry is operating on a self-service model. Drop in with your UTSA ID weekdays from noon to 4 p.m. Get up to seven bags of food, one visit per week. Email questions to staff. | The UPS Store is open weekdays from noon to 4 p.m. for mail and package pickup as well as storage. Call 210-458-4945 or email store staff for more information. | The Campus Technology Store is accepting orders online and is able to ship products to clients. All orders over $100 ship free. Email the Campus Technology Store for more info. |
Access the Roadrunner Pantry and the UPS Store or make pickups from Campus Technology Store via the north entrance to the Student Union, near the circle drive and tennis courts.
---
ONLINE LEARNING & TELECOMMUTING

---
READY TO ZOOM: Everyone now has access to video conferencing tool Zoom to support remote learning and communication with students. Visit Academic Innovation's Zoom Resources to get started. By signing in with your UTSA credentials, you will have access to a higher ed pro account, which includes:
Up to 300 participants per meeting with unlimited time.
Enhanced collaboration with polling, breakout group rooms and Q&As.
Session recording and an option for automatic transcription so students can learn at their own pace.
FERPA compliance and 256-bit AES encryption.
---
SHOW YOUR PRIDE: If you're missing campus, don't forget that we've created some campus-inspired and spirit-themed virtual backgrounds for Zoom to help you feel connected with other Roadrunners while teaching courses or working remotely.
---
FIND YOUR HIDDEN TALENT: Love learning new things? Check out the Student Union's on-demand video series "Stuck at Home." Talented students offer up tutorials on drawing, creating an awesome study space, how to make tasty snacks and more. Check out their YouTube playlist or follow @UTSAStudent_U on Instagram for new videos every week.


---
VIRTUAL EVENTS

---
SUCCEED THIS SUMMER: Academic Innovation's series of webinars for instructors continues this week with resources and best practices for quality online teaching. Each webinar is open to anyone who supports student learning, including teaching assistants, graduate assistants and academic support staff. If you miss a live broadcast, they're saved for later viewing. You can also explore the Remote Teaching Resources page for additional guidance.