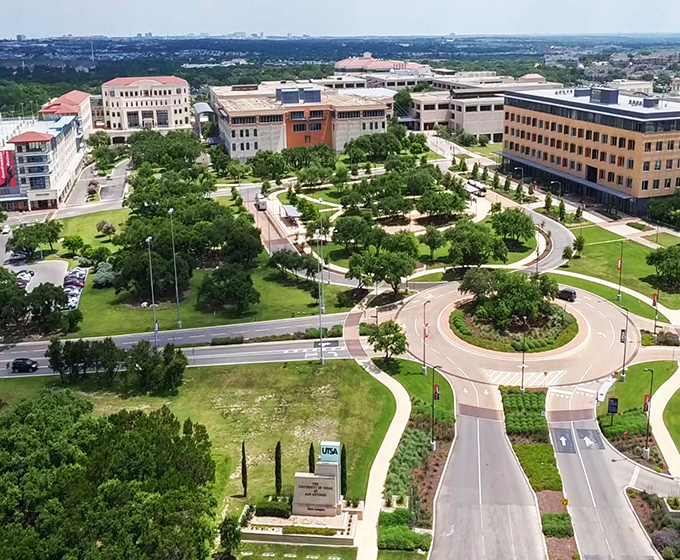 MAY 11, 2020 — Editor's note: The following message was sent via email today from President Taylor Eighmy to all faculty and staff:
As the spring semester comes to a close I want to share my current thinking with you about this coming summer and fall semesters. I know many of you have questions and I appreciate all who have shared their thoughts with me. We are united by the many treasured aspects of UTSA's community and campus that we hope to bring forward into this coming academic year.
Last week Chancellor James Milliken formally asked all UT System campuses to "engage in planning now for a return to campuses in the fall" while continuing to follow the guidance of governmental and health authorities.
In truth, though we moved to remote learning and telecommuting this spring, our campuses never closed. We have 170 students living in our residence halls and over 600 staff, faculty and graduate students working to provide essential services and conduct critical research (including COVID-19 studies)—all while adhering to strict social distancing and personal protective equipment requirements. The fortitude of all these Roadrunners—and your support to keep our campuses and student services running this spring and summer—is deeply appreciated.
---
"At this moment the exact nature of how our campuses will open is yet to be determined, but we intend to make final decisions about our plans by the end of June."
---
---
We will broadly reopen UTSA's campuses this fall, though campus life will look different when we return. At this moment the exact nature of how our campuses will open is yet to be determined, but we intend to make final decisions about our plans by the end of June. Rest assured that we will continue to keep you apprised as plans for the fall semester are refined.
We are working closely with UT System to ensure the very best medical and public health practices are used to guide our reopening, and we will rely heavily on their input as well as guidance from Governor Abbott and his team. Though there are still many logistical questions to be addressed, I am heartened at the prospect of seeing our Roadrunner community safely come together once again.
One of the many issues that will take more time to determine is the way in which our courses will be delivered. A blend of in-person and remote learning is a distinct possibility, as is a gradual phasing in of classroom and lab activities over the course of the semester. Many of these decisions will depend on the use of personal protective equipment, any trends or resurgence in the virus's spread, the capacity for testing and revisions to social distancing best practices.
Flexibility will be key to our fall planning, and we are ready to continue rapidly adapting our policies as needed to ensure all Roadrunners have the ability to pursue studies and work in a safe environment. Time and careful planning will be needed to fully address questions around other aspects of campus life—our residence halls, student activities, large gatherings and athletics. On this last item we are working closely with Conference USA on the safety of our student-athletes and planning for how we will appropriately host all our fall sports and Roadrunner football.
To help us develop our fall plan we are appointing tactical teams to work on proposals to reopen UTSA's campuses and adapt to blended and modified educational and campus life modalities. These teams will consist of faculty, staff, students and other stakeholders and will include many opportunities for input and participation from the broader community.
Meanwhile, this summer we expect to gradually expand and resume some additional campus operations with appropriate research and graduate educational activities as well as appropriate athletics teams training. As with our fall planning the return of these activities this summer will occur in phases and will follow directives from government and health authorities as well as guidance from UT System. We will prioritize those activities that can take place without involving large groups and with social distancing measures in place.
These next few months will be a time for us to learn how to best implement protection procedures on campus and to see how the virus evolves as Texas businesses gradually reopen. For now, UTSA will continue to operate in its current mode. Our summer session courses will be taught online, as announced.
Those employees who have been telecommuting should continue to do so. Telecommuting agreements will be extended to July 31, with the caveat that some staff may be called back to campus sooner, as proposed by the tactical teams. Staff can expect to receive more information about this extension in the days to come.
The pandemic has taught us that Roadrunner Nation is resilient, flexible and patient. We will return stronger from this experience and continue to thrive as a top public research university. I promise, as always, to keep you updated as our planning evolves.