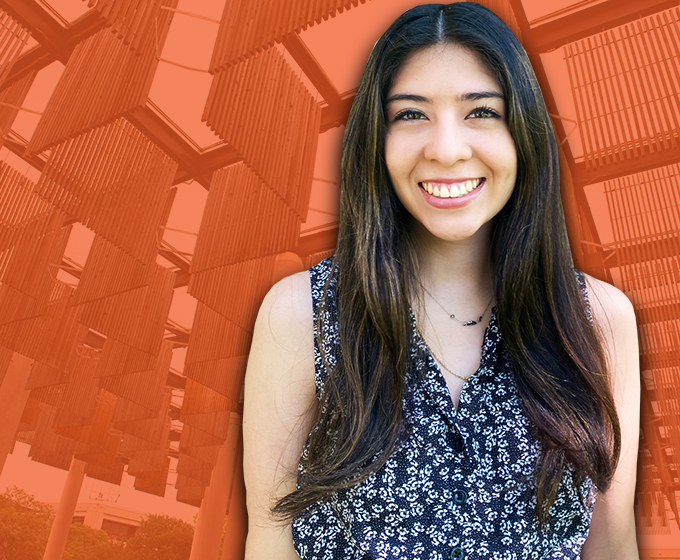 ---
CLASS OF 2020
KAITLYN VARELA
B.S.  |  BIOCHEMISTRY
COLLEGE OF SCIENCES
PART OF UTSA TODAY'S SERIES ON SOME OF THE NEWEST ALUMNI OF ROADRUNNER NATION
---
MAY 20, 2020 — Graduating senior Kaitlyn Varela feels nothing but love for her UTSA community, and she's showing that love through her hard work and effort.
The San Antonio native has been busy researching antimalarial drugs in Francis Yoshimoto's chemistry lab.
"I work on artemisinin, an antimalarial drug," Varela says. "We're looking at elucidating the mechanism of its endoperoxide formation, which gives it its antimalarial properties. If we understand how it is being made in nature, we can understand how other antimalarial drugs are made in nature." 
---
"It's diverse [at UTSA], but we're also really connected. We all support each other."
---
---

The research, funded by the Bill and Melinda Gates Foundation, was the cover story for the January 2020 issue of the Journal of Natural Products.
"Our research would help in the mass production of artemisinin because we look at the actual rate of formation over time—from its precursor in the plant to understand how it is being made in nature," Varela says. "No one understands how it is spontaneously happening."
Biochemistry is the ideal major for Varela because it combines both of her interests.
"In high school I took AP chemistry and AP biology," she says. "I became a biochemistry major because I wanted to do both. The research that I'm doing is a combination of biology and chemistry because we're solving a biological problem through chemical synthesis."
After she graduates this month with her bachelor of science in biochemistry, Varela will continue her academic journey in UTSA's chemistry Ph.D. program. Later, she would like to work with pharmaceutical companies to help produce symptom-relieving medicines for incurable diseases.
"I love how it's a huge community," she says of UTSA. "It's diverse, but we're also really connected. We all support each other. I've had nothing but support since I've been here."