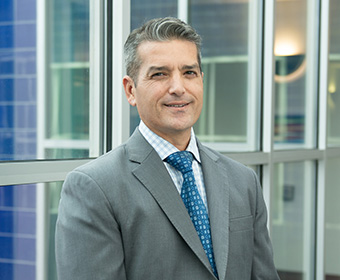 MAY 4, 2020 — The Urban Education Institute at UTSA is leading a change in student success throughout the city of San Antonio.
The institute has partnered with the Centers for Applied Science and Technology for a new research project that will focus on incorporating improvement science into the network schools. CAST schools partner with local public school districts, colleges and businesses to prepare students for jobs of the future.
"We are aiming for the Urban Education Institute to be a major player in improving the outcomes for all our San Antonio students," institute director Mike Villarreal said. "Improvement science is a fancy way of describing the practice of understanding problems within a system, then creating ideas that are tested and put into place quickly. In schools it's especially a way to empower educators."
For this new project the institute is working with groups of faculty members and teachers at each CAST school to identify a problem their campus may be facing and develop strategies to address the issues in real-time.
"Together we are facilitating the groups going through the process of adopting and learning improvement science for teachers," said Matthew Singleton, K-12 improvement science director with the Urban Education Institute. "Other industries—when they face problems or they just want to improve what they're doing—they go to their research and development department. The field of education doesn't have a research and development department."
---
"We are aiming for the Urban Education Institute to be a major player in improving the outcomes for all our San Antonio students."
---
---
Improvement science is a user-centered and problem-centered approach that was introduced to the field of education by the Carnegie Foundation for the Advancement of Teaching to improve teaching and learning in the schools.
By incorporating improvement science, teachers in the classrooms and university experts will have the opportunity to identify the issue, ask questions about it, and develop a hypothesis, Singleton said.
"They'll be able to measure that change on the ground in classrooms with real students in tangible ways and then see if that starts to address the problem," Singleton said. "If it does, then they'll figure out how to adopt that and we can spread it to more classrooms and schools. The end goal is improvement and it's a continuous process. So once you learn how to do it, teachers continue to do it.
The work with CAST will serve as a springboard to new partnerships between the institute and other San Antonio schools that are interested, Villarreal said.
One problem the schools identified since starting the project is the different levels the students are on when starting ninth grade within the CAST network, according to Singleton.
"The CAST schools sort of function like magnet schools, except some of them are independent campuses. Potential students indicate interest and there's a lottery system that finalizes each spot," Singleton said. "One of the problems the schools see is that because these students are coming from very different middle school experiences they're all over the place, both in their content knowledge and in where they are interpersonally and socially."
This new project will allow students to thrive in the classroom and later in life, according to Singleton.
"Our schools are built on learning by doing, so the improvement science partnership work with the Urban Education Institute has really drawn out our strengths," said Carol Mendenhall, director of CAST program design and professional development. "We are building the schools of the future, and this partnership allows us to test our approaches in a real-world setting so that we can adapt to meet our students' needs."
The institute hopes to change the outcomes students in San Antonio often face. Ideally, other schools in San Antonio could use the data that is collected in the CAST schools and make it their own, Singleton said.
"Our end goal is that we do things that affect all students in Bexar County positively. One of our roles at the institute would be to help spread and scale positive changes," he said. "The work we're doing with CAST, while it's a problem that they encounter and develop, it's not a unique problem. Many other campuses face that same problem. Ultimately, our end goal is improving outcomes for San Antonio."