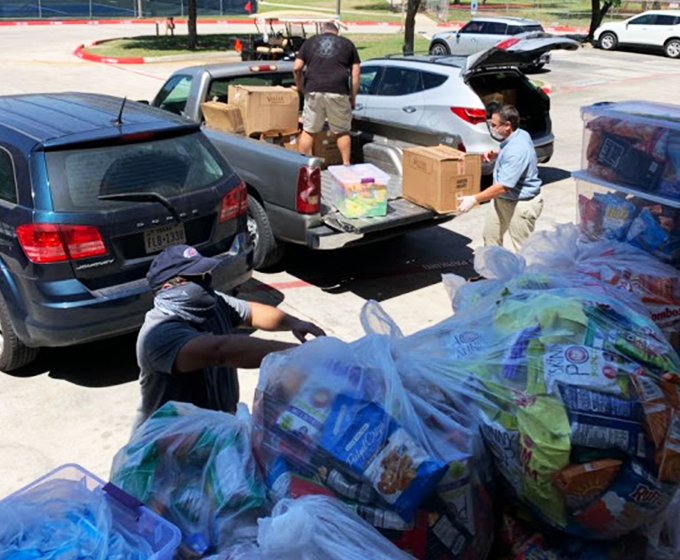 MAY 4, 2020 — The Roadrunner Pantry has received multiple donations of food from local Follett Higher Education Group bookstores. The combined donations total 3,595 pounds of food. These generous donations come at a crucial time when the pantry is serving more visitors and expanding services.
"As soon as the directive came down to close the area stores, I immediately came up with a proposal to donate the food from our convenience and grab-and-go sections to the Roadrunner Pantry," said Mario Carvajal '99, store manager for Follett Higher Education Group. "I'm grateful that Follett Higher Education Group has approved this donation, and we're able to support the Roadrunner Pantry's mission to provide food access to struggling Roadrunners during this uncertain time."
Beginning March 23 the pantry extended hours and increased services to provide food kits for faculty and staff in addition to students. The pantry remains open on Main Campus in the Student Union weekdays from noon to 4 p.m. to serve the UTSA community in need.
"I was so touched to hear from Mario Carvajal, a Roadrunner alum, of this amazingly generous donation." said Nikki Lee, senior associate director of the Student Union who oversees the Roadrunner Pantry. "This coordinated effort by Follett's regional team allows us to add a huge variety of snack foods to our self-service bags, which we know is much appreciated by those students, faculty and staff we are able to serve."
The pantry continues to receive dozens of visitors each week, yet the need for food is currently outpacing incoming donations. The pantry is completely funded by donations and relies on community support to sustain operations. Monetary donations to support the pantry can be made through Launch UTSA. Food and toiletry essentials can also be dropped off during operating hours at the donation station located in the Student Union.
---
---
The pantry is now operating through a self-serve, grab-and-go model. By documenting a current UTSA ID number, students, faculty and staff are invited to take seven bags at once, totaling a week's worth of food. Visits are limited to once per week. Pantry guests are asked to enter the Student Union through the north entrance, closest to the circle drive and tennis courts. A hand sanitizer station and social distancing lines are in place for visitors. Students living in housing on campus also have access to grab-and-go bags at Neighborhood Center 11 in Laurel Village.
Since opening in March 2017, the pantry has served 11,803 visitors and distributed 70,939 pounds of food. The pantry has ongoing relationships with Whataburger, H-E-B and the San Antonio Food Bank to support operations.