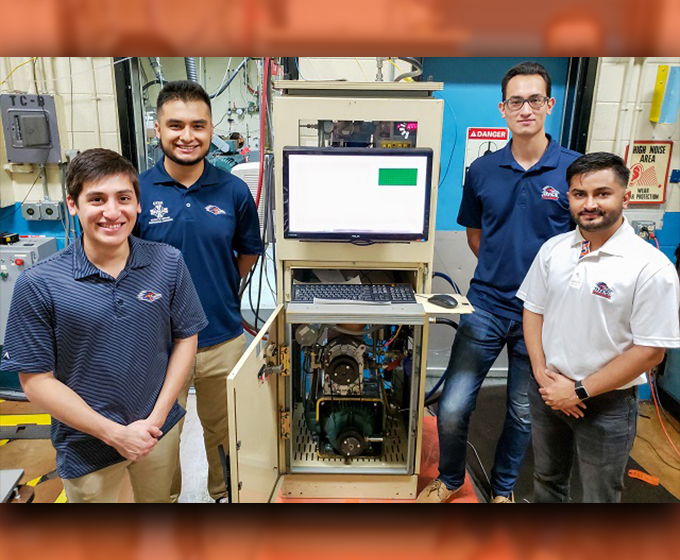 JUNE 30, 2020 — From lawnmowers for home use to large cranes and forklifts utilized by industrial operations, there are countless diesel-powered engines around the world that must operate efficiently and abide by numerous environmental standards.
A group of engineering students at UTSA has worked hand-in-hand with Intertek, a globally renowned name in emissions testing, at its facility at Port San Antonio to significantly improve the technology used as part of particulate matter sampling, which is the most difficult measurement to gauge when testing the emissions produced by many different types of diesel engines.
Serving as a mentor since October 2019 to team leader Raj Patel, project analyst Diego Bass, CAD designer Dylan Gonzalez and equipment specialist Rene Holguin, was Steve Griffin, general manager of Intertek, the go-to authority that engine technology developers, manufacturers and other industries rely on to ensure that their engines meet an array of necessary requirements. Added guidance came from UTSA engineering professors James Johnson, Leah Enders and Keith Axler.
---
"The experience we all gained is invaluable to our growth as engineers."
---
---
Under Griffin's supervision the students integrated numerous off-the-shelf components and instrumentation, along with unique software and hardware, to create a novel particulate matter exhaust emissions sampling console—known in the testing industry as a "bench." The new system is capable of highly detailed sampling measurements that meet the stringent requirements of regulatory compliance under the Environmental Protection Agency's U.S. code of federal regulations.
Of special significance, this prototype—affectionately nicknamed R2D2 by the students—provides results in real-time, which in turn gives Intertek a unique advantage in the efficiency of its operations and customer service. The unit provides correlated performance, which enables research and development level sampling with quick particulate matter measurement turnaround.
Until now, emissions testing has been a very time-consuming process, since it has been scaled to optical and other techniques in a process that can encompass several hours. With the new bench, however, certification-quality particulate matter sampling methods are integrated without the use of optical techniques, yielding tangible evidence of the final measurement much more quickly.
As the first unit is finalized and ready to be deployed as part of Intertek's regular operations, the company plans to build additional benches to enhance the overall efficiency and productivity of its Port San Antonio testing facility. This will allow the company to test significantly more engines with greater accuracy and provide results to clients more quickly.
That accuracy and speed is crucial to engine manufacturers who rely on Intertek's services as part of the development and certification of new products before they can be launched to the market. That added efficiency is also very important to Intertek's manufacturing clients as their existing production lines are routinely audited by regulators such as the Environmental Protection Agency.
"We have gotten tremendous value from these students," said Griffin. "They bring great energy to our environment. Their knowledge and eagerness to find new ways to improve our processes has been fundamental to producing a new system and an innovative way to go about our work."
---
---
"The experience we all gained is invaluable to our growth as engineers," said Bass. "We continue to appreciate the opportunity that was given to us to participate in such a project with Intertek."
The UTSA team connected with Intertek thanks to the efforts of Port Vice President of Business Development Marcel Johnson, who maintains close relationships with both organizations.
"Our mission is sharply focused on supporting and enhancing innovation on our campus and throughout San Antonio," said Johnson. "This entails seeing where there is an opportunity to connect our talented people—in this case, a group of creative and energetic students—with a mature industry leader like Intertek that seeks to enhance its capabilities. Once we help bring together the right people, it is very satisfying to watch the win-win results like those we've seen between Intertek and UTSA."