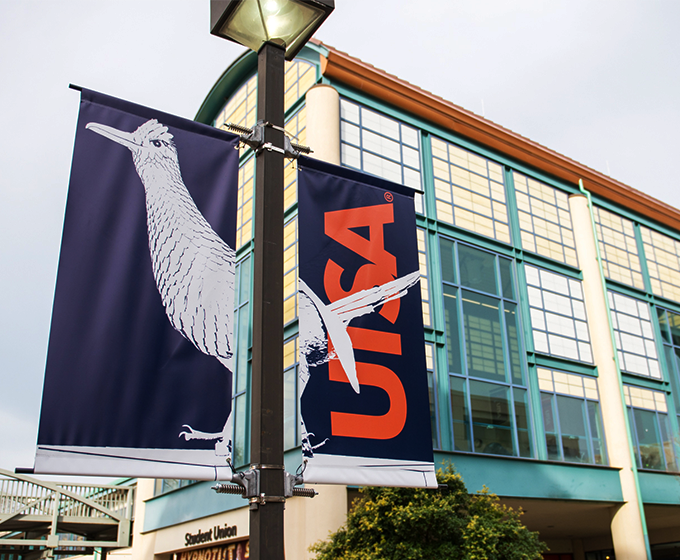 JUNE 30, 2020 — Editor's note: The following message was sent via email today from President Taylor Eighmy, Provost and Senior Vice President for Academic Affairs Kimberly Andrews Espy, and Chief Financial Officer and Senior Vice President for Business Affairs Veronica Salazar Mendez to all students and their parents, faculty, and staff: 
We know you are anxiously awaiting more news about how the fall semester will look at UTSA.
Initially we planned to share information today regarding broad decisions shaping our fall semester. However, the surge in COVID-19 cases in Texas over the last week amplifies the need to ensure our approach fully considers the range of possibilities ahead. The pandemic's current trajectory is highly concerning to us all. We are taking a few extra days so that we can present all of you with a more complete picture of the fall semester and its flexible design.
This much is certain: UTSA will be open this fall with a semester crafted for personalized, impactful student learning experiences and the safety of all Roadrunners. Mandatory public health compliance training will be required for all students, faculty and staff, with consistent reinforcement by a highly visible campus information campaign.
Persisting with academics, campus life and research activities this fall—with significant modifications in place as part of our shared public health responsibility—will not only offer the critical continuity our students need to support their progress but also reignite UTSA's role as a force for social mobility and economic recovery for San Antonio. Our overall goal is to ensure widespread access to high-quality academic experiences and the safest possible physical environments, regardless of the unpredictable circumstances that lie ahead.
---
"UTSA will be open this fall with a semester crafted for personalized, impactful student learning experiences and the safety of all Roadrunners."
---
---
Our teams developing specific guidelines for instruction and student activities have made excellent progress, and we expect to release their reports next week with more guidance about the fall semester. Town halls will follow, providing opportunities for you to engage in dialogue with team leads and ask questions.
Our fall semester will be rooted in the recommendations of our Public Health Task Force and anchored by guidance from UT System and the Texas Higher Education Coordinating Board.
There are a few things we can share with you now regarding the framework:
UTSA's academic calendar for this fall will not change. The first day of classes will be August 24, as scheduled. To minimize the spread of the virus, all in-person learning activities will move to virtual formats after the Thanksgiving break for the remainder of the semester.
The semester's distinctive design will ensure students have an impactful, engaging academic and student life experience. We will offer a blend of online, hybrid, in-person and experiential learning activities. All in-person activities will include virtual alternatives to be inclusive of all, regardless of ability to come to campus or comfort-level with doing so. Much more will be shared next week regarding the flexible academic experience in store for our students this fall.
We are implementing an extensive set of public health safety measures. As described in the Public Health Task Force report, our intent is to provide a learning, living and working environment that is actually much safer than what is found in the general community for the heightened protection of all Roadrunners. Precautions such as required face coverings on campus, mandatory compliance training for all, contact tracing, self-monitoring for symptoms, building and room occupancy limits, regular disinfecting and protective barriers in common areas are all essential to a safe and productive semester.
We will provide housing in our residence halls for students who wish to live on campus. Our Public Health Task Force will guide how housing is made available and the safety measures we will adopt.
The Libraries, Campus Rec Center and Student Union will be available for related student activities. All spaces and activities will have extensive public health safety measures in place.
Return-to-work modalities are being explored for staff and faculty as well as flexible workplace policies. College and department leaders are actively planning how services will be delivered in the fall and the level of in-person support needed to deliver those services.
The entire semester is designed to be highly adaptable in the event we need to quickly move all instructional and operational activities online.
One thing is clear: Embracing a spirit of shared responsibility around the health of our UTSA community is crucial to a successful fall semester. While we will never be able to completely eliminate all risk, our goal is to reduce it as much as possible through multiple layers of protection and flexible, equitable approaches to the academic and student life experiences. 
You can expect much more information and detail on all our plans in the coming weeks: 
July 8: Additional information on fall 2020 framework and tactical team reports released.
July 9–10: Town halls hosted by the tactical teams.
July 28: Work modality information released.
By August 1: Final course-specific information (modality, location, times) available in registration system.
August 24: Fall semester begins.
Please stay safe and continue to focus on the health and well-being of all those around you. We will get through this and be stronger for the experience. A brighter future—fueled by your dreams and thirst for opportunity—awaits.