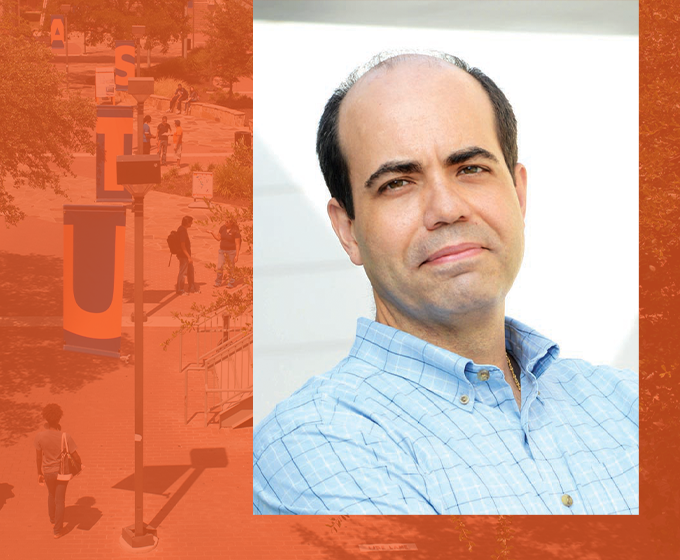 JUNE 26, 2020 — Ender Finol, a professor of mechanical engineering at UTSA has been awarded the distinction of becoming an American Society of Mechanical Engineers fellow.
The honor of ASME fellow is conferred by the ASME's Committee of Past Presidents on worthy candidates to recognize their outstanding engineering achievements, with only 3% of the organization's membership reaching the designation of fellow.
Nominated by ASME members and existing fellows, an ASME member must have demonstrated 10 or more years of active practice and at least 10 years of active corporate memberships in the ASME to earn this honor.
---
"Dr. Finol's achievement has been well-recognized by his peers and we are very proud of him."
---
---
Finol joins a select group of about 3,500 fellows out of an ASME membership totaling nearly 113,000. Seven UTSA mechanical engineering professors are included in this prestigious group. The fellow grad is "truly a distinction among ASME members," according to the organization.
"It's a high honor to be elected as an ASME fellow," says Hai-Chao Han, chair of the Department of Mechanical Engineering at UTSA. "Dr. Finol's achievement has been well-recognized by his peers and we are very proud of him."
Finol has taught courses in biofluid mechanics, cardiovascular bioengineering, biomechanics, biomedical engineering research, fluid mechanics and thermodynamics at UTSA since 2012. 
---
---
His research includes vascular fluid and solid mechanics, design and optimization of intravascular medical devices and medical image analysis.
He also manages the Vascular Biomechanics and Biofluids Laboratory, which evaluates the role of blood flow and its relationship with disease by developing and applying computational, experimental and theoretical methods to evaluate vascular structures and assess their physiological environment in diseases and interventional scenarios.
Finol is also a fellow of the American Heart Association.