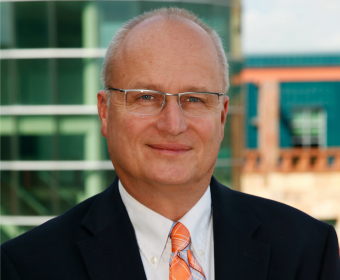 ---
A DECADE
OF DISTINCTION

---
JUNE 4, 2020 — A decade has passed since former Texas Gov. Rick Perry named UTSA demography professor Lloyd Potter the state demographer, an action that also made the university home to the Texas Demographic Center. When the announcement was made on May 10, 2010, it was widely acknowledged that Potter and UTSA were perfect fits for the state's demographic needs.
With a high-profile Latino population in San Antonio and a fledgling doctoral program in demography at UTSA, the Downtown Campus was considered an excellent location for the new center. The city's demographics were predictive of national demographic trends in coming decades and UTSA was emerging as a critical hub of demographic research.
Potter, meanwhile, was more than capable of tackling the state's demographic challenges. He was already director of UTSA's Institute for Demographic and Socioeconomic Research, whose duties included understanding and communicating demographic processes in Texas, training doctoral-level applied demographers in public policy and health, and conducting demographic research on public policy and health-related topics.
He also had a background in health issues, having previously served as director of both the National Suicide Prevention Resource Center and Children's Safety Network as well as managing youth violence and suicide prevention efforts for the U.S. Centers for Disease Control and Prevention.
---
"Most of a demographer's work is about solving human problems."
---
---
Over the past 10 years as state demographer Potter has provided officials with population estimates and projections to inform policy while continuing his research on health- and equity-related demographic trends in Texas. These have included identifying accurate statistics regarding educational attainment, obesity and diabetes rates, health care access, water access and affordability, housing rates, property values, household income, transportation demands and energy consumption.
"Most of a demographer's work is about solving human problems," Potter said. "Some of the things we do are on a national level, but we're very focused on trying to address issues within the state, the region and within San Antonio. We want to give policymakers a sense of what they need to plan for."
During the past decade Potter and the Texas Demographic Center have tracked how people are flocking to the major metropolitan areas in the state—San Antonio, Austin, Dallas–Fort Worth and Houston—as well as some less urbanized areas, like Tyler in East Texas.
He has also researched how the racial makeup of the state has changed. U.S. Census reports estimate that Hispanics will be the majority race/ethnic population in Texas for the first time in the next year or so. Potter has tracked how migration from other states (with California, New York, Illinois and Louisiana being "the biggest senders") and internationally has played a role in the increase, in addition to the white population experiencing more deaths than the Hispanic population, due to age.
With this in mind Potter has relayed to various state and city leaders the importance of making education attainable for the state's Hispanic population. These residents have historically attained lower levels of education and it has stifled their opportunities for gainful and higher-paying employment. "Are we going to have a labor force in Texas that's going to allow our economy to grow and create high-skilled, high-paying jobs? Or are we going to be one that shifts more toward lower-skilled, lower-paying jobs? That has tremendous implications for Texas economically," he explained.
Because the population is getting younger and more diverse—and because the population gap between the state's urban/suburban and rural areas continues to widen—Texas is considered a predictor for national demographic trends. Other states are eager to see how Texas meets the housing, health care and social service demands of a swelling, changing population. With 36 delegates in the U.S. House of Representatives and 38 electoral votes, the nation's political pundits are also highly interested in how that shifting population might vote.
"The issues that we deal with are definitely out there in terms of news interest," Potter said. "I often get queries about how Texas is changing demographically because we're growing more than any other state, we're growing faster than any other state, and we have some fascinating things happening in the state. And it's not just the media within the state that's interested in that." That's why Potter has been frequently sought as an expert source by just about every major news outlet in the state, in addition to national publications like U.S. News & World Report, The Wall Street Journal, The New York Times and National Public Radio.
---
---
Potter isn't just speaking to reporters, though. He has spent much of the past decade providing valuable data and guidance to city and state officials while informing communities about important demographic trends. Last fall, for instance, he explained the need of drawing larger political districts in areas experiencing population loss to the Texas State Senate's Select Committee on Redistricting. Weeks later he spoke to the Waco Chamber of Commerce about the state's population trends and how Texas could lose $300 million in federal funding with just a 1% undercount in the 2020 U.S. Census.
"Not getting a complete count hurts the state, not only for representation in congress but also in the amount of federal dollars we receive," Potter said. "It's about $1,000 for every person you miss, so if we miss 100 people, that's $100,000 right there."
UTSA and the Texas Demographic Center have been working together with the Local Update of Census Addresses program to assist in keeping the U.S. Census Bureau's address files as up-to-date as possible. They also helped the Census Bureau redraw their statistical geographies in the lead-up to the 2020 Census.
Potter encourages everyone to fill out the census form if they haven't already. Not only will the 2020 Census determine the number of House representatives for each state and how much federal money is distributed to each state but it will also be used by demographers in a majority of their research during Potter's second decade as the Texas State Demographer.