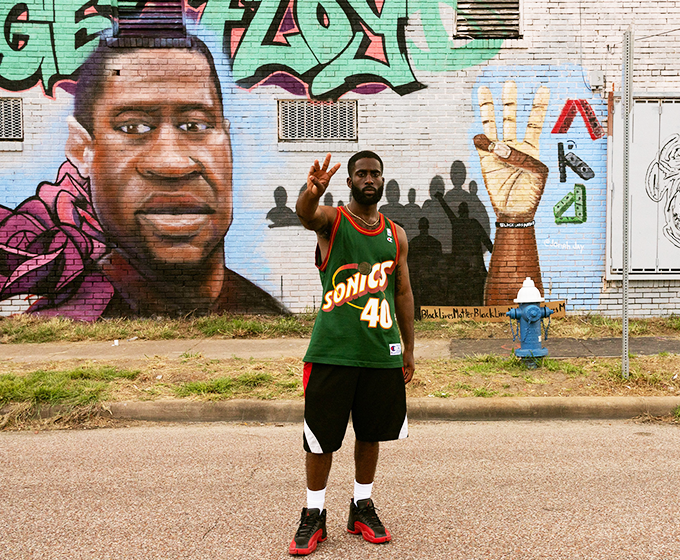 ---
ROADRUNNERS YOU
SHOULD KNOW

---
JUNE 19, 2020 — As George Floyd's visceral death ignited protests and cries for police reform across the country, it hit especially close to home for Jonah Jackson '16, both figuratively and literally.
Jackson and Floyd each grew up in Houston's historic Third Ward, a predominantly African American neighborhood widely known for its cultural legacy and heart for social activism. They both attended Yates High School, and Jackson says he personally knows Floyd's nephew.
The killings of Black victims like Trayvon Martin, Michael Brown and Sandra Bland had deeply resonated with Jackson in previous years, but as he watched someone from his community brutally lose his life at the hands of a police officer over the course of 8 minutes and 46 seconds, he felt a new level of turmoil.
"It affected me a lot," says Jackson, who received a bachelor's degree in art at UTSA and recently obtained his master's from Claremont Graduate University in Claremont, Calif. "It was a retraumatizing event, honestly."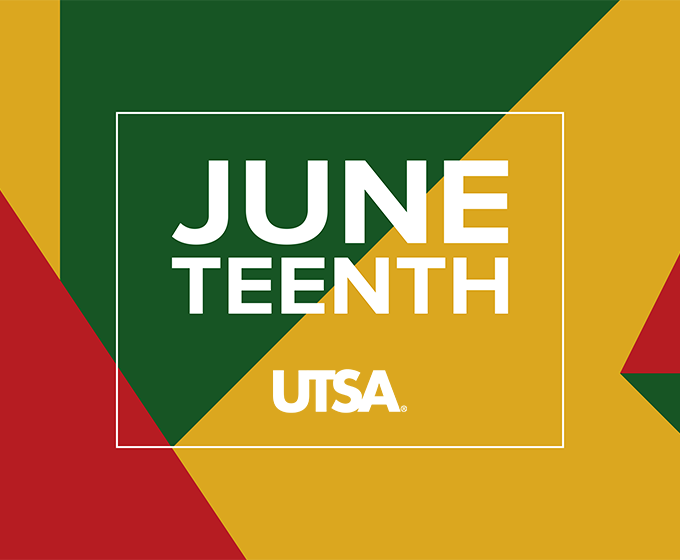 ---
"It feels great to see people embracing the mural because the neighborhood needed something like this. It needed something uplifting."
---
---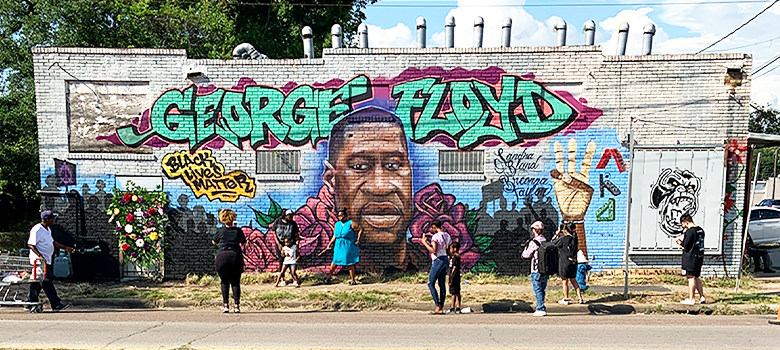 A wide view of the George Floyd mural in Houston's Third Ward.
---
It was a trauma that radiated throughout the Third Ward neighborhood, but Floyd's death soon became a galvanizing event that brought Jackson's hometown together. As the community rallied and activists organized, so too did artists. Jackson, who had returned home in May to be with his mother, discovered a Third Ward mural being developed to honor George Floyd on social media in early June. Feeling inspired, he asked the street artists responsible for the mural if he could join in.
The mural can be found on the exterior wall of a formerly vacant laundromat currently under renovation. Jackson was one of four artists to collaborate on the mural, along with Zack Murray of Katy and two artists who wish to remain anonymous. As his cohorts paid tribute to Floyd, the Black Lives Matter movement, and the worldwide protests, Jackson wanted to bring it home. He wanted to remind people where Floyd came from.
His painting depicts a black hand proudly throwing up the Third Ward hand sign—with three fingers representing both a 3 and a w. He then added anthropomorphic dominoes, an element he often incorporates in his artwork, spelling the a-r-d in the word ward. Jackson says he painted the dominoes in the colors of the pan-African flag to remind the Black community that they can lean on each other for support through continued police brutality and gentrification of their neighborhood.
In the two weeks since it was finished, the mural has attracted growing attention and snowballed into a citywide landmark. Both Third Ward residents and visitors to the Greater Houston area have stopped at the old laundromat to snap photos or leave their own unique memorials. Although the mural serves as a reminder of a needless tragedy, Jackson hopes those who view it feel a sense of pride or progressive spirit, not just sadness or anger.
"I hope they take away some positivity," Jackson says. He'll never forget the joy he felt when Third Ward locals came to wish him well as he painted his share of the mural. "So many people were passing by that I hadn't seen in years—since high school—and they were happy that I was representing the neighborhood in a positive way. It was a moment that I can't even describe."
This was the first time Jackson had collaborated on a public mural, but it was far from the first time he'd created an artwork centered in the Black experience. From UTSA to Claremont, his artwork has often served as a critique of American society and how it either excludes, marginalizes or oppresses African Americans while also celebrating his culture, his community and his upbringing. He expresses these sentiments through a few different mediums, including oil paintings and mixed media with found objects.
---
---
Surprisingly enough, Jackson discovered his passion for visual art as a business major at UTSA. He took a painting class for non–art majors and became hooked. He switched his major at the beginning of his junior year and took every art class he possibly could to earn a B.A. in art.
Jackson then ventured to Claremont, 30 miles east of downtown Los Angeles, where he has firmly landed on the radar in the L.A. art scene. Jackson plans to return to Claremont in the fall to exhibit his M.F.A. thesis show, which was indefinitely delayed by the coronavirus pandemic.
Despite the acclaim he's earned in California, Jackson says it doesn't compare to the good vibes his work on the Floyd mural has garnered. For him, home will always be where the heart is. "It feels great to see people embracing the mural because the neighborhood needed something like this," he says. "It needed something uplifting."