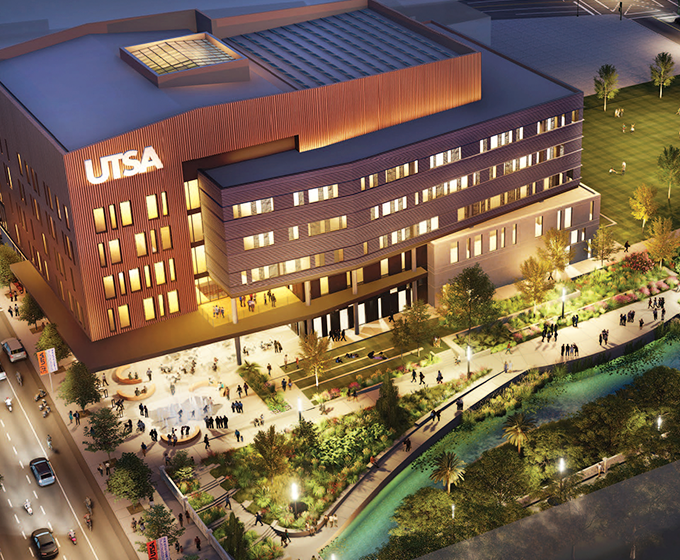 JUNE 9, 2020 — The University of Texas at San Antonio today announced it has awarded the contract for design build services for its School of Data Science and National Security Collaboration Center, two major initiatives at its Downtown Campus that will serve as the hub for its data intelligence and cybersecurity programs.
Whiting-Turner | Jacobs | Overland has been selected to design and construct the building, which will house both programs. The $90 million facility is slated to open in 2022 on a property that abuts the San Pedro Creek project just east of the existing Downtown Campus footprint. Once completed and occupied, the building will house programs anchoring UTSA to San Antonio's burgeoning high-tech corridor. It is also adjacent to the Continental Hotel redevelopment project, led by Weston Urban. Some housing for students, staff and faculty will be available because of that project.
The School of Data Science and National Security Collaboration Center are part of UTSA's vision to help the university earn national recognition as a research-intensive institution. It is a critical component of UTSA's Campus Master Plan, which charts a course for the university to reach new levels of excellence over the next 10 years.
---
"This project will set UTSA and San Antonio apart as pioneers in data science and cybersecurity."
---
---
"The School of Data Science will be the first of its kind in Texas and, combined with the power of the National Security Collaboration Center, will be a formidable leader in addressing national security challenges," UTSA President Taylor Eighmy said. "I am grateful to Graham Weston for his original lead gift of $15 million that enabled this project to go forward with support from The University of Texas Board of Regents and University of Texas System, the City of San Antonio and Bexar County. Partnering with our city's high-tech leaders, this project will set UTSA and San Antonio apart as pioneers in data science and cybersecurity while providing innovative solutions for government and industry."
Whiting-Turner | Jacobs | Overland was one of three top teams evaluated for the design contract, based on 12 criteria: project site planning and exterior place making; building program; design intent; security, information technology and communication systems; safety management program; construction phase services; project execution plan; estimating and cost control measures; project planning and scheduling; warranty and service support program; quality control and commissioning program; and pricing and delivery.
Selection was made using a qualitative blind scoring system that ranked their proposals as the best value to the university for the project based on those 12 criteria.
The new facility will house the School of Data Science, including 84,500 square feet of classroom, laboratory and research space. The new school will place UTSA's 70-plus faculty members in cybersecurity, cloud computing, data and analytics, and artificial intelligence under one roof in the heart of the city to provide government, industry and community partners with access to UTSA's nationally recognized programs and talent.
The School of Data Science will become the home to UTSA's departments of Computer Science, Computer Engineering, Statistics and Data Sciences, Information Systems and Cyber Security, and the Open Cloud Institute.
The new facility will also include 72,000 square feet of innovation space, laboratories and research facilities for the National Security Collaboration Center. It will serve as a hub for government, university and industry partners in the cybersecurity field, focusing on forensics; visualization and analytics; network security, cyber training and workforce development; big data analytics and privacy; postquantum cryptography, cyber-physical systems and embedded security; the security of the cloud; attack and threat modeling and mitigation; machine learning and artificial intelligence; and platform, software and hardware integrity.
The Downtown Campus already includes academic programs administered by the College of Architecture, Construction and Planning; the College for Health, Community and Policy; and the College of Education and Human Development.