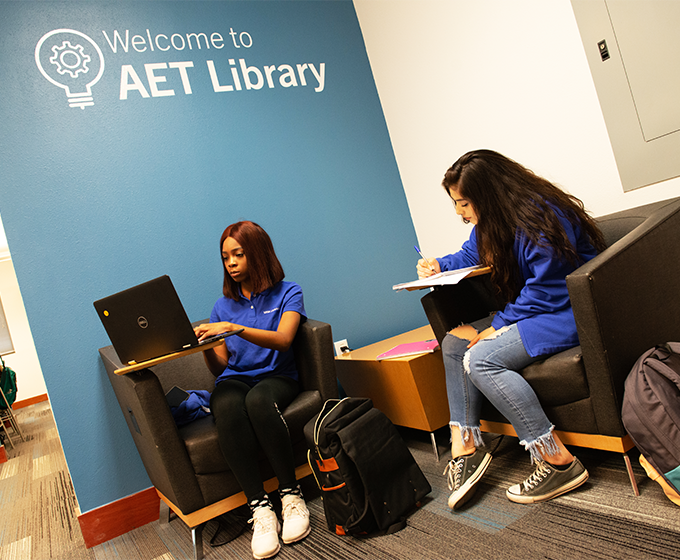 ---
A DECADE
OF DISTINCTION

---
JULY 23, 2020 — Ten years ago a bookless library was a rarity. Today, it's more essential than ever in providing students access to source material, especially amid the COVID-19 pandemic.
Opened in fall 2010, UTSA's Applied Engineering and Technology Library was the nation's first bookless library on a college campus, servicing the College of Engineering and the College of Sciences.
Forgoing material volumes in favor of e-books and e-journals, the AET Library, located on the first floor of the AET Building, provides students and faculty access to digital resources, physical study spaces and collaborative meeting areas.
---
"It has become a place for UTSA students to discuss ideas, practice teamwork and foster interpersonal relationships."
---
---
Amenities at the AET Library include eight all-in-one computers, three group study rooms, a glass wall that can be written on with dry-erase markers and tech gear lending, including laptops, scientific and graphing calculators, headphones, chargers and display adapters.
"Libraries connect people to information resources," said Dean Hendrix, dean of UTSA Libraries. "To some, that means ready access to print books, journals, magazines and newspapers. To others, digital access to information is imperative. Our goal is to provide UTSA students with as many resources as possible to ensure their academic success."
The AET Library's digital collection started at 425,000 e-books and 18,000 e-journals. Research librarians continuously review electronic volumes and subscriptions to bolster the vast collection. Over the past 10 years it has grown to over 2 million e-books and more than 90,000 e-journals.
The physical space at the AET Library can accommodate about 75 students during normal operations and is conveniently located in close proximity to STEM-focused departments.
Librarians Matt Hayward and Esteban Cantu hold office hours every week in the space to provide research assistance and reference consultations to students.
"The library is extremely popular among science and engineering students who use it most during finals and other major exam and project weeks," Hayward said. "Some use the modeling and mathematical software to create designs and simulations for class projects. Others use the space to collaborate on papers, perform statistical analyses, model prototypes and work on projects using the large 42-inch monitors."
The nature of the work of science and engineering students is very technical, and the space at the AET Library is a much more informal environment than most.
"We utilize the space not as a repository for physical materials, but instead we use the space for community-building and interaction," Cantu said. "Students are creating things, using the library as a learning lab. They're working with software in groups and designing 3D models."
With the onset of COVID-19 stay-at-home orders, access to research online has become the library's top priority, providing databases, journals, downloadable articles, streaming media and other materials. Additionally, librarians keep digital office hours to consult with students, faculty and full classes via teleconferencing and website chat features.
"The AET Library is about collaboration and problem solving," Hendrix said. "Over the past 10 years we've seen thousands of students self-organize into teams with the express goals of teaching and learning. It has become a place for UTSA students to discuss ideas, practice teamwork and foster interpersonal relationships. In partnership with our students and the College of Engineering, we look forward to continually developing our collections and services to meet our students' needs."
---
---
For the fall 2020 semester UTSA Libraries will undergo a phased reopening process to serve students on campus while continuing virtual operations.
The AET Library will remain closed during these initial phases, but access to the vast digital collection will be available to students as they pursue their courses online and in-person. This includes virtual appointments with librarians via Zoom.
The UTSA Libraries plan to reopen the AET Library once campus operations return to normal and the safety and well-being of the campus community can be guaranteed.