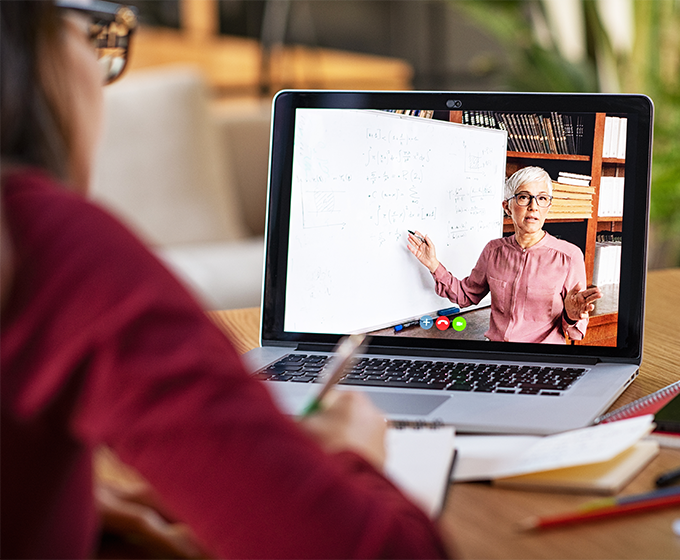 JULY 6, 2020 — A group of future educators from UTSA is working at closing the achievement gap in mathematics in San Antonio's underserved communities.
Students within the College of Education and Human Development's teacher education program are serving as tutors for local parents as well as elementary-age students primarily from San Antonio's West Side as part of a math literacy initiative called the Community Math Project.
The project is a collaboration between UTSA, Northwest Vista College and local community centers, which officially started in 2019 as part of a five-year-long $3.7 million grant.
"UTSA is mainly in charge of two parts. First, we're working in low-income neighborhoods and community centers to provide math tutoring to parents," said Emily Bonner, associate professor of interdisciplinary learning and teaching and an assistant dean of research. "The idea is that in providing tutoring we will help the parents to better understand the content and, therefore, they'll be able to help their children achieve and recognize math in what they are already doing in life."
---
Tutors work with the parents on ways to incorporate the math strategies in their everyday lives.
---
---
During the tutoring sessions, the UTSA tutors work with the parents on ways to incorporate the math strategies in their everyday lives, such as using fractions while they're cooking together, Bonner said.
"They're trying to make it holistic and provide the parents with the content and with some sense-making teaching strategies they can use with their kids," Bonner said.
UTSA recently extended their tutoring services to children in the partnering community centers for a Summer Community Math Camp, which started on June 1. The group is servicing five fourth-graders, one fifth-grader and two prekindergarten students.
"This also involves UTSA students as tutors. They're developing these math games and tasks around places in the community that the kids might already understand," Bonner said. "The tutors are working on developing problem-solving and sense-making skills. They're tailoring whatever content is relevant for those particular students."
"This summer, due to the pandemic, we are hosting online meetings with five math fellows [UTSA students who are in the teacher preparation program] and the eight children," said Crystal Kalinec-Craig, an assistant professor of interdisciplinary learning and teaching. "The math fellows are engaging the children in mathematical skills and concepts using virtual tools and interactive websites through the Google platform.
The UTSA students work with the children at least four times a week on grade-level-appropriate problem-solving tasks that are relevant to the child's life.
"The goal in this program is two-fold. First, to offer supplemental enrichment and support activities in mathematics for children who might not normally have access to these experiences during the summer, and second, to give EC6 teacher candidates [known as math fellows] early and purposeful experiences with children in the practice of teaching and learning mathematics," Kalinec-Craig said.
Since the project officially kicked off in 2019, UTSA has worked with at least 20 parents in the community. And so far, the team has already seen growth in all areas of the project, Bonner said.
"On the parent side we're seeing growth mainly in terms of the ability to make sense of the mathematical ideas and problem-solve," Bonner said. "They're becoming more comfortable with talking their way through a solution. We've also seen growth in terms of how they are working with their children. Now they're asking really specific questions of their kids and have something in mind that they're trying to address."
The tutoring sessions also seem to have a greater impact on home life, Bonner added.
As for the tutors, the UTSA students are showing signs of improved abilities to pose and question mathematical tasks that are relevant to the parent.
"The ability to ask questions in a way to help parents to make sense of them has improved dramatically and we're also seeing growth in their content," Bonner said.
Bonner added that she hopes the UTSA students take a few things away from the project that could help them once they're in the professional field.
"The main thing for me as a teacher, especially if they're going into a school that has a high population of traditionally underserved students, would be this idea of building relationships as a foundational piece," she said. "They need to understand how to build relationships with parents, to bring them into the educational fold and communicate with them and their children in effective ways. Those skills are very difficult to teach and this provides a nice one-on-one opportunity for them to do that outside of the traditional school setting where it's kind of more difficult." 
---
⇒ Learn more about the College of Education and Human Development.
---
Despite shifting operations online due to COVID-19, the project has been able to pivot in the right direction.
"The challenge, of course, was making sure that the families and the tutors had the appropriate technology," Bonner said. "Beyond that, our teachers and the parents have capitalized on it. We're not limited by time as much because people don't have to commute. We're not limited by space. There's more flexibility for parents. If we're tutoring online we'll see parents rocking their babies to sleep but also trying to do the math tutoring."
The Community Math Project is expected to continue until 2023 with the hope of expanding it from just two community centers.
"We will have more UTSA students and parents as we move into more community centers," Bonner said. "Part of the plan is to try to make it sustainable in the community. At each community center we are identifying parents who are strong in terms of their content knowledge and their ability to teach. We will train them up and support them for a year financially to take over and run the program. So when we remove our services, they're still able to continue."