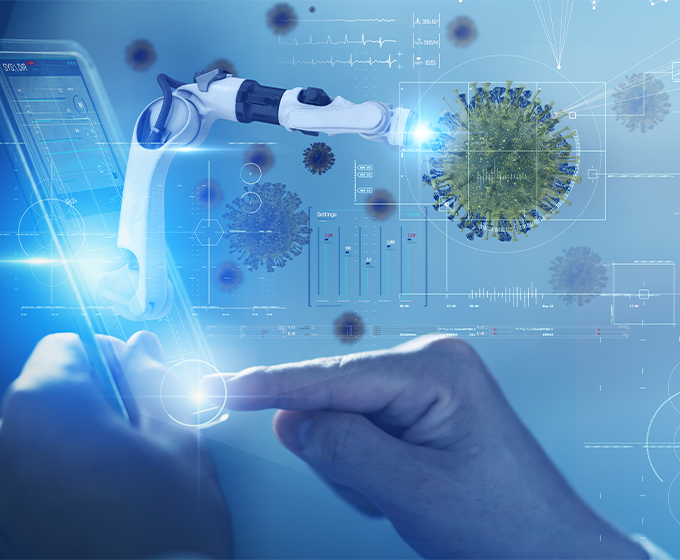 JULY 30, 2020 — The artificial intelligence research community is invited to attend the virtual launch of Matrix: The UTSA AI Consortium for Human Well-Being today at 10 a.m. Central time.
Comprised of diverse local, national and international AI and machine learning researchers, the consortium is dedicated to conducting transformative research in the design, use and deployment of AI to enhance human life. Leading this multiorganizational consortium is Dhireesha Kudithipudi '06, the Robert F. McDermott Chair in Engineering and a professor of electrical and computer engineering and computer science at UTSA.
"AI is transforming our world. Future innovations will enable humans and machines to interact seamlessly," explained Kudithipudi. "The creation of this consortium will build an ecosystem of stakeholders employing transdisciplinary approaches to advance core AI capabilities, address community-driven research challenges for human well-being, reconceptualize AI training and build a globally inclusive team. The consortium's robust intellectual capital and collaborative spirit will accelerate scientific discovery."
---
"The consortium's robust intellectual capital and collaborative spirit will accelerate scientific discovery."
---
---
Last fall's inaugural AI Summit and retreat at UTSA underlined the need for a robust alliance in research in the area. Four research thrusts emerged, each to be led by two thought leaders in the field. They are:
Augmenting human capabilities, led by Amina Qutub of UTSA biomedical engineering and Paula K Shireman of UT Health San Antonio surgery;
Machine learning and deployment, led by Christopher Mentzer of Southwest Research Institute R&D and Murtuza Jadliwala of UTSA computer science;
Neuroinspired AI, led by Peter Fox of UT Health San Antonio research imaging and Fidel Santamaria of UTSA biology; and
Trustworthy AI, led by Nicole Beebe of UTSA information systems and cyber security and Ram Krishnan of UTSA electrical and computer engineering.
Matrix has recently initiated numerous cross-institutional collaborations, including a partnership between UTSA and UT Health San Antonio researchers developing novel AI algorithms for accelerated dementia diagnosis using MRI and EEG data.
Matrix researchers are also actively engaged in supporting the city and local community to address the COVID-19 pandemic through volunteer work; COVID19 modeling work using AI in collaboration with UT Health San Antonio and SwRI, which was awarded DHS funding; digital tools; AI and advanced imaging to noninvasively screen for the coronavirus and detect neurovascular recovery postinfection; and mapping tools.
In addition to its transdisciplinary and cross-institutional nature, these research initiatives exemplify Matrix's commitment to improving human well-being through AI.
The research portfolio of Matrix thrust leads is supported by multiple prestigious federal and private agencies, including the National Science Foundation, the National Institutes of Health, the Air Force Research Laboratory, the U.S. Air Force Office of Scientific Research, the National Aeronautics and Space Administration, and the W.M. Keck Foundation.
The advisory board for the consortium will have representation from ARM, DARPA, Air Force Research Laboratory and GSK, among others.
Already this momentum has resulted in new research awards for Kudithipudi's work in neuromorphic computing. She and her team are designing lifelong learning algorithms and AI accelerators that are inspired by the neural processes in the brain. The research is supported by DARPA's Lifelong Learning Machines project in collaboration with Argonne National Labs, where they are building lightweight AI algorithms that learn, adapt and act continually in new environments.
Matrix is also committed to offering research training opportunities to UTSA and UT Health San Antonio students. Students who are interested in AI are also encouraged to attend the launch.
Opening remarks will be given by UTSA President Taylor Eighmy, followed by distinguished speakers and collaborators of the Matrix. Kudithipudi will introduce the Matrix AI consortium.
U.S. Rep. Will Hurd, representing Texas' 23rd district, will also provide remarks. A dedicated advocate for cybersecurity, Hurd understands the need to leverage AI to address the ever-evolving complex requirements for national security and for greater collaboration between academia, government and industry.
"San Antonio is Cyber City, USA, and the Matrix AI Consortium at The University of Texas at San Antonio exemplifies the role our city plays in advancing leading technologies that will drastically change the way we live in the coming decades. It's great to see the consortium officially launch. I know the distinguished professors involved will continue their world-renowned research, and it will benefit not only San Antonio but the entire United States. As we work to take advantage of technologies that will decide our future, UTSA is leading the way," added Hurd.
---
---
Speakers representing a number of Matrix member institutions will be featured at the event, including UT Health San Antonio, Southwest Research Center, GSK, National Security Collaboration Center, Air Force Research Laboratory and the Centre National de Recherche Scientifique.
The Matrix is also launching a new website to engage the global community in developing AI solutions that can address the pressing grand challenges for human well-being.
"The launch is a confirmation of our commitment to transdisciplinary research in artificial intelligence and machine learning," said Bernard Arulanandam, UTSA's vice president for research, economic development, and knowledge enterprise. "UTSA is investing in the talent and the resources required and actively contributing scholarly excellence, since it impacts every industry in some form or another and complements our existing research portfolio in cyber and data sciences for which we are known.