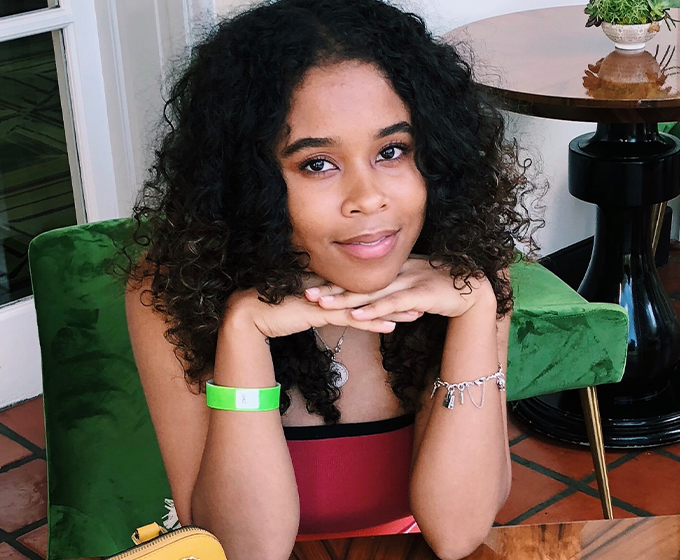 ---
ROADRUNNERS YOU
SHOULD KNOW

---
JULY 24, 2020 — When Alexandra Bevan, a junior at UTSA, joined the College of Liberal and Fine Arts' communications program she thought public relations was the route she wanted to go. However, her heart was drawn to the more creative side of the communications world, so she picked digital communication as a concentration and discovered a love of social media, where she felt she could help others.
"For the longest time I thought that I wanted to have my own creative channels, so I tried doing a YouTube channel for a while," Bevan said. "I even started a blog and I liked the whole creative part, but I did not enjoy talking about myself. It just felt really weird and like there was no purpose, but I still enjoyed doing the creative parts. So I just decided that if I liked doing that, I can do it for other people and that's how I started doing social media managing. I'm able to help people reach a bigger audience with their own brand, rather than trying to do my own thing." 
You now intern as the social media manager at Taylor'd For You, a brand that focuses on fashion and helps nonprofits with their charitable goals. What can you tell me about the organization and how you became part of it?
Taylor'd For You was founded by Taylor Mobley, a producer for Daytime with Kimberly and Esteban, where she started a segment on the show called Taylor'd For Me. The segment has a fashion element to it, but it's based on helping people. Each year the organization's fashion show raises money for different causes. This year's fashion show is airing July 25 and it's benefiting Each One Teach One, an adult literacy center.
At first she started off as a mentor because I was interested in fashion journalism, but then once I changed my concentration I saw a need for a social media manager for Taylor'd For You's Instagram because they didn't really post or have any followers. I decided to write up a proposal, emailed it to her and she brought me on as the social media manager.
I just am doing my best to help them reach and have a bigger audience and promote their fashion show, since it is for a good cause because it's all philanthropy based.
---
"Having confidence in yourself is a big thing. I didn't have any experience before this, but I know I'm good at it."
---
---
As the social media manager, what sort of responsibilities have you had? Take me through your assignments or day-to day work.
I write all the captions, but now that we've been planning for the fashion show, I've been working with Taylor and the team to come up with ideas on what to post for it. I've been finding pictures to post on Instagram. I make graphics to post onto Instagram on Canva. Also, we had shoots for the fashion show, which I went to and took behind-the-scenes pictures.
The fashion show is coming up really soon, but this time it's virtual because of the pandemic. How has it been preparing social media for something that's going to be online and won't have people physically sitting in front of a catwalk?
It's about creating excitement and getting people involved. So we did a giveaway for a free ticket. We post on Insta stories about the designers who are going to be in it. We've done a lot of behind-the-scenes stuff because I feel like when people go to the show it's all clothes. But the behind-the-scenes, I think, shows how much work it takes. They get to see what goes into it and feel like they're involved.
It's different when you take a PR class or social media class versus actually getting to be in the field. How does it feel to be getting that experience?
It's fun and definitely a learning experience. I don't think any class is going to fully prepare you for what happens just because everything is case by case. It feels like every day there's something new. I'm never really fully prepared for anything that happens. I feel like I have a grasp on exactly what to do but because it's new every day, I never know what exactly to expect or know exactly what to do. So it's just a lot of learning as I go.
Are you considering doing social media professionally after you graduate from college?
For sure. I already started my own little freelancing business. I have clients who I'm working with, so my goal is just to build my company after I graduate.
---
---
Does your business have a name already? And how's it going so far?
It's called Denim Jacket Media Management, and it's going well. There's a lot of older people who have had businesses and then social media became a thing and they don't know how to use it. I've found more clients and people inquiring about my business than expected.
What sort of advice would you give to somebody that you know is going to school and wants to get experience?

I would say to take a chance. For me, Taylor didn't put it out there that they needed a social media manager. They weren't saying they wanted to add new team members, but I just saw a need for something and I took a chance. I think also having confidence in yourself is a big thing. I didn't have any experience before this, but I know I'm good at it, so I just figured "Hey, I might as well try!"