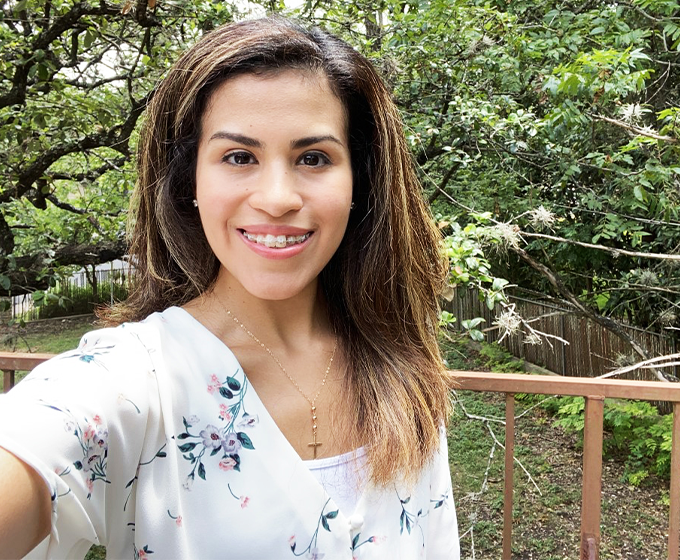 ---
ROADRUNNERS YOU
SHOULD KNOW

---
JULY 3, 2020 — There is a lot of talk about how voters are misinformed, even denied necessary information on how to exercise their rights. UTSA alumna Bianca Bononcini '18 is over talking about the problems of voter suppression. She's working for change.
While she was a student at UTSA, Bononcini studied biology. "Choosing biology as my major, I always loved being challenged," the 23-year-old explained. "I remember the first-year experience at UTSA. I liked that the students were so diverse in their cultures, ethnicities and backgrounds. With the difficulty of biology courses, you started making friends trying to help each other succeed."
Since she's not shy about tackling challenges, after she received her biology degree, funded by a Texas B-On-Time student loan, Bononcini decided to take on her lifelong passion to become an actor. After a trip to Los Angeles in March, though, to pursue acting opportunities, shed returned to a locked-down San Antonio due to the pandemic.
---
"I remember the first-year experience at UTSA. I liked that the students were so diverse."
---
---
Once back home she found she had the space and time to think about potential new challenges and potentially help her fellow Texans. In turn, she came up with the idea for texasvotes.info, a website dedicated to nonpartisan facts on how and where to vote in the Bexar County runoff election, set for July 14.
"It's a personal project," she said, "because I can recall voting in one of the last elections and not knowing the majority of the candidates or the positions they were running for. I was voting blindly."
In a fit of passionate, creative energy Bononcini taught herself how to build a website. She then researched the candidates, polling locations and other relevant voter information, including links to her source material. Putting it all together into a simple, clean format most people can quickly search and understand, she worked tirelessly for five days to build the website, which was a completely new experience for her.
Among the numerous features on the site is a list of the busiest and least busy polling locations, sample ballots for both the Democratic and Republican parties and brief bios and links to each candidate's official campaign site.
"I wanted to make an uncomplicated, straightforward way to educate voters," she said. "There are people who never voted telling me they are now going to vote because of the site."
That kind of feedback is a mark of success for Bononcini, and it's crucial for local residents, since her site is vital for get-out-the-vote efforts. Whoever wins the July 14 runoff elections will go on the November ballot.
And although her career in acting is on hold right now because of the coronavirus, since being laid off in March, Bononcini is still fulfilling her love of being challenged.
"I had so much free time at home," she said, "and I was determined to create a tool for people to help make their voices matter."