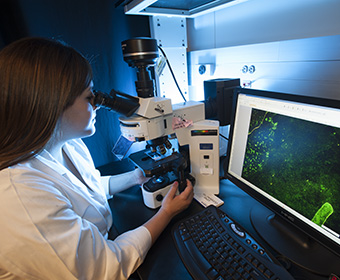 JULY 9, 2020 — Fueling transformative research through collaboration, the San Antonio Partnership for Precision Therapeutics has announced the funding of three more collaborative COVID-19 research efforts in San Antonio. SAPPT has awarded more than $600,000 to fund these projects, following the funding of a SARS CoV-2 vaccine project announced in April of this year. 
Launched in 2019 to accelerate the process of getting therapies and pharmaceuticals from basic research to people in need, the SAPPT was created by four leading San Antonio research organizations: Southwest Research Institute, Texas Biomedical Research Institute, The University of Texas Health Science Center at San Antonio, and The University of Texas at San Antonio. SAPPT uses precision medicine principles to maximize therapy effectiveness and seeks to provide solutions for diverse populations not unlike the unparalleled population diversity of the San Antonio region. 
This round of funding is made possible through USAA's commitment of $1 million to organizations combatting COVID-19, including SAPPT. With the formal partnership and collaborative mechanism in place, SAPPT organized and issued a call for proposals and within weeks had selected three projects to fund, each a collaborative effort among the four research institutions with promising early milestones. The San Antonio Area Foundation also committed close to $100,000 to SAPPT to accelerate their collaborative efforts to understand, treat and prevent COVID-19. 
Diako Ebrahimi and his team at Texas Biomed are studying the role of the protein FURIN in COVID-19 and how it is potentially impacting individual responses to the virus. The team is initially studying its role as a link to greater mortality rates for individuals with underlying cardiovascular conditions. This research team is working to identify interactions FURIN has with the virus that could impact mortality rates, with the ultimate goals of being able to develop inhibitors to stop this interaction. Supporting research teams are led by Jonathan Bohmann, SwRI; Zhenming Xu and Dean L. Kellogg Jr., UT Health San Antonio, and Stanton McHardy and Doug Frantz, UTSA. 
"While we're talking about COVID-19 specifically in this research, the implications are much farther reaching," said Larry Schlesinger, president and CEO of Texas Biomed. "We can use what we learn here and apply that knowledge to combatting the next novel coronavirus, HIV and other infectious diseases. This study has a true precision therapy goal, since it aims to understand why certain individuals have greater severity of disease and why specific underlying conditions affect outcomes." 
The research team, led by Dmitri Ivanov with UT Health San Antonio, is working to identify how COVID-19 evades our innate immune system and blocks our body's ability to quickly detect the virus and mount an antiviral response. The goal is to identify antiviral compounds either among existing FDA-approved treatments or in vast libraries of drug-like molecules that could effectively combat the ability of the virus to evade our immune defenses. This work would not only broaden our understanding of how viruses interact with human immune systems, it could also accelerate the process of identifying new antiviral treatments in the future. Supporting Ivanov are teams from the four research institutions including Jonathan Bohmann, SwRI; Luis Martinez-Sobrido, Texas Biomed; and Stanton McHardy, UTSA. 
"When San Antonio's leading researchers come together, great things happen," said William Henrich, president of UT Health San Antonio. "Among our four research institutions, we have the talented people needed to drive innovation through collaboration." 
The third of the funded projects is led by Yogesh Gupta of UT Health San Antonio. Gupta and his team are studying how the novel coronavirus evades the human immune system by mimicking the host RNA and growing inside the body. By understanding this process, the goal is to develop novel inhibitors that can block specific pathways that permit the virus to replicate inside the host cell. The innovative drug discovery platform will pave the way in developing a new class of drugs to fight COVID-19, while also preparing to combat emerging coronaviruses in the future. The supporting team assembled from the four research institutions includes Jonathan Bohmann and Hakima Ibaroudene, SwRI; Luis Martinez-Sobrido, Texas Biomed; and Stanton McHardy and Doug Frantz, UTSA. 
"This virus causes disease with varied effects, from asymptomatic and mild symptoms for some infected persons to more severe symptoms that require hospitalization and intubation in others. And of course, in some unfortunate cases, the disease may lead to the patient's death. In addition, COVID-19 seems to impact some parts of our community harder than others. Part of the SAPPT role is to work to find ways to prevent and treat this disease for all of our community," said Adam Hamilton, president and CEO of SwRI. 
"These three additional projects support a strong foundation of transformative COVID-19 research happening in San Antonio. From better understanding the virus and applying custom therapies to developing drug treatments and vaccines, our partnership is in the unique position to make a real difference in the global impact of this pandemic," said Taylor Eighmy, president of UTSA. 
All three projects have begun work and will report initial milestones to SAPPT as early as August.