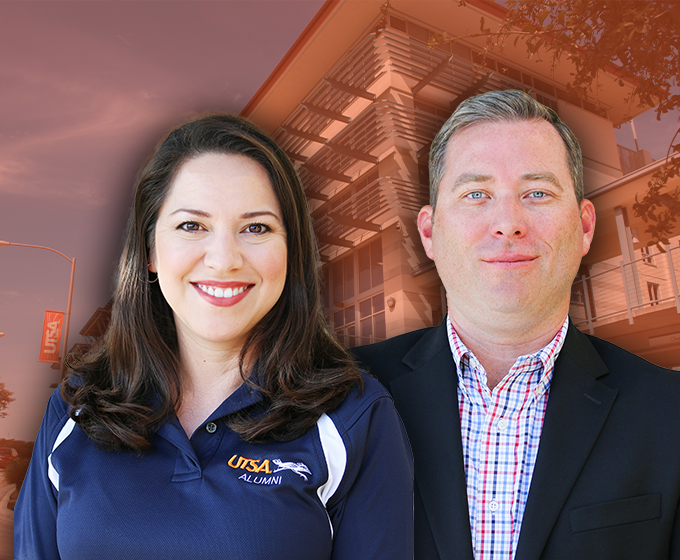 AUGUST 28, 2020 — The UTSA Alumni Association's board of directors has announced new volunteer leadership for the 2020–2021 academic year as well as the addition of five new members.
Yvonne Addison '09, M.B.A '18 will succeed Will Di Filippo '91, M.B.A. '11 as board president. Professionally she is president for construction services firm Addison Prime.
Others elected to the association executive committee:
New vice president is Chris Rackley '08, M.B.A. '14, vice president at MARC III.
New treasurer is Chuck Clark '94, president at Cohen, Berg & Co. P.C.
New members at large: Noel Ayala '07, vice president of health care economics at WellMed Medical Management; C.J. Craig '08, vice president of marketing at Big Brothers Big Sisters of South Texas; Yvonne Fernandez '85, vice president of commercial operations at Security Service Federal Credit Union; and Mike Setser '97, senior director of corporate sales and retention with Spurs Sports and Entertainment.
Each will serve a one-year term on the executive committee.
---
"I believe that when Roadrunner Nation works together, we can ensure a bold future for UTSA."
---
---
Addison is no stranger to leading nonprofit organizations. She recently completed a term as president of the Junior League of San Antonio, one of the area's largest charitable organizations.
"I am certainly going to lean on my past experience and connections to lead the UTSA Alumni Association now as we set a course for the organization to thrive through these uncertain times," said Addison. "As an engineer, I believe a good plan is key to any sustainable effort. I am ready to work with the board on behalf of our members on that plan—but also challenge all alumni to consider how they can get involved. I believe that when Roadrunner Nation works together, we can ensure a bold future for UTSA."
"Our new leadership team will play a pivotal role in moving the Alumni Association forward postpandemic," said Steve Woodall, interim executive director of the Alumni Association, "so I am excited to see these leaders step up. I know that Yvonne, Chris and the entire board will continue our history of strong advocacy for the association, our members and the university."
The board also welcomed five new members: Jacob Cavazos '06, senior vice president at Broadway Bank; Randy Daniels '08, first vice president at Merrill Lynch; Rico Marfil '06, area manager with Medtronic; Adam Paisley '13, senior analyst with Phillips 66; and Mike Pantusa '99, director of marketing with Big Insurance Solutions.
The Alumni Association's board of directors is made up of 30 elected members who represent various class years, majors, backgrounds, professions and geographic areas. Each person volunteers time to direct the association's budgeting and programming. Each director serves a three-year term, unless elected to fill a vacant position.
---
⇒ Explore membership in and activities of the Alumni Association at UTSA.
---
Additional, continuing board directors are: 
Shawn Bacon '00
Joshua Bar-Yadin '05
Cynthia M. Bard '10
Leticia Cavazos Ph.D. '12
Artie Garcia '98
Laura Beth Garcia '06

Tami Griffin '94
Dana Palasota Jones '09
Armando Marroquin '98
Tina McDaniel Mendler '06
Fidel Moreno III '91
Tim Morrow '97

Robert Ochoa '07
Brittany Pratt '06, M.A. '11
Becky Salinas '00, M.A. '11
Marissa Scheffler '07
Steven Thompson '82
The Alumni Association serves and engages Roadrunner alumni in order to foster their lifelong connection to UTSA. The division is a strategic partner with the university and supports today's students—future alumni. The association offers valued opportunities for connection and growth to members. Association programs build pride and tradition, and generate support and goodwill for UTSA, and it leads a growing Roadrunner Nation that is proud, sometimes loud, and always Rowdy.