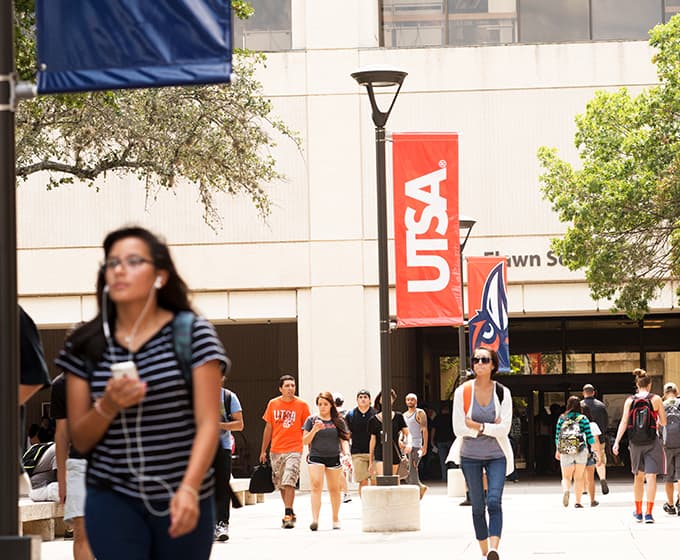 AUGUST 17, 2020 — A new report analyzing the equity gap in educational attainment nationally and statewide has named UTSA a top institution in Texas for graduating Latinos.
Excelencia in Education, an organization geared toward accelerating Latino student success in higher education, ranked UTSA third out of the top 5 institutions in Texas for awarding bachelor degrees to Latino students.
"All of us at UTSA are proud of the university's role—as a preeminent Hispanic Serving Institution—in championing the advancement of our Hispanic students," said Kimberly Andrews Espy, provost and senior vice president for academic affairs. "We will continue to work across the university and with community and industry partners, such as Excelencia in Education, to increase access to higher education and support degree completion for Latinos. The future prosperity of our region, state and nation depends on their academic success."
---
"The future prosperity of our region, state and nation depends on their academic success."
---
---
The report, Latino College Completion: United States, highlights the top enrolling and graduating institutions nationally and by state, the District of Columbia and Puerto Rico.
For bachelor's degrees in Texas the report ranked UTSA third with 4,945 students receiving their undergraduate degree in 2017–2018. According to the report, of those students, 2,847 (53%) of them were Hispanic.
"The top 5 institutions enrolling and graduating Hispanic students nationally and by state show a balance between access and completion by size and then effectiveness for Hispanic students," said Deborah Santiago, Excelencia in Education cofounder and CEO. "The institutions that are in the top 5 at the state level are making significant contributions to the state's needs for access to higher education and to ensuring Latinos have the opportunity to earn degrees."
Also in the top 5 with UTSA were The University of Texas Rio Grande Valley, The University of Texas at El Paso, Texas A&M University–College Station and University of Houston.
According to Excelencia in Education, in order for the U.S. to reach the top ranking in the world for college-degree attainment, Latinos will need to earn 6.2 million degrees by 2030. To reach that, the equity gap needs to be closed and there needs to be an increase in number of degrees conferred as well as an increase in programs and initiatives for Latino students.