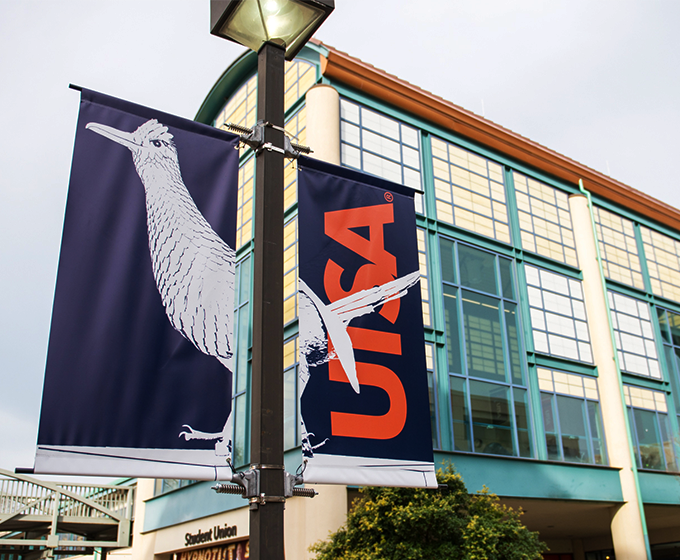 AUGUST 24, 2020 — UTSA begins the new academic year with 71 new full-time faculty joining its ranks. The new faculty bring their talent from a host of prestigious institutions from around the nation and world.
"Faculty play a central role in the academic experience, progress and outcomes of our students, and this year's faculty cohort includes promising, accomplished and diverse scholars who are excited to be part of UTSA's strategic vision as an urban-serving, Hispanic thriving discovery enterprise," said Kimberly Andrews Espy, provost and senior vice president for academic affairs. "We look forward to working with them to provide high-quality, transformational academic experiences for our students and expand the impact of our transdisciplinary research excellence."
The incoming faculty members chose UTSA for a variety of reasons.
"I'm fascinated by how fast UTSA is developing," said assistant professor of chemistry Fang Xu, who most recently held a postdoctoral position at Harvard. "The university has a bright future with all kinds of possibilities and opportunities. The resources and support for junior faculty are very competitive, even with some top R1 universities. I also highly appreciate the transparent communication and the friendly people. UTSA is among the best places for a young faculty to pursue academic career."
---
"The university has a bright future with all kinds of possibilities and opportunities."
---
---

"I decided to come to UTSA because it is an up-and-coming research university with a highly diverse campus in a highly diverse city," said Esteban Ureña-Benavides, assistant professor of biomedical and chemical engineering, who joins UTSA from a faculty position at the University of Mississippi. 
Kaitlin Popielarz, an assistant professor of interdisciplinary learning and teaching from Wayne State University, was drawn to UTSA for its student-centered and community-based focus as well as its multiculturalism and diversity. 
"I chose UTSA because it remains rooted in its purpose to serve the local San Antonio community as it grows as an innovative and premiere global institution," she said. "UTSA understands that its faculty, staff and students as well as the local community are true assets in collective efforts to work toward inclusive and equitable futures. This is deeply meaningful and empowering to me as a scholar, educator and community member. Through teaching, research and service, UTSA supports faculty, staff and students to grow as agents of change. UTSA is invigorating because I am able to collaborate with colleagues, students and community members in order to achieve social justice through education, scholarship and service. 
"The Roadrunners are leading the way," she added, "and I am grateful to be a part of the journey!" 
Among the 71 new faculty are five new department chairs:
C. Alejandra Elenes, chair and professor, Department of Race, Ethnicity, Gender and Sexuality Studies;
Kara Joyner, professor and chair, Department of Demography;
Audrey Lamb, professor and chair, Department of Chemistry;
Arturo E. Schultz, professor and chair, Department of Civil and Environmental Engineering and the Robert F. McDermott Distinguished Chair in Engineering; and
Raymond Swisher, professor and chair, Department of Sociology.
"I came to UTSA because the Department of Race, Ethnicity, Gender and Sexuality Studies fits perfectly with my vision and experience in women, gender and sexuality, and ethnic studies," said Elenes, who joins UTSA from Arizona State University. "REGSS faculty are energetic and committed to social change. I am honored to work with such an outstanding group of people." 
Notably, within this cohort, 87% of the tenured and tenure-track faculty received their terminal degrees from Carnegie R1 research institutions and 71% from AAU member institutions. A few of these premier institutions include Carnegie Melon University, Massachusetts Institute of Technology, Ohio State University, Purdue University, Rice University, Stanford University, Texas A&M University, University of California, Davis, University of Chicago, University of Southern California, The University of Texas at Austin, University of Wisconsin–Madison and Vanderbilt University.
Nine of this year's new faculty were hired as part of the Clustered and Connected Hiring Program. Through cluster hiring initiatives, UTSA has hired 39 exceptional faculty over the past four years to help advance UTSA's areas of research excellence in brain health, cybersecurity, analytics and data science, artificial intelligence, human performance, social and environmental challenges in Latin America, and quantum computation/quantum information.
Several incoming faculty were hired as a result of the programs that comprise Academic Affairs' Strategic Faculty Hiring initiatives. These programs support additional hiring of diverse full-time, tenured and tenure-track faculty who will advance inclusive excellence at UTSA through enhancing student success, research and academic distinction.
Specifically, five additional underrepresented minority faculty and three nationally recognized faculty were successfully recruited to join UTSA in this hiring cycle, including three high-profile faculty who joined the College of Engineering at the beginning of the spring 2020 semester. In addition, the Dual Career Academic Partners Hiring Program allowed three departments to recruit and hire high quality tenure-stream faculty and their partners.