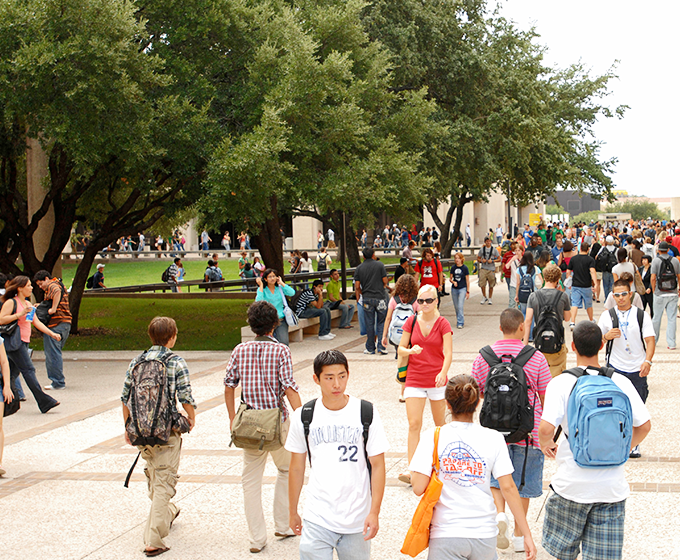 AUGUST 4, 2020 — UTSA and academic and child advocates across San Antonio are on a mission to make sure Texas youths who grew up in foster care are on a path to succeed in college. Together, they're making a difference in the lives of these youths who are often left without the guidance and support to go to college, despite aspiration to earn a degree.
The unprecedented efforts began last fall with the inception of the Bexar County Fostering Educational Success Pilot Project. One of the nation's only programs of its kind, the countywide collaboration between UTSA, Texas A&M University–San Antonio, the Alamo Colleges District, Bexar County Children's Court, Child Advocates San Antonio and Family Tapestry/The Children's Shelter creates educational support resources for current and former foster care youths by enhancing programs and practices and developing targeted support to increase college access, enrollment, and retention and graduation rates.
"We identify gaps in exposure or knowledge that most college students learn from their parents and often take for granted," said Airika Buford, the pilot's director. "Our goal is to raise their awareness that college is a realistic goal, and increase their education achievement and life skills so they're successful in college."
---
"I wouldn't have gone to college without the support I'm receiving."
---
---
UTSA is dedicated to empowering Roadrunners with a history of foster care through the Fostering Educational Success Center. The center connects students to campus resources and other support services, such as a Campus Coach, which helps them navigate campus departments and works with them to develop skills necessary for college and career. Most recently the Fostering Educational Success Fund has been a much needed asset to address any academic barriers especially during the pandemic. The emergency funding provides $500 per student per year to cover housing and other living expenses.
Additionally, Texas A&M–San Antonio will further its mission to support former foster youth students through a center similar to UTSA's. Alamo Colleges has enhanced its support programs and advocacy center at its campuses and is partnering with local businesses to provide students food, gift cards and connect them with workforce development and mentoring opportunities. CASA is looking to expand its services by recruiting more educational advocates who are paired with every foster youth in the court system, connecting them with resources and information to pave the way for their transition to college.
Of the more than 600 foster youth and former foster youth who have been touched by the BCFES project, more than 100 are UTSA students. They share a similar sentiment about the benefits of the UTSA center.
"They will say, 'I had no idea there are other students on campus like me,'" said Emily Miller, associate director of UTSA's Fostering Educational Success Center. "Students feel like there is an exclusive space for them to grow on campus. Everyone who comes in is very grateful, knowing we support them."
Other resources at UTSA include a partnership with the Supervised Independent Living Program, which allows UTSA students who are in extended foster care and qualify for the State College Tuition Waiver to live on campus and have housing and meal plan costs covered. Students also have access to a food pantry and school supplies. The center, located in the Student Union (SU 2.01.05) on Main Campus, serves as a safe place when campus is open.
"I liked that it's not packed and knowing the majority of people in there I could relate to," said M.J. Jones, a senior majoring in psychology who grew up in foster care.
Jones is also giving back to youth who had a similar upbringing. She moved to San Antonio last year to take a job as a student advocate in the Children's Court College-Bound Docket, an innovative part of the pilot. It provides targeted mentoring, advocacy and academic support to improve college readiness for foster care youth in Bexar County.
"It was a huge blessing. The College-Bound Docket opened up this opportunity for me to move to San Antonio and finish school at UTSA," Jones said.
Out of the 22 who make up the first cohort to complete the College-Bound Docket, 21 are headed to college this fall, including new Roadrunner Quentin Stevens, who plans to major in mechanical engineering.
"I want to build better things for others and do something good for the world because I've had it so bad," said Stevens.
He said he chose UTSA to be close to his adoptive family in Bandera and have a support system like he had when he was in foster care.
"I wouldn't have gone to college without the support I'm receiving from the College-Bound Docket," said Stevens. "I would have been a drop out and I'd probably be dead."
When Stevens begins classes at UTSA this month, he will join the community through connections at the Fostering Educational Success Center. The center will reopen on Main Campus by appointment only to maintain social distancing, allowing students to meet with campus coaches, access the pantry or use the computer. Virtual meetings are also available.
New this fall, UTSA will launch a peer mentoring program for former foster youth and Early Start Experience, a tailored orientation program for new and transfer students made possible through a grant from Impact San Antonio. It will create opportunities for the students to connect with peers, learn about on-campus resources, and move in to student housing with extra support. To support online learning, UTSA will offer laptops for students to check out. Book scholarships will be available to help students purchase textbooks. Students can receive clothing vouchers to purchase outerwear or outfits for job interviews.
The Bexar County Fostering Educational Success Pilot has big plans for this coming year too. It's launching Cultivating Learning in Middle School and Beyond or CLIMB. The precollege initiative will work with San Antonio area school districts with the highest number of placement for foster youth to engage students in eighth through 12th grades using virtual programming and connecting them to resources to prepare for college. Family Tapestry is also launching an extension of CLIMB called Foster Excel. This program will provide foster youth and young adults, ages 16–19, extensive coaching, and holistic support to decide on a college and career pathway. A group of former foster youth also have formed the Youth Action Council. Led by Jones, the council will provide ideas to the BCFES partners to implement into the program.
---
⇒ Learn more about the Fostering Educational Success Center at UTSA.
---
All of these services and programs are funded by a $3.5 million appropriation from the 2019 Texas legislature, made possible through the sponsorship of state senators Pete Flores and José Menéndez, State Rep. Trey Martinez Fischer and the support of the entire San Antonio delegation. The project's partners will work with the delegates to seek funding for the next biennium.
Peggy Eighmy, first lady of UTSA, also played a crucial role in the creation of the program.
"While there is much to be done, the pilot project has succeeded beyond my wildest expectations," said Eighmy. "The fact that we have been able to get the pilot operational and serving so many students in less than one year is nothing short of amazing."
Jones hopes the project will be funded for many years to come.
"There are so many resources here. I've never seen a place come together like San Antonio has for people like me," she said. "Every place needs to have it. They make it so much easier to get through school through these connections."