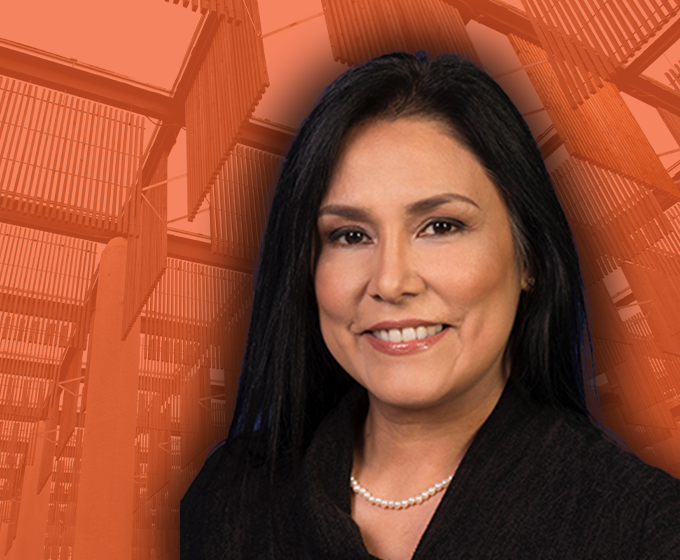 AUGUST 31, 2020 — For UTSA's Rhonda M. Gonzales, her definition of leadership is a simple one: It's creating pathways of success for others.
"We're educators," said Gonzales, who is chair of the Department of History, part of UTSA's College of Liberal and Fine Arts, and a professor of African and African diaspora history. "We're trying to prepare people to walk through doors that they otherwise wouldn't be prepared to walk through."
Gonzales will join 25 other fellows from across the country in spending the next year exploring leadership in higher education as part of the second cohort of La Academia de Liderazgo, the leadership academy of the Hispanic Association of Colleges and Universities. HACU's academy is designed to increase the number of individuals who aspire to leadership positions at the executive and senior levels of Hispanic Serving Institutions and Emerging HSIs.
---
"I'm excited to join a network of my colleagues who are concerned about Latinos in education."
---
---
As a fellow, Gonzales will spend a year participating in an array of leadership development activities, including three seminars, the first slated for October, in conjunction with HACU's 34th annual conference, "Fostering Excellence and Social Justice." The second seminar will be held in conjunction with HACU's 26th Annual Capitol Forum on Hispanic Higher Education in April 2021. And the final seminar, later in 2021, will focus on international collaborations.
Mentorship with a university president is a key component of the program, as is a project designed to have an impact at the fellow's current institution.
"I'm excited to join a network of my colleagues who are concerned about Latinos in education, who are truly dedicated to leading institutions and building institutions that are focused on serving students—Latino students— in higher education," Gonzales said. "This is a journey I've been on for some years, and I look forward to continuing to advocate for students and working with people who are committed and optimistic about reimagining and reenvisioning Latinos in the higher education landscape and looking at what equity and diversity really mean. I'm a big proponent of this type of work."
"Congratulations to Dr. Gonzales! We are proud to have a UTSA representative selected for HACU's leadership academy," said Kimberly Andrews Espy, provost and senior vice president for academic affairs. "La Academic de Liderazgo is meeting a critical need in higher education: University faculty and administrators serve a pivotal role as mentors and models of student success, and it is important—particularly for our nation's Hispanic and other students from groups traditionally underrepresented in higher education—to see themselves reflected in university leadership. As an HSI research university, UTSA is pleased to sponsor and support this leadership development program and the investment in the advancement of our faculty."
---
⇒ Explore the work of Rhonda M. Gonzales at UTSA.
---
Gonzales has been with UTSA for 16 years and previously served as associate vice provost for strategic initiatives and the director of PIVOT for Academic Success. As a first-generation college graduate, she is passionate about envisioning and implementing programming and best practices to support the success of underrepresented minorities, first generation, transition, low SES, and STEM students through to graduation.
She was the recipient of a $3.25 million Department of Education Title V Grant that has initiated four student success programs at UTSA: First to Go and Graduate, the Roadrunner Transition Experience, Alamo Runners and Math Matters as well as $3.6 million to build out an Emporium delivered core math and the development of a LEAD I and II summer bridge experiences for UTSA freshmen and sophomores.