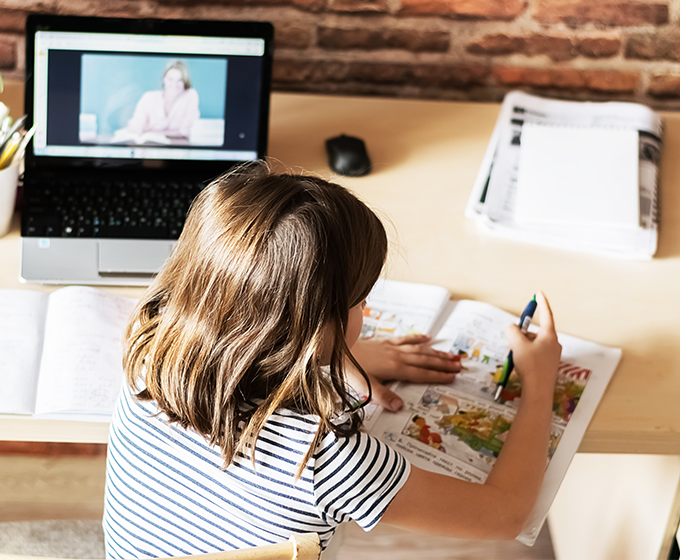 AUGUST 19, 2020 — As many public K–12 schools reopen this week to a period of distance learning, a new UTSA study identifying what makes online education engaging and effective is providing a framework for local school districts' fall planning.
The UTSA Urban Education Institute, directed by Mike Villarreal, spent the summer surveying almost 2,000 public school students, parents and teachers across eight school systems in San Antonio to find out what worked and what didn't during early pandemic schooling to engage students and advance their learning.
"For this report, we really wanted to take a deep dive into understanding the types of distance-learning techniques and approaches that benefitted students most," Villarreal said. "We found multiple solutions for motivating online learners. And we identified school systems that have emerged as early leaders in engaging students remotely."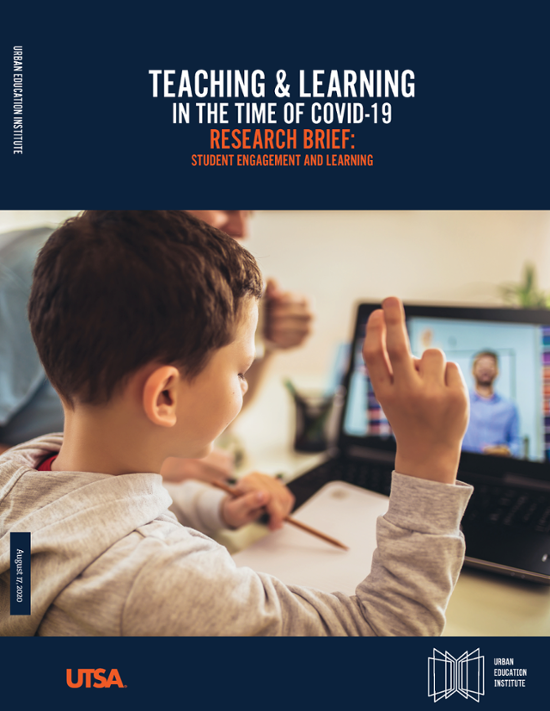 While 64% of students and parents said less learning took place during the spring—compared to "normal," prepandemic schooling—a majority also said they were understanding of the extreme circumstances teachers faced when the virus outbreak forced campuses to suddenly close. Of those parents and students surveyed, 57% said teachers could not have done anything more to improve upon postpandemic spring learning.
---
"We found multiple solutions for motivating online learners."
---
---
The research is the second brief out of the comprehensive Teaching and Learning in the Time of COVID-19 survey project by the Urban Education Institute. The first report, released earlier this summer, focused on early challenges with distance learning as identified by teachers. 
---
Key Findings
The majority of students learned less after schools went to distance learning, compared to prepandemic schooling. But a small segment of students actually learned more.
64% of students and parents reported that students learned less during emergency distance learning.

25% said they learned about the same.

11% said they learned more.
What worked during emergency distance learning:
Synchronous, or live, lessons that allowed students to interact with teachers and peers.

Creative, project-based assignments that gave students autonomy and choice.

Clear and consistent communication from teachers, such as the use of assignment calendars and video lesson tutorials.

Providing students one-on-one time with teachers for building skills, improving academics and social-emotional check-ins.
What didn't work:
Written responses to passive reading/viewing, "busy work," reviews and worksheets.

Traditional fill-in-the-blank lessons and quizzes.

Lessons without access to teacher help.

Lack of technology and software training.

Too many tech platforms in use, many of which were complex to navigate.
Students and parents understood and sympathized with the extreme circumstances teachers were working under after the sudden shift to distance learning.
---
School districts participating in the ongoing research represent some of the largest and most diverse in the city. They include East Central, Edgewood, Harlandale, Judson, Northside, North East and Southwest. An eighth set of schools that partner with traditional public school districts known as the Centers for Applied Science and Technology Network also participated.
The research collaboration is helping inform local planning to improve distance learning within participating school systems. Superintendents, administrators and teachers are using the analysis for evidence-based strategies promoting quality distance and hybrid-blended learning approaches.
---
⇒ Explore the work of the Urban Education Institute at UTSA.
---
Villarreal said the inclusion of the CAST network in the project represents an opportunity to better understand how schools designed to blend online and in-person instruction weathered the sudden shift to emergency distance learning.
"These findings show that the principles of learning and teaching that engaged students when they were in the classroom also apply to online learning," Villarreal said. "It doesn't matter if it's in the classroom or on a screen. We know that students are most likely to engage when they feel connected to the teacher, to one another and to learning activities that challenge them."