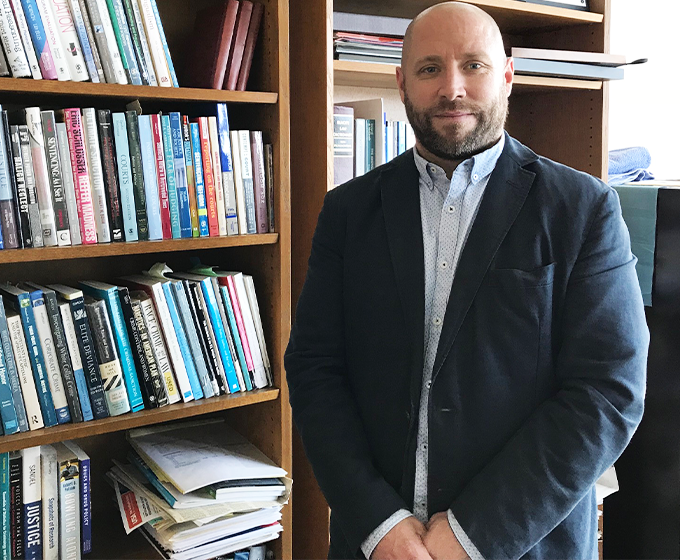 AUGUST 5, 2020 — Pornography creates a fantasy world for its fans, but does it lead to sexual aggression? That question has been the subject of numerous studies dating back to the 1970s. The effects of porn and violent sex crimes have also been debated for decades because of issues with morality.
New research findings published in the journal Trauma, Violence & Abuse suggest there is no connection between pornography consumption and sexual violence.
Pornography and Sexual Aggression: Can Meta-Analysis Find a Link? is based on research by Chris Ferguson, a professor of psychology at Stetson University, and Richard Hartley, chair of UTSA's Department of Criminology and Criminal Justice. The authors conducted meta-analytic research and examined more than 50 correlational, experimental and population studies that explored the association between pornography and sexual aggression during the past 40 years.
---
"Our evidence suggests that policymakers should examine other causes of sexual aggression."
---
---
Eleven years ago Ferguson and Hartley conducted a study on pornography and sexual aggression and recently decided to collect data and reevaluate the validity of the previous research studies they had reviewed because there was a renewed interest in the subject matter.
They found that poorly designed studies tended to be more likely to support a link between pornography and sexually assaultive behavior.
"During the past few years many states have declared that pornography is a public health crisis," said Ferguson. "Dr. Hartley and I were curious to see if evidence could support such claims—at least in regard to sexual aggression—or whether politicians were mistaking moral stances for science. Our evidence suggests that policymakers should examine other causes of sexual aggression and that beliefs about pornography may be driven more by methodological mistakes than sound science."
Ferguson and Hartley noted that previous research found that hostility, callousness and delinquent behavior were determinants of sexual aggression and that the effects of those personality traits are much stronger than those of pornography consumption.
Correlational studies provided an analysis of the participants' absorption of sexually explicit materials at various levels and their sexual attitudes and behavior.
Experimental research randomly assigned and exposed men to violent pornography, nonviolent pornography and nonpornographic media, and measured their attitudes toward women or about sexually aggressive behavior by having them complete a questionnaire afterward. Men also participated in laboratory studies that tested their aggressive behavior towards women.
Neither correlational nor experimental studies provided evidence that supported concerns about pornography.
At the population level, studies explored the relationship between pornography consumers and sexual violence, and found that an increase in available pornography reduced sexual aggression.
---
⇒ Learn more about the Department of Criminology and Criminal Justice at UTSA.
---
The journal article also sheds some light on bias in pornography and sexual aggression research.
"I hope that Dr. Hartley and I can point out some of the widespread problems in much of the research as well as the culture of this field, whereas some scholars appear to be too quick to try and find evidence for effects," said Ferguson, who led the study. "We need more preregistered, transparent research and a field that is looking to falsify hypotheses and not entirely in confirmatory mode because it feels morally right."
Ferguson is well-known for his research on the effects of aggression, sexual behavior and video game violence.
Hartley's scholarly interests include examining criminal court decision-making practices and evaluation research.