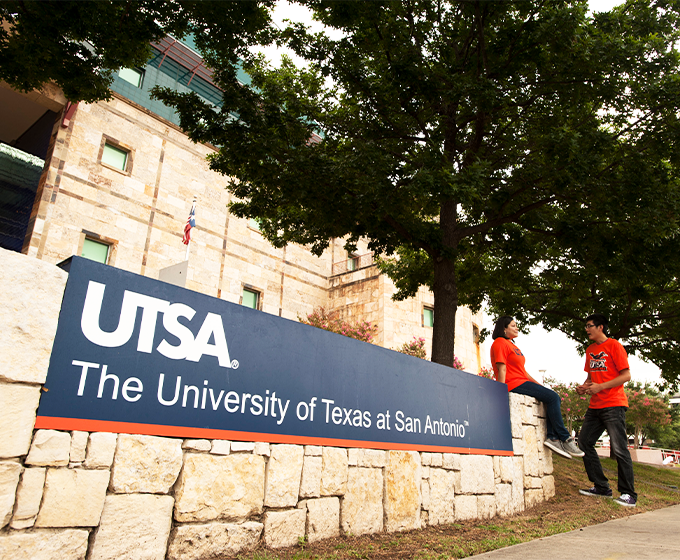 AUGUST 11, 2020 — Editor's note: The following message was sent via email today from Vice President for Research, Economic Development, and Knowledge Enterprise Bernard Arulanandam and Dean of the College for Health, Community and Policy Lynne Cossman to all students and their families, faculty, and staff:
We are pleased today to share Version 2.0 of the Public Health Task Force report which provides further guidance for a safe and healthy return to campus this fall.
Based on feedback from the campus community and the latest public health best practices, we have added and clarified recommendations and expanded procedures to fine-tune our fall semester plans. We have also integrated additional guidance from the Texas Higher Education Coordinating Board and UT System. These extensive protocols cover a number of key focus areas including cleaning and disinfecting, room occupancy, protective gear, mask compliance and more. 
Specifically, these updates include:
Providing clearer language regarding face covering and reporting of non-compliance, introducing the "Ask, Offer, Leave and Report" method
Providing personal protective equipment (PPE) including a UTSA branded roadrunner mask
Implementing disinfection protocols put in place with hand sanitizer, physical controls, and Plexiglas protection in high trafficked areas on campus
Redefining "high-risk populations" to ensure better protection of vulnerable populations
Developing an online COVID-19 symptom checker
Providing onsite flu vaccinations for faculty, staff and students which can be covered by benefits or out of pocket at the beginning of September
Providing clear procedures for visitors: though UTSA is a public campus, visitors will be discouraged and limited; any scheduled visit to campus will be vetted, tailored and tracked
Standing up a UTSA contact tracing program led by the College of Health, Public Policy and Community and the UTSA Chief Medical Officer working with students to be trained as contact tracers and case managers to facilitate contact tracing amongst the Roadrunner family
Providing various ways in which members of the Roadrunner community can be tested through established avenues
Supporting the "Do Your Part" Campaign: UTSA Marketing has launched a very public health awareness campaign, featuring abundant signage with do's and don'ts and how to stay safe
The report is a living document based on a set of guiding principles, used as a framework for the remaining tactical teams and their planning efforts. The newly created Recovery Operations Committee (ROC), comprised of over 20 faculty and staff members, is meeting on a regular basis to operationalize our recommendations from a public health perspective, with an adherence to social responsibility, abiding by processes we put in place to keep the campus community safe.
The report emphasizes our paramount commitment to safeguarding the health and welfare of every member of the UTSA community and our shared responsibility to take steps to minimize the risk of COVID-19 infections on our campuses. Each of us must do our part.
As such, online compliance training is required for all students, faculty, and staff, and must be completed by August 14. Anyone working or studying remotely, hybrid or on campus, must complete the training.
While over 95% of classes will resume in a virtual environment, research on campus has resumed and is ongoing. We have implemented a number of procedures to mitigate risk and safeguard the research enterprise. We encourage all to review not only the PHTF 2.0 report but also the Roadrunner Return 2020 web site. If researchers have any questions or concerns, please contact Lab Safety any time.
To provide an opportunity for all students, faculty, and staff to discuss the changes from the Public Health Task Force, UTSA will hold a Town Hall this week. As co-chairs, we will share the updates from this report, along with key members of the Research Operations Committee, who are tasked to operationalize our recommendations for campus. It will be recorded for those who wish to view at a later date.
We want to thank the entire Public Health Task Force and the Public Health Expert Advisory Group for their work and commitment this summer to safeguard the UTSA community.