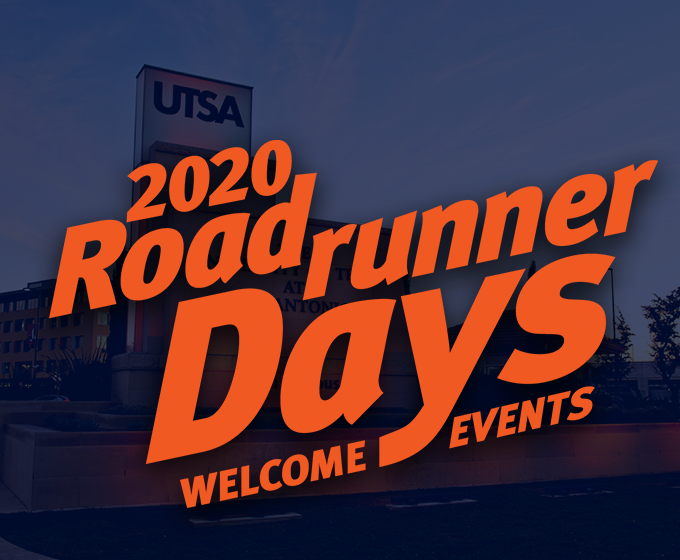 AUGUST 20, 2020 — A series of events focused on engagement and student success, Roadrunner Days on Friday will kick off the fall semester and new academic year at UTSA. This annual tradition will help new and returning students make friends and learn more about and experience UTSA life—academic success resources, university traditions and new ways to get involved in the campus community.
Events will run August 21–29 and like other areas of the university experience will look different this year because of the ongoing COVID-19 pandemic. A majority of events will occur online in order to promote safety and include as many Roadrunners as possible, wherever they may be.
Roadrunner Days starts on Friday, August 21. During this Spirit Friday, members of the Roadrunner community—on campus or off—are encouraged to wear their UTSA gear (hat, shirt and even their mask) and post a selfie on social media with the hashtag #UTSARRDays. At 6 p.m. is the Welcome Back Social, a fun online event featuring Playfair Online that will allow students to make new friends and even win prizes, including a virtual meet-and-greet opportunity with Tiffany Haddish.
---
This annual tradition will help new and returning students make friends and learn more about and experience UTSA life.
---
---
On Saturday, August 22, 1–6 p.m., The Campus Recreation and Wellness Center will be open following all COVID protocols. Individuals are invited to sign up for the Campus Recreation VIP Day. Students can sign up for a socially distanced tour of the facility and a free T-shirt and will learn about the programs being offered by Campus Rec
Sunday, August 23, 5–9 p.m., features the Student Union Experience. Students will need to RSVP for this event via RowdyLink. This Experience is an opportunity to learn about the services and programs offered by the Student Union and will include a free giveaway.
Monday, August 24, is the first day of classes. Multiple online events will also be held that day. The Adobe Creative Campus Kickoff at 10 a.m. will introduce students to Adobe Creative Cloud software, which they can access for free to produce professional content for their courses. At 11 a.m. UTSA Academic Innovation and the Office of Digital Learning will present the Top 5 Must-haves for a Digital Fall. There will also be a Study Abroad Info Session at noon, and the College of Architecture, Construction and Planning and the College of Engineering's Campus Connect is at 3 p.m.
---
⇒ Get more Roadrunner Days event details and links.
---
Tuesday, August 25, features a full day of online sessions designed to help students prepare for the new semester. At 10 a.m. Academic Innovation will be partnering with campus services from across the university for Connecting with UTSA Wellness and Well-being Services. The Multicultural Student Welcome is next at 11 a.m. At noon there will be a safety demonstration by the by the Department of Public Safety and the Office of Risk and Emergency Management.
Get to Know Campus Services will be held at 1 p.m., followed by Communicating Across Campus with Zoom at 2 p.m. At 3 p.m. students can attend Get to Know Us—UTSA PEACE Center to learn how the center provides support services and prevention education to those who have been impacted by sexual violence.
Finally, at 4 p.m. students will have the opportunity to learn about how the Writing Center can help them to be stronger writers at Writing in a Nutshell.
Students will have two chances to attend the Fraternity|Sorority Life Informational and Mix & Mingle on Wednesday, August 26; there will be one session at 1 p.m. and another at 6 p.m. Get It Together: Plan for the Best and Stress Less online workshop is at 2 p.m.
First-year students will have a chance to meet their First-Year Experience peer mentors at the UPM Meet and Greet at 3 p.m. At 7 p.m. UTSA is joining the League of Women Voters to celebrate the 100th anniversary of the passage of the 19th Amendment, which secured the right to vote for women. At 8 p.m. students can enjoy Leadership and Volunteer Trivia.
---
⇒ Get more Roadrunner Days event details and links.
---
On Thursday, August 27, students can meet with representatives from the College of Business at Be Business Bold at 11 a.m. At noon UTSA Counseling & Mental Health Services will be hosting a Guided Meditation Information session. Black Student Connections 2020 at 1 p.m. will give incoming students a chance to hear from returning students as well as leadership from Black student and faculty/staff organizations at UTSA about getting involved. At 2 p.m. students can attend Transforming Learning: Digital Tech, Tools and Support with Academic Innovation.
The day ends with two virtual networking opportunities: the First Gen Virtual Networking event will be held at 3 p.m. and the Transfer Virtual Networking event will be at 5 p.m.
August 28 is another Spirit Friday, so have your UTSA gear ready! At 2 p.m. Get to Know the University Career Center will teach students about available career resources. At 3 p.m. the Graduate School will host a welcome-back trivia event for graduate students. At 6 p.m. students will get another opportunity to enjoy the Welcome Back Social featuring PlayFair Online.
At 7:30 p.m., there will be a special live virtual event featuring actor, comedian, Emmy winner and New York Times best-selling author Tiffany Haddish. This exclusive event is for UTSA students, faculty and staff only.
Roadrunner Days concludes on Saturday, August 29, with the Welcome Drive. The event starts at 6 p.m. with an event check-in at the southwest corner of campus in Brackenridge Avenue Lot 5. Roadrunners will enjoy a guided tour of campus through a designated route while listening to a podcast featuring campus traditions and UTSA landmarks. For safety, participants are asked to limit vehicle passengers to only those individuals with whom they have quarantined.