AUGUST 13, 2020 — After three years of construction and many more years of planning, UTSA's state-of-the-art Science and Engineering Building will open its doors to the Roadrunner community on Saturday, August 22.
The $95 million, 160,349 square-foot structure will provide much-needed instructional laboratories, cutting-edge research laboratories, new classrooms and an expansive collaboration space for UTSA's academic and research programs in brain health, chemical engineering, computer and electrical engineering, biology, and chemistry. Long awaited, the transformative new facility is truly a milestone for UTSA as the university continues its mission to become a destination for research excellence.
"The SEB has been in the making for a long time—conversations for it were already happening when I joined UTSA in 2007," said Jonathan Jarrell, senior project manager for the Department of Major Capital Projects. "The building is beautiful and a fitting venue for STEM education and research."
The building was designed with multidisciplinary collaboration and experiential learning in mind. The SEB will serve as a hub for Roadrunners with science, engineering and technology interests as they not only use professional equipment and materials, but share ideas and discoveries as well.
"Training STEM workers for the 21st century economy requires a contemporary environment for experiential learning—and that's what the SEB delivers to the Roadrunner community," said David Silva, dean of the College of Sciences. "No matter their career aspiration—research scientist, biotech worker, chemical engineer, medical professional, tech company entrepreneur—the SEB provides access to the inspirational, hands-on activities based on group collaboration that will propel them to their goal."
---
An Exclusive Look at the New SEB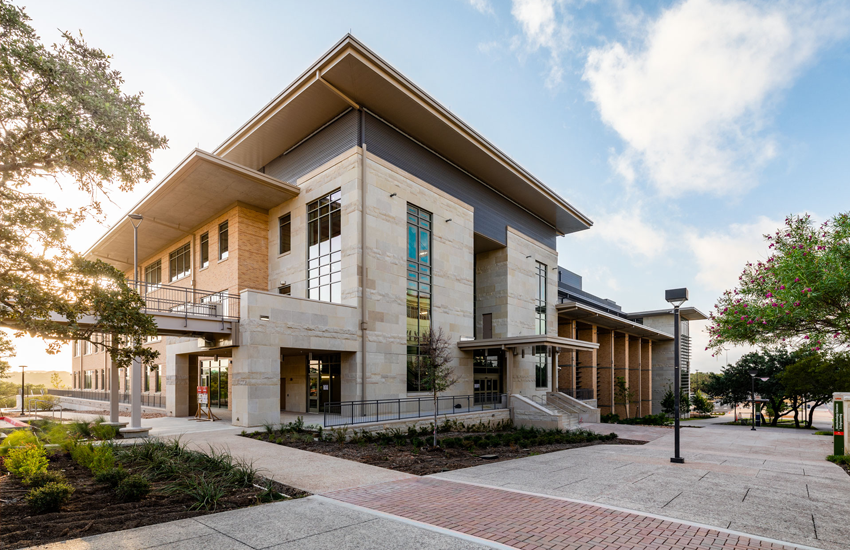 Previous
Next
---
The SEB's greatest highlights include the innovative first-floor Makerspace, the two-story Canadian-manufactured distillation column, the sweeping three-story collaboration space, and advanced fourth-floor research labs.
Located on the ground floor, the Makerspace includes project assembly and meeting space, a design studio, a machine shop, a 3D printing room, and state-of-the-art equipment that will take the learning experience for engineering students to the next level. The 17,000 square-foot Makerspace also includes collaborative components for the Center for Innovation and Technology Entrepreneurship to help faculty members and students take UTSA discoveries, products and services to market.
"The Makerspace will host projects that bring engineers, urban planners, social scientists, artists, musicians, athletes, business people, computer scientists, architects, mathematicians—and many more—together to find unique solutions to problems that cross societal concerns," said JoAnn Browning, dean of the College of Engineering.
Browning said that the Makerspace will also serve as "home base" for graduating seniors in engineering. When the campus returns to normal operations, they will spend countless hours in the Makerspace working with their senior design teams, presenting to their project sponsors, creating new components via 3D printing, and congregating with students from across campus in the mini-kitchen and creative lounge areas.
---
"No photo can do justice to experiencing that feeling of openness."
---
---
"When I first walked into the nearly complete Makerspace, I was awed by its size," Browning enthusiastically said. "It's difficult to imagine how much more can be accomplished by our students within these spaces until you walk around the new shop area, and meander down the rows of working tables, or pop into a meeting room. I am so excited that our students will have access to these state-of-the-art spaces to be able to complete professional work."
In another dramatic effort to improve authentic learning experiences and prepare students for high-quality STEM careers, the SEB's two-story distillation column will be a great asset for chemical engineering students and researchers. Chemical engineers use distillation columns to separate—or distill—liquid solutions into their component parts. In industrial practice, these columns can be many stories high, and larger columns can complete more complex distillations. Most labs in academic settings are constrained by their environment, merely providing bench-top distillation units for educational purposes. Needless to say, the SEB's towering distillation column will be a game-changer for UTSA's chemical engineering program, which was founded in 2017.
The instrument was made possible by a gift from Bill and Margie Klesse through the Klesse Foundation. Gifts like these have a tremendous impact on UTSA's aspirations for strategic growth and innovative excellence. "By providing our students with a two-story distillation column, thanks to the generosity of Bill and Margie Klesse, our students will be able to explore and learn in a more realistic engineering environment," Browning said.
Although the distillation column is largely tucked away, transparency is a main feature of the SEB. Corridor windows surround second- and third- floor biology and chemistry labs, allowing students and other guests to view scientific displays. And every visitor will be greeted by the facility's grand three-story collaboration space, basked in natural light by a curtain wall of glass on the building's west side.
"No photo can do justice to experiencing that feeling of openness," Jarrell said. He added that the fourth-floor windows provide a spectacular panoramic view of the campus and city.
The fourth floor houses the central facilities of the UTSA Brain Health Consortium, a transdisciplinary team that integrates researchers with expertise in regenerative medicine, neuroscience, biomedical engineering, psychology and behavior. It will be a cornerstone of the facility and a symbol for everything the SEB was meant to be: a space where world-class faculty and bright students can come together to create scientific solutions.
"A facility like the SEB recognizes and enables the power of mixing different groups and people to encourage collaboration as well as the serendipitous encounters that often spark new ideas and breakthroughs," Silva said.
A few additional notes on the SEB:
UTSA received a commitment of $500,000 from Ed Whitacre, former chairman of the board of ExxonMobil, to acquire the 3D metal printer for the SEB's Makerspace. This piece of equipment is prominently used in industry and will offer students the efficient engineering solutions to manufacture senior design project prototypes, some of which will have the potential to be taken to market.


A new exterior pedestrian bridge outside the SEB serves an additional purpose: providing a pathway for heating hot water and chilled water to and from the South Thermal Energy Plant. It also concludes an ADA accessible route from south parking lots, through the SEB, to the elevated plaza level of campus.


One of the more impressive sights of the SEB is an area that's not open to the general public. There is a portion of the east crawlspace (next to a delivery receiving room) that is a spacious two stories tall. There, one can view a massive wall of hard chert etched with milling lines, a testimony to the challenge of grinding down the building site into solid rock.


The SEB is enabling opportunities beyond its four walls. The facility's opening will allow spaces in the Flawn Building to be renovated and repurposed for comparable learning experiences in environmental science and ecology, the geological sciences, and physics. Spaces are also being created for course-based research experiences (CUREs) to reinforce concepts taught in lectures through actual research projects, not just basic lab experiments.