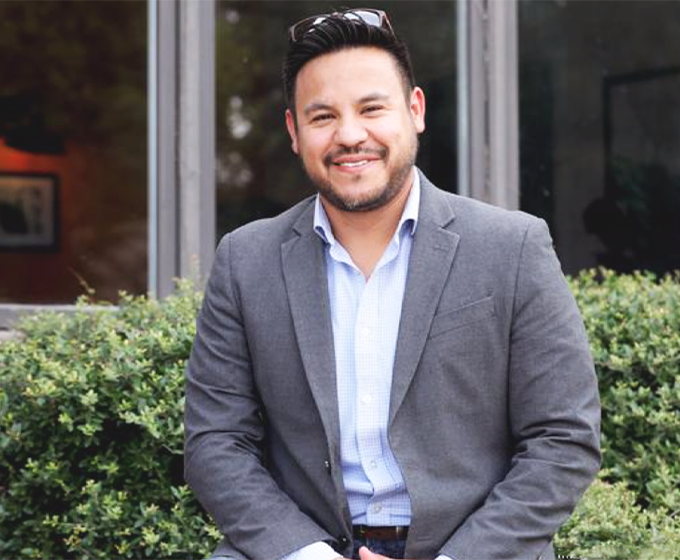 SEPTEMBER 25, 2020 — Ramiro Gonzales '10 is leading San Antonio's West Side toward a brighter future in his new role with the Westside Development Corp. Gonzales was appointed the new president and CEO of the agency earlier this month. He previously served as its interim president, taking the helm at the start of the COVID-19 pandemic.
"I love it, what I'm doing. It's a huge challenge, don't get me wrong," Gonzales said. "But it's a fantastic culmination of everything that I've done over my career. I've done similar nonprofit concepts and other projects, but my central focus has been how the creative use of real estate can be used to solve community problems. That is my passion. So being here at Westside Development Corp. really encompasses that."
An Edison High School graduate, Gonzales went on to study in UTSA's paralegal certificate program before working in local law offices and eventually for the City of San Antonio for 14 years. Later, in 2010, he earned his bachelor's degree in political science from UTSA.
---
"I love it, what I'm doing. It's a huge challenge, don't get me wrong. But it's a fantastic culmination of everything."
---
---
Gonzales is currently the managing partner of Urban Lazarus Real Estate Partners and has also initiated two other nonprofit concepts: Rising Tide Casitas, with a focus on building accessory dwelling units for families vulnerable to displacement, and Good Acres, which works with local churches to maximize their property for community benefit.
Established in 2016, Westside Development Corp. services a 15-square-mile area with a population of about 103,944 people. The organization's planning and economic development initiatives not only preserve the area's history and culture but create a sustainable community. The organization's mission is to create economic stability and prosperity on the city's West Side. 
"It was created for the purpose of economic development to increase economic opportunities for the residents and the businesses of the West Side," Gonzales said. "The West Side has suffered from decades of disinvestment and population loss. Children who grow up in this high poverty area are far more likely to live a life of poverty themselves. And so WDC was created to change this trajectory and introduce more economic opportunities for the people on the West Side."
The WDC's main focus has been in helping small businesses in the area be more successful and create more jobs, and in workforce development to help families earn more money.
During the pandemic, Gonzales helped spearhead the Westside Small Business Helpline, a bilingual hotline designed to give support to small businesses.
"As soon as I stepped in as interim, COVID-19 started and then the local stay-at-home orders followed," Gonzales said. "And so the first thing we did was immediately start calling all of the 400 businesses in our database, and we found that many of them were feeling overwhelmed and didn't even know where to start in looking for help."
The WDC's goal for the Westside Small Business Helpline was to create a single point of entry for small businesses that needed assistance, regardless of which organization or program they needed, Gonzales explained.
"We are close to every organization and program out there offering assistance," he said, "so rather than calling around and trying to find what program was right for them, they could call us directly and we would match them with the appropriate resources, saving them both time and considerable stress. The goal is to provide the shortest distance between them and the help they need."
The organization's latest project is the rehabilitation of the Basila Frocks building, located on the corner of Zarzamora and Martin streets in the Prospect Hill neighborhood. Built in 1929 by Syrian immigrants Nicholas and Marie Basila, the building was home to one of the first garment manufacturers in Texas that produced ready-to-wear dresses.
---
⇒ Explore the study of political science at UTSA.
---
WDC aims to transform the building into a creative office space for area small businesses and offer programming for entrepreneurship and financial literacy, according to Gonzales.
As WDC's new CEO, Gonzales said he wants the organization to become a bigger convener of the West Side community to help solve the problems it has been experiencing for decades and to break the cycle of generational poverty in the historic neighborhood.
"There are a lot of people and organizations on the West Side and from the West Side—some who now live in other parts of the city that are still passionate about this area or they're passionate about the issues that the West Side is facing—and they want to be part of the solution," Gonzales said. "We need to channel that passion and give them an opportunity to help inform and drive solutions on the West Side on a very grassroots kind of level, and WDC will be here to help facilitate those conversations and implement innovative solutions."