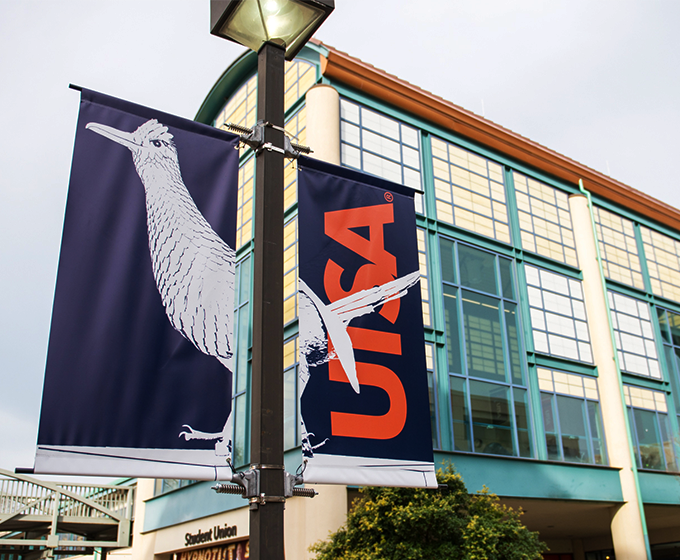 SEPTEMBER 21, 2020 — Local entrepreneur and philanthropist Harvey E. Najim has committed $3 million to establish the Harvey E. Najim Innovation and Career Advancement Center at UTSA. The center will drive the university's Classroom to Career initiative as part of its 10-year strategic vision and mission on student success.
"My vision is that every student who participates in the center is better prepared for a career when they graduate from UTSA and gives back to UTSA when they are financially able to. I chose to invest in career readiness because I have seen it work at Baylor and St. Mary's University. I want every student who graduates from UTSA to get a diploma and a job offer. Earning a college education is the most important thing that you can do to realize your dreams and change your life," said Najim.
The center will serve as a hub that offers programming aimed at ensuring that UTSA students in all majors are able to develop career pathways and leverage experiential learning opportunities that hone their career readiness skills. Under the leadership of Provost Kimberly Andrews Espy, programmatic components within the center will include innovation challenges, career navigators, career faculty fellows, business innovation internships and community innovation internships.
---
"My vision is that every student who participates in the center is better prepared for a career when they graduate."
---
---
"Experiential learning helps students gain marketable skills and explore career interests before graduation, and the Harvey E. Najim Innovation and Career Advancement Center will allow UTSA to expand our efforts in developing experiential learning opportunities for students," said Espy. "We are grateful to Mr. Najim for his support of our Roadrunner students and his vision for how the center, in turn, will support the San Antonio community by increasing connections to area business, nonprofits and government organizations."
The center also will support UTSA's Quality Enhancement Plan, a component of the university's reaffirmation-of-accreditation process through the Southern Association of Colleges and Schools Commission on Colleges. The plan focuses on classroom-to-career experiential learning.
"Our QEP will integrate experiential learning principles broadly into a wide range of coursework in every field of study at UTSA, and the center will bring together multidisciplinary teams across campus working toward those goals," said Heather Shipley, senior vice provost for academic affairs and dean of University College."
The goal is to provide students direct experience with issues affecting their community and knowledge on how to connect that back to their classroom studies. As one of San Antonio's most influential civic leaders, UTSA has a bold vision to reimagine how it can create responsive, experience-based opportunities that provide UTSA graduates with the hard and soft skills in demand by employers across the nation's high growth sectors.
"It is a privilege to collaborate with Harvey Najim on this transformational project, it speaks to our shared belief in the power of higher education as a force for social mobility," said President Taylor Eighmy. "The Najim center will provide our students with exceptional experiential learning, training and mentorship opportunities to prepare them for success after graduation. We are forever grateful to Harvey for his generosity and leadership around ensuring UTSA graduates are ready to fill the critical workforce needs of our city, state and nation."
Najim founded Sirius Computer Solutions in 1980, formerly known as Star Data Systems, and now serves as chairman emeritus of the company. Currently, he devotes much of his time and resources to the Harvey E. Najim Charitable Foundation. The foundation was established in 2006 and supports various public charities that advance children's education, children's medical treatment, medical research for illnesses and diseases affecting children, and other children's charitable purposes.
A strong supporter of the university, Najim served as a Frost Lecturer at UTSA in 2016. That same year he announced the Najim Pathways Scholarship at Alamo Colleges with additional gifts to UTSA, Texas A&M University–San Antonio and UT Health San Antonio for transfer students to finish their degree programs.
In 2019 Najim became a member of the UTSA Campaign Leadership Council and continues to seek opportunities to support student success. The Harvey E. Najim Innovation and Career Advancement Center will offer more than a traditional career center and will strengthen students' academic and professional expertise through strategic and robust partnerships within UTSA and beyond its campuses.