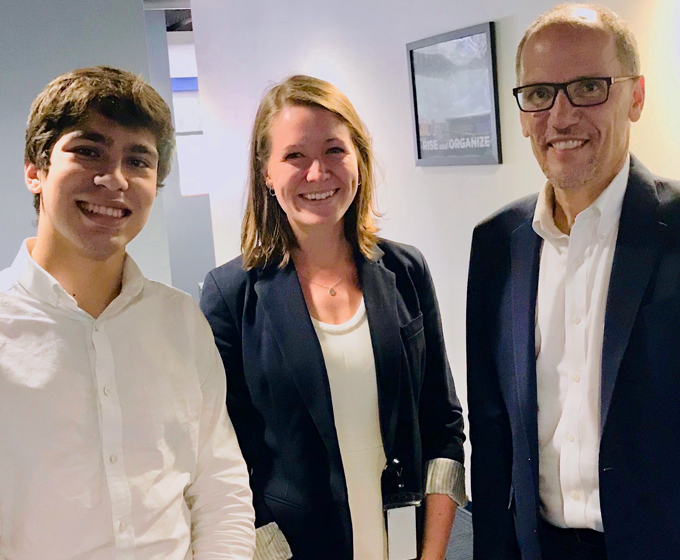 ---
ROADRUNNERS
YOU SHOULD KNOW

---
SEPTEMBER 4, 2020 — Third-year student Diego Hinojosa fully intended on earning a degree in computer science at UTSA, but he ultimately couldn't resist a calling that his family has largely espoused: politics and public service.
His father, Gilberto Hinojosa, was formerly a Cameron County judge and now serves as the chair of the Texas Democratic Party. His older sisters followed in their father's footsteps. Xochitl Hinojosa is the senior adviser and spokeswoman for the Democratic National Committee, and Gina Hinojosa represents the 49th District in the Texas House of Representatives.
"I've grown up with my life revolving around a campaign. We've always had signs in front of our house, and we've always been going to conventions, rallies and marches," Diego Hinojosa recalled. "It's in our blood."
---
"[Politics] gives us something to fight for when we wake up and get out of bed every morning."
---
---
After internships working for chair Tom Perez of the Democratic National Committee in Washington, D.C., in 2019, and another on Democratic U.S. Rep. Filemon Vela's staff this year, Hinojosa came to realize it was in his blood as well. The UTSA junior is currently transitioning from a major in computer science to political science and is embracing the Hinojosa family tradition. 
"We've always thought that our family's values align with the Democratic Party's values," Hinojosa said, noting that public education, health care access, social justice and environmental issues are especially important to him. "It gives us something to fight for when we wake up and get out of bed every morning."
Over the past six months Hinojosa often found himself rolling out of bed and going right to his computer. He completed his entire internship with Vela's team remotely from his family's home in Brownsville. He had hoped to carry out his duties from Washington, D.C., where he could attend hearings and get face-to-face time with congressmen in the halls, but the coronavirus pandemic turned his internship experience sideways.
"I did the whole internship physically seeing only one person," Hinojosa said with a chuckle. Even that one instance wasn't much to write home about—a coworker from the district office simply picked up yard signs from the Hinojosa house.
But Hinojosa carried on admirably despite the distance. He attended weekly congressional staff calls via Zoom and routinely wrote correspondence to constituents in the Texas 34th congressional district, which Vela represents. The pandemic brought several challenges to the 34th district—which includes highly tourism-dependent South Padre Island; secluded rural towns in South Texas, where internet access continues to be a big concern; and the Rio Grande Valley, an area that suffered through a surge of coronavirus cases.
Hinojosa said the concerns of constituents that he addressed largely revolved around public health, whether they were regarding beachgoers flouting guidance on social distancing in the pandemic's early months or citizens who were improperly wearing their masks after a statewide mandate was put into place. Although much of the response fell on local and state governments, Vela and his team hosted town halls on best health practices and pointed people to the proper resources.
"We handled more of the federal legislative side," Hinojosa said, "but we tried to provide whatever assistance we could."
Vela's team also introduced new legislation each week through the pandemic, a process in which Hinojosa made solid contributions. In fact, he worked on two bills that would amend tax policy and the Internal Revenue Code. Although e-filing has been prevalent for nearly two decades now, he explains that there's still a kink in the system.
"Whether you file your taxes successfully or unsuccessfully, the IRS doesn't send you a receipt or tell you that you need to refile. It sends that information to the intermediary, whether it's TurboTax or H&R Block. It's incumbent on those services to inform you, but not all of them do," he said.
Hinojosa worked with supervisors to introduce H.R. 8062, which would ensure that the IRS informs individuals directly—by the user's preferred method of communication—when refiling is required. He also helped with legislation to expand the resubmission deadline to 20 days. More than anything, the internship demystified the legislative process, which can be intimidating for young people breaking into policymaking.
"I had this concept of legislation and bills, and they seemed like very scary things," he laughed. "It seems like something you can't understand without significant education, like a degree in public policy or law. You wonder, 'How can I possibly put my fingerprints on this?' But when you have good people guiding you, it's not that hard." He points to Congress.gov and online resources made available on the U.S. House of Representatives website as great means for navigating the intricacies of legislation.
Hinojosa hasn't settled on a post-collegiate career path yet, but he does know where his next political destination will be. Over the next two months he'll get to work as a field organizer in Fort Bend County for Sri Kulkarni, the Democratic nominee for the 22nd congressional district in Texas.
The DNC internship gave him the opportunity to see how a political party operates. The Vela internship gave him the opportunity to see how the government operates. And now, the Kulkarni internship will give him the opportunity to see how a campaign operates.
"These are all experiences," he said, "that will influence the path I end up taking after I graduate from UTSA."